S&M's Slam Bars have been around for near on 20 years now and are still the benchmark for handlebars in the BMX scene. While they have come a long way since their inception, and are now available in the Slam XLT model which weighs in at 2 lbs (around 905 grams), the angles are still the same. When it comes to most manufacturers, if you don't like the bends of the bars then you have to start looking elsewhere. That's not the case with S&M, they have a whole bunch of bars with varying geometry available to suit your preference and your budget.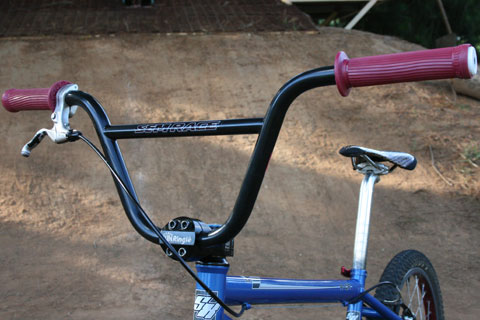 My biggest gripe with the S&M's Slam Bars and Race Bars was the up sweep. Of course that's just a personal preference, others love it, actually many many others do or the bars just wouldn't have dominated the scene for this long. To me though the 1 degree of up sweep feels like the ends of the bars were bent down, accelerating out of the gate or out of a corner felt harder than with other bars, so when I heard of the configuration of the T3 race bars I was curious and had to take a closer look.
They instantly felt more comfortable than Slams and a lot more natural. It's important that your bike feels comfortable in a 30-40 second race. You should be focused on getting to the line first not how awkward your bike feels while you have 7 other guys to bang bars with and a whole lot of jumps and corners to contend with. Like all other S&M bars we tested these suckers are stiff and strong and made to handle the abuse BMXers dish out.
The T3's have the same lifetime warranty to the original buyer as other S&M bars which makes then great value for money. You may never have to pay for a pair of bars again.
When we tried to find out why S&M would make a bar that was pretty much another set of Race XLT bars with different bends we found an Australian connection. The story is that Khalen Young came up with these bends…"S&M made the bars on the recommendation of Khalen Young. He tried some
one-off bars that were made for Kyle Bennett (3 up and 11 back) and liked the up-sweep and thought 10 back-sweep would be spot on. In his words – The bars are awesome"
The T3 bars have the same quality USA workmanship, the same 100% "4Q Baked" heat treated CrMo and the same great finish that is standard with every set of S&M bars. Thank you S&M for another great handlebar.
Width
(inches)
Height
(inches)
Back Sweep
(degrees)
Up Sweep
(degrees)
Weight
Slam Bars
28
8
12
1
2.0lbs
Slam XLT
28
8
12
1
1.7lbs
Pro Race
28
8
12
1
1.9lbs
Race XLT
28
8
12
1
1.6lbs
T3
28
8
10
3
1.6lbs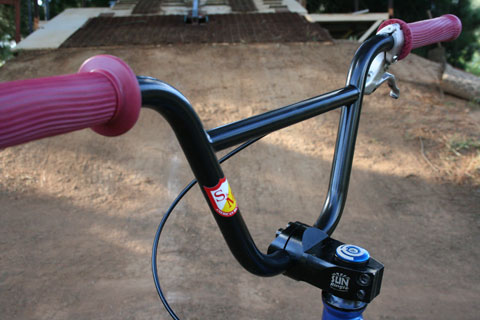 Rating 20/20:
| | |
| --- | --- |
| Value for money: | 5/5 |
| Weight: | 5/5 |
| Functionality: | 5/5 |
| Looks/Finish: | 5/5 |
Comments:
S&M aren't the cheapest bar on the market, but when you look at the quality and the lifetime warranty this is true value for money.
1.6lbs or 725 grams makes them some of the lightest pro sized bars on the market.
Stiff, comfortable and strong, what more could you ask for in a handlebar?
The semi gloss black finish looks great, the tidy welds and the classic Nascar style decals are a nice finish.
For more information about S&M check out www.sandmbikes.com.
review by Shane Jenkins/15 March 2010
Posted in: Handlebars · Reviews