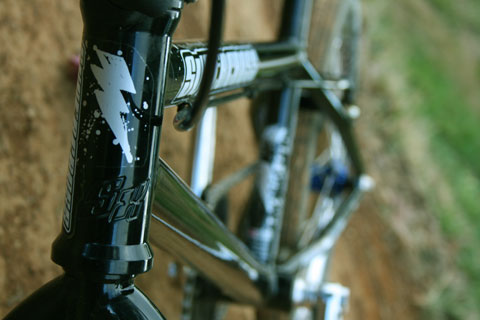 There's nothing quite like the feel of a cromo frame. It's something that many BMX racing newbies may never have had the pleasure to experience. Cromo BMX race frames are considered old school and even out dated in some circles, but there was once a time that cromo was king, it was quite rare to see alloy used, it was mostly Race Inc and SE who pioneered the alloy frame market. That was 25 plus years ago and things have been flipped around since then. While most manufacturers have dropped cromo frames from their line ups there are still a few who continue to push and develop lighter cromo race frames. None do it quite to the extent of Supercross BMX who offer the BOLT LT in 4 Pro Sizes which includes possibly the longest cromo frame right off the shelf, the Pro XXL which has a 21.75″ top tube, other sizes include Pro with a 20.5″ top tube, Pro XL 21.25″ top tube, and 24″ Pro 21.5″ top tube.
One of the biggest myths of cromo is that it's heavy. Well I have to tell you that the BOLT LT compares to the weight of some of the most popular alloy frames. A GHP XXL is quite light at 1724grams, the Intense Podium is 1844grams and the BOLT LT XXL is 1984grams, and that's with an internal headset and a built in seat clamp. (By the way the allen key bolt and nut that comes with the frame can be replaced with a quick release.)
The thing about cromo is that it's more durable than alloy and while it feels as stiff as an alloy frame to ride cromo offers greater shock absorption than alloy giving the rider a noticably less jarring ride and the frame has a longer life span. This is supported by the fact that cromo handlebars and forks are so popular.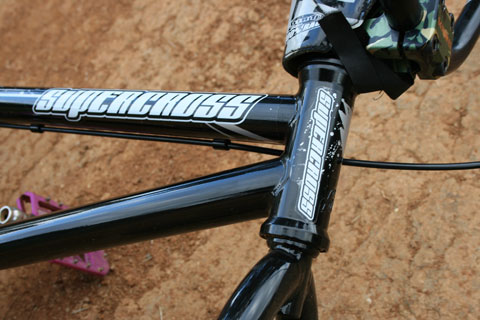 What's new since the last Supercross BMX cromo frame, the R-CR?
Tapered rear stays to improve the power transfer and flow of the frame.
Pass through cable guides offer full support for your brake cable to maximize braking power.
The 1/4" thick cromo dropouts are CNC releaved on the backside to minimize weight.
Low profile seatpost clamp behind the Miter cut seatmast so it is clean and out of the way.
Bill Ryan from Supercross said the BOLT LT frame "is still using the same Reynolds 853 Air Hardened Triple Butted Type Tube set that we have been using since 2002. It is a custom butted tube set for us that has never let us down. Our butted profiles are longer and the tapers are longer to transfer the stress in a full cycle through the frame to ensure maximum strength and the minimum weight."
When we asked Bill for some insider information about the BOLT LT this is what he had to say. "The Campy Style Headtube was suggested by AA Pro Aaron Johnson when he rode for us in 2005 and he took 4th at the First Dew Tour Race on a prototype that way and was the only rider there in the main on a Cro-mo frame.  Aaron is now on the BOLT LT for all of his racing, Dirt Jump and Skatepark needs, it is his choice for all around rider, 1 bike for everything he does."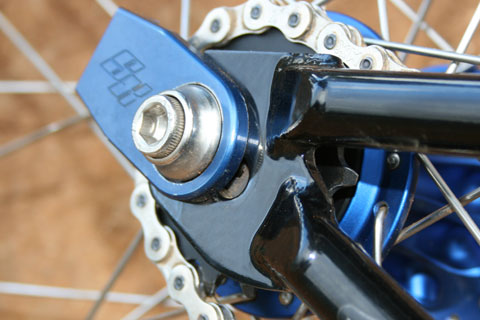 Bill touches on a very good point about the 1 bike that does everything, we are at the point now that every BMX racing part is being pushed to the limits to make it lighter and help you get faster, so if you have a race bike chances are to prolong the life of your race bike you will have another bike to hit up the jumps, or you would just save the race bike for racing. I know I would prefer to give away a couple of hundred grams for an all-rounder, something that can be used anywhere and everywhere.
When I first rode a BOLT LT that a friend of mine had just built up it instantly felt comfortable and I knew right away that I needed to take a closer look at the frame. It's a well ballanced frame that handles well manualling and jumping. It's very stiff doing gates and accelerating. All in all I would have to say it's a great ride on the race track or at the local dirt jumps and a great alternative to alloy.
I have always liked the classic look of the Supercross cromo frames, the details in the stickers, the clean welds, the paint jobs but also the way they approach trimming weight from the frame through each step of the evolution from the first cromo models. Oh and the CNC'd logo on the headtube is a nice touch too.
Features
Integrated Campy style 45/45 headtube with CNC'd logo
CNC machined Euro Bottom Bracket shell ( 68mm Width )
Backside CNC'd cromo dropouts
Built in low profile seatpost clamp with replaceable nut and bolt ( Quick release compatable )
Triple butted air hardened cromo frame construction.
Tapered chain and seat stays
Stock colors are Gloss Black, Gloss White, Gun Metal Grey, and Sky Blue. Custom Colors are available
Supercross BMX Bolt LT Race Frame Geometry
| Frame size | Top tube | Rear Chainstay | Bottom Bracket Height | Head Tube Angle | Weight |
| --- | --- | --- | --- | --- | --- |
| Pro | 20.5 | 15″ | 11.65″ | 74.5º | 4lbs 2oz |
| Pro XL | 21.25 | 15.25″ | 11.65″ | 74.5º | 4lbs 4oz |
| Pro XXL | 21.75 | 15.25″ | 11.65″ | 74.5º | 4lbs 6oz |
| 24″ Pro | 21.5 | 15.35″ | 11.65″ | 73.5º | 4lbs 6oz |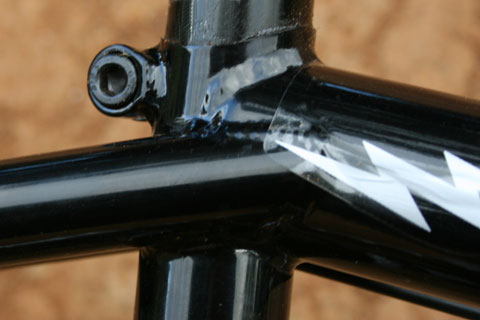 Rating 20/20:
| | |
| --- | --- |
| Value for money: | 5/5 |
| Weight: | 5/5 |
| Functionality: | 5/5 |
| Looks/Finish: | 5/5 |
Comments:
Cheaper than many high end race frames and a longer life expectancy, that's value for money!
Not as light as the lighter alloy frames, but it's pretty damn close when you are talking about a couple of hundred grams.
A strong, stiff, cromo frame that's great for the race track and at the local dirt jumps.
When it comes to looks and finish it just doesn't get any sexier than Supercross.
For more information about Supercross check out www.supercrossbmx.com.
Supercross is distributed in Australia by Supercross BMX Australia sxaustralia@supercrossbmx.com.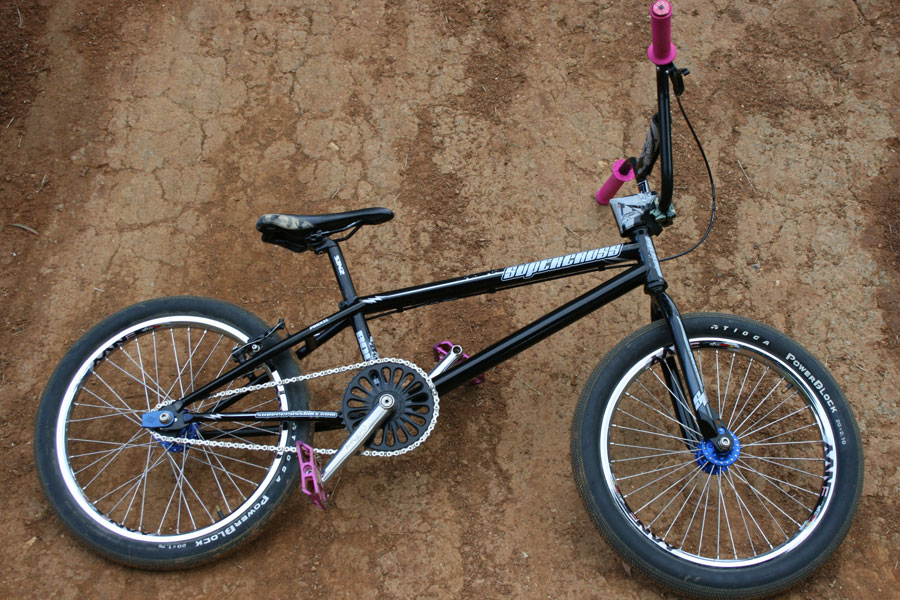 review by Shane Jenkins/5 March 2010