S&M Grand Slam handlebars
S&M have produced the most popular handlebars in BMX for many years. Why? Well their reputation for being both reliable and strong is a start, but the fact they are American made still goes a long way. S&M stand by their products offering a life time warranty to the original owner, if that doesn't instill confidence then you better lock yourself back in that padded cell of yours and throw away the key.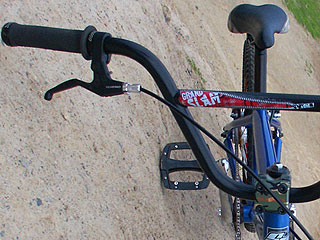 While S&M's handlebars have evolved over the years and continually become lighter and stronger there have been a few mutations of the original slam bar to suit riders of all shapes and sizes. S&M now offer over a dozen different sizes to fit out any 20inch or cruiser.
As much as the name Grand Slam sounds better for a tennis racquet than some BMX bars, these bars are the big daddy of all that S&M has to offer. The Grand Slams are "4Q baked" heat treated cromo, the process strengthens the bars and allows you to run a thinner cromo, reducing weight. At 29 inches wide and 8.25 inches tall the Grand Slams are built specifically for the big boys of BMX. At 6'2″ tall I thought I would give the bars a try after running 28inch wide bars for so long. It's funny you know, I have seen kids from about the age of 14 years and up run pro size S&M bars, people over a foot shorter than me, and obvously narrower across the shoulders, and for my whole racing career I had thought that 28 inches was the maximum legal width for racing bars. When I found out it's now 29 inches I moved the bars from my dirt jumper to my race bike.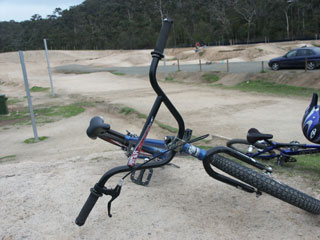 The Grand Slams aren't for everyone, but if you are a big rider, or just someone looking for a wider grip the one inch can make a huge difference. I discovered this when doing gate practice, I was able to get better leverage through the bars while getting the power down on my first few pedals and it felt like I could get up to speed quicker as a result. Jumping felt a while lot more stable. My body position from the extra height not only felt more comfortable but feels more efficient.
The Grand Slams are a little heavier that the Race XLT or Slam XLT bars, but the differences don't top there. The sweep and up sweep also change, the 1 degree of sweep is only a small difference but the grip, to me, felt very comfortable and a lot more natural.
| | | | |
| --- | --- | --- | --- |
| | Grand Slam | Race XLT | Slam XLT |
| Wide | 29″ | 28″ | 28″ |
| Rise | 8.25″ | 8″ | 8″ |
| Sweep | 11 degrees | 12 degrees | 12 degrees |
| Up Sweep | 1.5 degrees | 1 degree | 1 degree |
| Cross Bar | 7/8″ | 5/8″ | 3/4″ |
| Weight | 2.1lbs | 1.6lbs | 1.7lbs |
One thing about BMX racing is too feel comfortable but also confident on your bike, with S&M Grand Slams you will get that and a whole lot more. Now I just have to get a set for my dirt jumper and wait for S&M to make some wider cruiser bars. Big boys race cruiser too you know.
I love these bars and I know that a whole bunch of guys out there will too, if you are over 6′ tall do yourself a favour and take a look at them for yourselves.
Available in Matt black, Army Green and Chrome.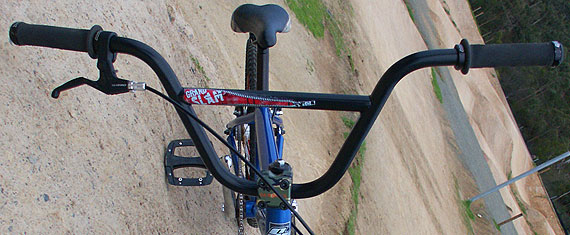 Rating
20/20:
| | |
| --- | --- |
| Value for money: | 5/5 |
| Weight: | 5/5 |
| Functionality: | 5/5 |
| Looks/Finish: | 5/5 |
Comments:
Made in the USA, built to last
A tad heavier than most pro size bars but worth it for the extra size
A big bar for a big guy, very stiff and strong, what more could you ask for?
As always from S&M a perfect finish and perfect welds.
For more information about S&M Products check out www.sandmbikes.com
Reviewed by Shane Jenkins/bmxultra.com August 8 2008
Posted in: Handlebars · Reviews