Intense Micro Knobby BMX tire
When I thought it was time to take a closer look at the tires that Intense Tire Systems (ITS) had to offer I really hadn't considered just how much work it is to compare three different sets of tires. I mean sure you could throw three sets of tires on three bikes and ride each of them in different conditions, sounds simple right? It probably would be the case if I was to just ride each tire for 5 minutes on one track, but I like to take things that little bit further, I like to be thorough. I prefer to put the tires through different conditions and create different sets of circumstances. Because I know you want to go buy a tire that's reliable and you don't need someone telling you how good a tire is if they haven't done their homework. So instead of doing a big comparison of the ITS tires this is the first of a three part series of reviews.
The Micro Knobby was introduced for the pro sized riders at around the start of 2007 and certainly made a big mark on the race scene. I haven't seen a tire make an impact like the Micro Knobby since Comp III tires were released way back in the early 80's.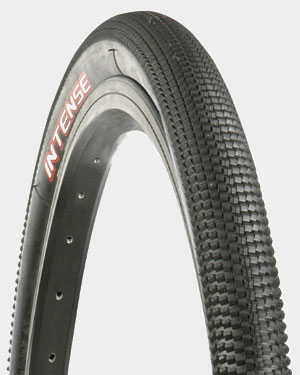 Originally designed for the little guy (or girl) racer the Micro Knobby boasts over 5,000 knobby's per tire which obviously converts to lots of grip. Also the size of the knobby's mean reduced rolling resistance. The Micro Knobby provides great grip if you are going to be doing road sprints regularly, but remember the knobby's are tiny and the rubber is soft to provide maximum grip don't expect them to last as long as most other tires.
When it came to grip on, pretty much, all surfaces the Micro Knobby's are king, that is until you add water to the equation. In wet conditions you will want to avoid using the Micro Knobby's. Firstly on wet days you get a build up of water and mud on the gate and that makes for the worst possible conditions for such a tire, it's the same with entering paved corners other riders will drag mud on to the paving and provide hairy conditions at the best of times.
Another type of condition to avoid using Micro Knobby's is when the track surface is sandy and loose. I'm not saying the Micro Knobby is bad, not at all, I'm just saying they aren't perfect for every condition. The problem is worse for the older and stronger riders who tend to have more power and are more likely to break traction. They are awesome on any dry hard packed surface including clay, granitic sand, etc and especially paved corners and start hills. The Micro Knobby is perfect for most indoor tracks.
ITS realise that the Micro Knobby has it's limitations or they wouldn't offer alternatives like the Haalo or the Hellfire tires which are better all-round tires and far better in poorer conditions.
To put the Micro Knobby's through the mud test I waited for a few hours after heavy rain fall and went down to a local track. It has a nice hard packed granitic sand surface which, in the dry, proved to me that the Micro Knobby provides superior grip in the right conditions, but what about the mud? Although the whole track was damp it was the muddy patches where the Micro Knobby's let me down. They provide so little grip in the mud it's better to avoid it, but that would go for a lot of tires regardless of the tread pattern, it's just that other tires would probably get you through the muddy patches a little better. Everywhere else on the track they were fine. After a few laps however things started to get a little slippery when trying to accelerate out of the gate.
Much like motor sports use wet and dry tires the Micro Knobby is the perfect dry weather tire for BMX for about 99% of tracks out there.
For riding or racing outdoors during the wetter winter months I would give the Micro Knobby's a rest and look at other alternatives.
Available in the following sizes
20″ x 1  Weight = 180 Grams
20″ x 1 1/8  Weight = 225 Grams
20″ x 1 3/8  Weight = 270 Grams
20″ x 1.5  Weight = 290 Grams
20″ x 1.75  Weight = 380 Grams
20″ x 2.125  Weight = 420 Grams
24″ x 1  Weight = 220 Grams
24″ x 1 1/8  Weight = 265 Grams
24″ x 1 3/8  Weight = 300 Grams
24″ x 1.5  Weight = 400 Grams
24″ x 1.75  Weight = 410 Grams
24″ x 1.85  Weight = 560 Grams
Rating
19/20:
| | |
| --- | --- |
| Value for money: | 5/5 |
| Weight: | 4/5 |
| Functionality: | 5/5 |
| Looks/Finish: | 5/5 |
Comments:
A good price for some great grip
They aren't the lightest tire on the market
Perfect grip for the right conditions
A nicely finished tire
ITS is distributed in Australia by Elite Cycle Imports (ECI) www.eciimports.com
Reviewed by Shane Jenkins/bmxultra.com August 19 2008