This is the second in the three part Intense Tire Systems (ITS) tire review. We have already checked out the Micro Knobby. While it serves a more specific purpose you will find that the Haalo is more of an all rounder and will cope well in all conditions.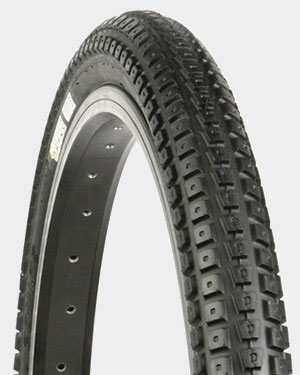 At first glance it's difficult to pick the differences between the Haalo and the Hellfire tread patterns. On the surface they are fairly similar. The tread blocks are the same shape. However the center knobs are closer together on the Haalo to reduce rolling resistance.
The major difference is that there isn't the overlap of tread blocks as you go across the tread. What this means is a nice open channel between the rows of tread blocks. If you have ridden in the mud before you will know that mud struggles to stick unless it finds little nooks which happens a lot in tires with tight tread patterns, when the mud sticks and starts to build up you can say goodbye to your grip. The tread will fill with mud in no time and if the mud doesn't want to let go then your day of riding is over, at least until things dry up.
I like the Haalo because it provides great grip in the dry but also because mud struggles to stick to the tread pattern.
In any conditions, wet or dry, I could rely on the grip of the Haalo to get me out of the gate or around tight corners. If you are looking for a good alround tire then this could be the one for you.
Available in the following sizes
20″ x 1.5  Weight 390 Grams
20″ x 1.75  Weight 400 Grams
20″ x 2.215  Weight 500 Grams
24″ x 1.5  Weight 400 Grams
24″ x 1.75  Weight 500 Grams
24″ x 1.85  Weight 505 Grams
Rating
19/20:
| | |
| --- | --- |
| Value for money: | 5/5 |
| Weight: | 4/5 |
| Functionality: | 5/5 |
| Looks/Finish: | 5/5 |
Comments:
A good price for a good all round tire
They aren't the lightest tire on the market
Great grip for pretty much any condition
A well finished tire
ITS is distributed in Australia by Elite Cycle Imports (ECI) www.eciimports.com
Reviewed by Shane Jenkins/bmxultra.com August 26 2008