When the S&M 4Q Baked XLT Pitchfork hit the market I thought that S&M had pulled their Race forks for good. The Pitchfork was S&M's fork that would be all and do all for all aspects of BMX. It was lighter than the race fork and stronger. I had thought that the XLT Pitchfork had put an end to S&M's race forks forever.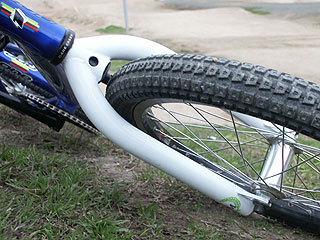 The S&M Race Forks are back, well they have been since early 2007, but I've finally had a chance to check them out. Made from good ol' cromo that's been "4Q Baked" (heat treated) they will rival the weight of any carbon fork with a more affordable price tag and a whole lot more street cred. At 30oz (850 grams) they are a whole lot lighter than the 36.6oz (1,037 grams) XLT Pitchforks. So what's different? How did S&M make their race forks so much lighter?
Personally I love the convenience of a built in compression nut over a head lock, but the compression nut is gone. I think they can be beneficial because the welded nut inside the steerer tube can provide extra support inside the fork to protect against being crushed out of shape by over tightening the stem (I'm sure this doesn't only happen to me). As well as the fact that it's a simple set up and means less messing around when you want to adjust your stem. You won't find the alloy reinforcement down the steerer tube that's a feature of the Pitchfoks in the race XLTs. If a set of forks are going to fail it's usually at the steerer tube, but you can be sure that S&M are confident in these forks or they would never release them to the public. Both of these changes were made to provide the rider the flexibility to use whatever headlock or star nut they prefer. I did notice on the S&M website the Pitchforks have a lifetime warranty, but I couldn't find it for the XLT race forks. I think that's probably the biggest price to pay for the 6.6oz (187 grams) of weight savings. If you are concerned about strength go for the Pitchforks, if you are after the lighter weight option then go for the Race forks.
The other changes are the micro dropouts, the double butted legs and they are machined to work with integrated and non-integrated headsets.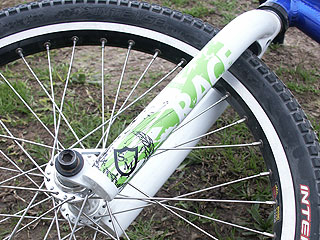 I have never grown to like the graphics on the forks, I assumed that I eventually would – it normally works for me. It's more the green I don't like, they would be awesome if you plan to put them on a .38 Special frame that has matching colours and graphics, but you can see here the green isn't exactly a generic colour that will match everything. I think I might have find some black S&M shield stickers and put them on instead, but that's just my personal preference.
So after using them for a few months now I have found them extremely reliable, strong and stiff. Despite the significant weight loss there is still no flex, which indicates to me that S&M could possibly get away with dropping more weight in the future.
Oh, there is one other thing worth noting, the steerer tube is short, shorter than any other fork that I have used, so if you like to run your stem up high with lots of spacers, you might want to check them out before running out and buying them. I did hear whispers that there were two versions of the fork, the only difference was the length of the steerer tube. The longer option allowed the rider to run their stem nice and high. I haven't been able to confirm that, but it might be worth asking about.
They are available in Black, White & Chrome.
Rating 19.5/20:
| | |
| --- | --- |
| Value for money: | 5/5 |
| Weight: | 4.5/5 |
| Functionality: | 5/5 |
| Looks/Finish: | 5/5 |
Comments:
S&M isn't just another brand, they have set standards that others follow, you know when you buy S&M your money is well spent.
The lightest S&M Race fork ever made isn't the lightest cromo fork on the market, but it's right up there.
S&M's true race fork. It's strong, stiff and light.
Very nice paint job, awesome welds, very clean finish and yes the graphics are a nice design, but it would have been cool for S&M to give the purchaser optional stickers, or gone for more universal colours. As I said earlier that's probably just me.
Review by Shane Jenkins 12 September 2008