S&M 5.75 cruiser handlebars
What's not to like about S&M's 5.75 cruiser handlebars? Made in the USA. Lifetime warranty. And one of the few sets of cruiser bars still available in Chrome (also available in Black). Built to S&M's high standards, if you are looking for a set of handlebars chances are these are going to be around the top of your list of options.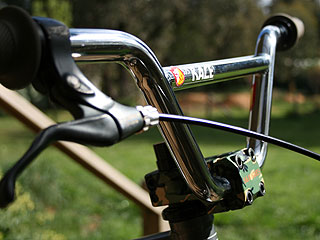 In the market for some new handlebars myself after messing up my last set I thought I'd give the 5.75's a go, even though I I have read on the S&M website and in brochures that they were only 27 inches wide. Not the ideal width for taller riders, especially if you run wider bars on your 20 inch. I've always maintained the idea to keep bars and cranks size as similar as possible if you are going to be jumping back and fourth from cruiser to 20 inch. (Hopefully one day S&M can make some 29 inch wide cruiser bars to compliment their Grand Slams.)
When installing the bars the first thing I did was to check the width only to find out they were actually 28 inches wide. Bonus! Oh and I should mention that the 5.75 is the height of the bar (5.75 inches). I had been riding with 4 inch rise bars for a few years on the cruiser, and while the extra height of the 5.75 was comfortable I flipped my stem to reduce the height so the bars didn't feel too tall.
The back sweep of 10 degrees and up sweep 2.5 degrees was very comfortable. Weighing in at 1 lb 9 oz (1.6 lbs or 719 grams) they are nice and light for a pro sized cruiser bar. How do they feel on the track? Well I'm glad you asked. There's nothing better than a stiff front end on your bike while on the gate to allow you to get on with the job at hand. Despite their weight you won't feel any flex from the 5.75's. They feel as comfortable on the gate as they do around the rest of the track.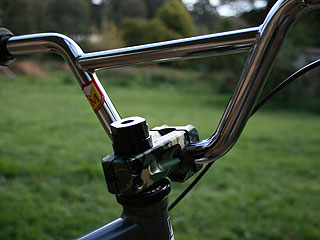 While the 5.75's might be a little more expensive than other options, consider them an investment. A lifetime warranty doesn't come with every set of bars you know. These are the most popular cruiser bars in BMX and it's easy to see why.
Rating 19/20:
| | |
| --- | --- |
| Value for money: | 5/5 |
| Weight: | 4.5/5 |
| Functionality: | 5/5 |
| Looks/Finish: | 4.5/5 |
Comments:
Two words "Lifetime Warranty"
I'm sure that S&M can make them lighter
You'll get not complaints from me about their functionality, strong, light and stiff, they make a perfect cruiser bar
Welds: perfect. Chrome: awesome. Decals: I must admit I managed to get some of the bars with the older decals, I think they look a whole lot better than the current graphics, but that could be just me.
Reviewed by Shane Jenkins 8 October 2008
Posted in: Handlebars · Reviews