When you think of S&M handlebars, it's usually the Slam Bar that comes to mind, and so it should be, Slam Bars have been in the BMX scene since old school manufacturer CW started making them for S&M back in 1988.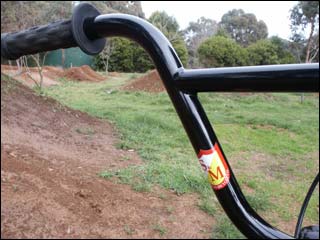 The S&M handlebar you don't hear as much about is the Pro Race model, that has the same bends, same looks and the same quality of manufacturing as the Slam Bar but it's just a little lighter for the race folk.
Here's the all important stats:
28″ Wide
8″ Rise
12 degree back sweep
1 degree up sweep
.75″ cross bar (compared to .875″ on the Slam Bar)
They weigh 856 grams or 1.88 lbs (compared to 943 grams or 2.075 lbs of the Slam Bar)
Handlebar geometry is a very personal thing. Some people just get used to what they have, while others have a very strong preference. Myself, I prefer a certain height and bend. 8″ rise and 28″ wide is good for me because I am tall, but I preferred more like a 9 to 10 degree back sweep. I had been racing for years on customised handlebars and thought it was about time that I check out what's available off the shelf. It took me some time to get used to the extra couple of degree back sweep (I know it's only a couple of degrees but you will be surprised how different it does feel), they originally felt like they should be on a chopper, and the 1 degree up sweep seems weird to me the bars felt like the had more of a down sweep to them. When I first started to use them on the gate I struggled to power out, but after a couple of sprint sessions I was used to them and they felt more natural, making me wonder if in fact it was my custom bars that were all wrong in the first place.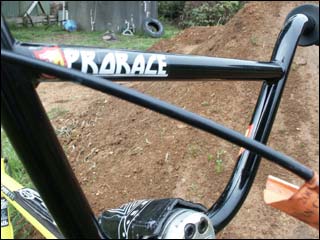 After the initial gate session I had no problems with the bars, they felt stiff and comfortable out of the gate and responded well in corners and over jumps.
One thing I was impressed with was the paint job, very clean, durable and a nice finish to a slick race bar.
Rating 19/20:
| | |
| --- | --- |
| Value for money: | 5/5 |
| Weight: | 4.5/5 |
| Functionality: | 4.5/5 |
| Looks/Finish: | 5/5 |
Comments:
S&M have done a fine job with these bars, it would be difficult to find a better bar on the market in this size.
The Pro Race bar is light and strong, you will find lighter bars on the market, not many though.
Stiff, strong, light, … what you need more than that? It would be nice to see them offer at least another size, I'm sure you can only cut so much off.
Nice clean welds, a fantastic paint job, and the trademark of very simple stickers. A very classic and simple look from S&M that I am getting use to.
Posted in: Handlebars · Reviews