In the early 80's in Australia there was a lot of customising of BMX bikes and equipment, one of the things that was a must have for all bikes was a bike stand, most of them were hand made. People have been using them over the years but not in those same numbers, and most people tend to hang their bikes off their tent or lay them on the ground. Well, it looks like THE may well kick off the old trend again with their bike stand, only this time
around it's far more sophisticated and impressive.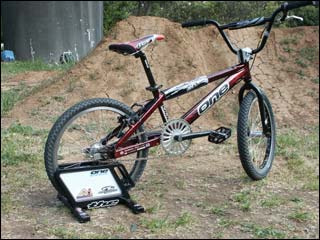 THE bike stands have a number plate style panel  on each side to allow for personal customisation. You can put your favourite stickers, your racing number or basically anything on them to make them stand out in the crowd, and make them distinctly yours.
One of the features that hooks people is that you can link multiple stands together and save space under the tent, in the shed, or
in the special bike room in the house.
I found the stand is very handy when working on the bike. Especially when I had to drop the forks out, it made it a lot easier than having to fight with the bike and the forks at the same time when trying to line things up again.
Just make sure no one tries to sit on their bike when it's in the stand. I don't know how well the stand will cope with it, it's certainly not made for that.
Rating
19/20:
| | |
| --- | --- |
| Value for money: | 4/5 |
| Weight: | 5/5 |
| Functionality: | 5/5 |
| Looks/Finish: | 5/5 |
Comments:
THE bike stands aren't so cheap that everyone will have them, but they would certainly make a great gift for the rider who has everything.
The stand is very light and has handles to carry it around.
There has been a lot of thought put into the THE bike stand. I have seen some home made stands blow over in slight wind. It would take quite a gust or a big bump to knock these over. There are adjusting screws to make the stand fit almost any bicycle wheel.
Either left blank or customised, these are by far the coolest looking bike stands I have seen in my 25+ years of BMX racing.
Check www.the-industries.com for more information about THE products.
THE products are distributed in Australia by ECI (Elite Cycle Imports)
by Shane Jenkins/bmxultra.com
Posted in: Reviews · Tools & Cleaners