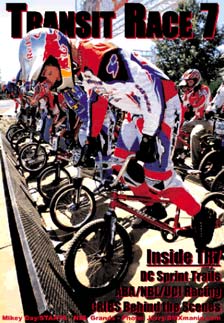 The seventh installment of the Transit Race DVD series will not disappoint BMX race fans. It documents the 2005 US Summer races from right across the country, in both the ABA and NBL sanctions. The TR7 DVD features the 2005 UCI worlds at Paris and the 2005 NBL Grand Nationals, two of the biggest BMX races in the world today.
Transit has a pretty slick formula, that many of you would have grown accustomed to, with lots of racing and some dirt jumping sprinkled throughout. If you have felt let down by previous Transit releases, Transit 7 is probably their best yet.
Highlights:
Nice coverage of the DC Sprint Trails race, where you can see how Stumpy won it in fine style on his home track. It's a little dated though as there has been a second event since then, but I am sure that it won't be long before the Transit guys catch up with that.
There's a nice Terrain sequence from California, some awesome dirt jumps and a cool song that I need to look into called "Turning Grey" from a band called Out of Ruin.
The mains from last years BS Stops at Rockford were cool. Bob O'Gorman taking the win in front of a huge crowd.
Jamie Gray's run, on Haro, racing in A Pro across the United States and his lead up into the 2005 World Championships Elite men's final makes for interesting viewing.
Warwick Stevenson, in his own words, "Living it large" in the "Land of Opportunity" in the behind the scenes MTV Cribs stuff.
There's some nasty falls in the crashes section, which always makes for good entertaining viewing.
I don't know about the rock, paper, scissors competition, it's about as exciting as watching a bunch of guys slide around in the mud, but the chapter control means you can just skip it and get back on with the racing action in no time.
Rating 19/20:
(I have had to change the rating system for DVD's I hope this works for you)
| | |
| --- | --- |
| Value for money: | 5/5 |
| Action: | 5/5 |
| Entertainment: | 4.5/5 |
| Looks/Finish: | 4.5/5 |
Comments:
Since the only place we get to see BMX racing these days is either in magazines or on the web, it's great to have a high quality DVD for the slightly bigger screen.
There is about as much BMX racing action as you can pack into a DVD, what more do you want?
I would buy Transit Race for the racing only. I don't mind the dirt jumping, but the irrelevant stuff like the paper/rock/scissors competition could be pushed after the end credits.
Maybe it's not TV quality, and some of the angles aren't the best on the track, but it's professional enough to pay good money for.