In a market with so many choices it can be difficult to figure out where to start, let alone what's the best product for you. Generally it's trial and error, recommendations, reviews, pro rider influence or quite simply the "bling bling" factor.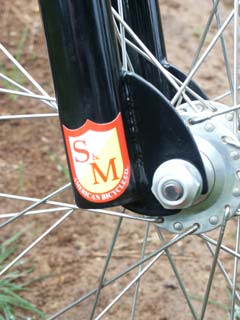 Personally I am quite willing to give anything a try, especially when it comes to something as important as a pair of forks. I have use a variety of aluminium, carbon, magnesium and cromoly forks over recent years, each is a material that has it's pros and cons, however as technologies in manufacturing processes develop the biggest difference becomes the price.
It could be quite easy to spend around $500 Australian dollars on a set of current model carbon forks, but they are really only made for the race track. The demand tracks put on riders to develop skills is forcing them out to dirt jumps meaning they would either need to change forks or a complete bike just so they can hit up the jumps and not void warranty or risk seriously damaging their investment.
The S&M race forks are a very traditional looking cromo fork that look both extremely sturdy and strong. Almost to the point they give the impression they would be so heavy they would be impractical for racing. This is so not the case. I think that the word "carbon" implies light weight, while cromo is the opposite.
With most forks your purchase isn't complete without a head lock to lock your stem down to your forks. S&M have included a neat built in head lock which will save you not only a few extra bucks, but in some cases a couple of grams.
Unlike other forks I have reviewed, I haven't used the S&M forks for racing. They are on a bike that I use for training, because traditionally for me this is the time of year (Australian winter) that I would keep training but not race so much. The training bike gets used a whole lot more than the race bike, on weekly gate/track sessions, sprints, and jumping. With gates they didn't feel so light that you would have to mess with your riding style and body position to keep the front end down, and on the other hand these are no boat anchor either. The most important factor is they are a good weight for racing and I couldn't make them flex out of the gate or anywhere else around the track for that matter. I also found them to be well balanced in the air and very responsive when cornering.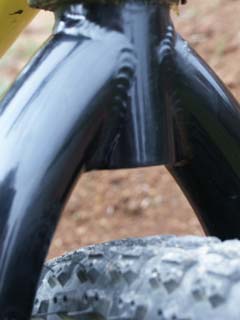 If you are looking for a great fork that's built to last and cope with racing and some dirt jumping, and at a fraction of the price of carbon forks, these just might be what you are looking for.
Rating 19.5/20:
| | |
| --- | --- |
| Value for money: | 5/5 |
| Weight: | 4.5/5 |
| Functionality: | 5/5 |
| Looks/Finish: | 5/5 |
Comments:
An all rounder fork at a winning price, these forks are likely to out live your frame.
There are lighter cromo race forks on the market, but not many.
Strong? These things are damn near indestructible. What more do you want?
Very clean welds, and nice paint job, with very simple stickers. A very classic and simple look.