SunRingle Octane Mag pedals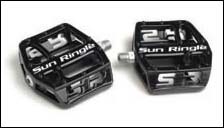 I received my first set of Sun Ringle Zu Zu pedals 6 years ago. Zu Zu's are Sun Ringle's version of the original 80's Shimano DX platform pedal, that were very popular in the late 90's. I have raced BMX now for over 25 years, all of which have been on flat pedals. I found them the most impressive platform pedals I ever put my foot to. The thing is, they lasted way beyond my own expectations. I was still running the same pedals more than 5 years later. I am not talking about the same make and model but the exact same set of pedals. Sure they looked a little tired, with the paint rubbed through around  the edges and where the shoe contacts the pedal. The grip though was still very good, and I
don't remember ever having slipped a pedal. How much longer they would last would be anyone's guess, so instead of risking being let down at a race it was time for some new ones.
I hadn't seen any Sun Ringle Octane Mag pedals in Australia, just pictures, and I didn't like the look of the first generation SR Mag pedals, they were just too chunky. So I was just planning on getting some new Zu Zu's. When my new pedals arrived, to my surprise (and much joy), they were the new second generation Mag pedals. At first glance they had less studs for grip than what I was used to, they had a flatter platform, a slightly lower profile,
and by moving away from the standard shape of platform pedal these looked much stronger. At 243g each, the Mag pedals are nearly 20% lighter than the Zu Zu's, which would be contributed mostly to the Magnesium body. The newer style body has a much better finish with SR CNC'd into it, not only for looks but it also provides structural support. I have been let down by platform pedals collapsing when I land a big jump heavily more than for any other reason.
Putting the pedals on the bike and taking them for the initial ride would be the real test. I am used to a good grip from the Zu Zu's, however the Mag's take grip to a whole new level, and that's despite the pedals having less studs. To really put them to the grip test I pulled out an old set of Vans shoes that should have been thrown out ages ago, they have no tread left on the sole at all. Doing a sprint session with shoes that should be slipping is a little daunting at first, but it was obvious that the sole of the shoes would be fine. There were no signs of slipping at all.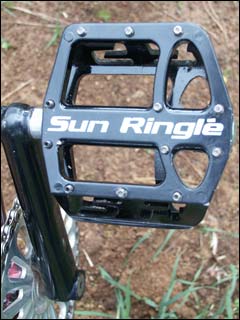 Confident that these pedals are as good, no actually better than the Zu Zu's, I was ready to do some racing with them. I have to admit I had found a new favourite pedal. I couldn't think of any other pedal I would rather be using or racing with, they feel very natural under foot and are very comfortable. And there was never a time in a race where I was worried about slipping, despite the time of the year here in Aus. After a couple months of use I would recommend these pedals to anyone looking for platform pedals with superior grip.
The only problem I had with the Octane Mag pedals was that they were a pain in the bum to get clean, but that's hardly an issue, since pretty much all pedals are that way.
The Sun Ringle Octane Mag pedals are only available in black and 9/16″ thread.
Now I just need to get some for my cruiser as well, and my dirt jumper, and…
Rating 19.5/20:
| | |
| --- | --- |
| Value for money: | 5/5 |
| Weight: | 5/5 |
| Functionality: | 5/5 |
| Looks/Finish: | 4.5/5 |
Comments:
They aren't going to be the cheapest pedals available, but they have sealed bearings, a cromo spindle, are extremely light, strong and with the replaceable studs they will go on and on and on.
I think you would struggle to find another pedal this light, that's built to last and provide you with this much grip.
The Mags are the perfect platform pedal especially for those of us with big feet. The grip is second to none.
I expected that since the Zu Zu's had the logo etched that these would too. The white Sun Ringle logo is printed on and will rub off. That said, the finish is perfect in every other way.
Check www.sun-ringle.com for more information about Sun Ringle products.
Sun Ringle products are distributed in Australia by ECI (Elite Cycle Imports)
by Shane Jenkins/bmxultra.com