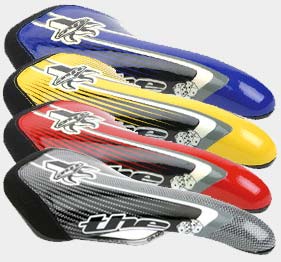 Have you ever been let down by an inferior seat, with twisting or bending rails, or even popping the seat right off the rails? That's exactly how I ended up on a THE Dice seat, the rails on my previous seat bent so badly that the seat pillar bolt was starting to push up through the bottom of the seat. Which has the potential to be quite dangerous.
It's funny when BMXers build up custom bikes they generally ensure they have the best forks or the best cranks that money can buy, but usually just put any old seat on the bike. I know I have done that, selected a seat just because it looked good and didn't cost much. Even a majority of complete bikes come stock with cheap seats off the show room floor. They say that a chain is as strong as it's weakest link, so think about it. Let's say you travel a fair way to some dirt jumps or a track to train on, you crash and the only thing that's stopping you from riding is a broken seat. I am sure that I'm not the only person that's happened to. Ok, it could also be because I am heavy, but that only means that a seat would cop more abuse.
It was more than two years ago when I got my first THE Dice seat, it was yellow, and I only recently replaced it because of a colour change. I am now using a red Dice seat. Over those two years my bike has seen plenty of track time, whether it's racing or training, it's also been through a number of crashes. Looking at the seat now, it may have lost some of the original brightness, but I can't really tell. There is one small tear just under the nose and the stitching along the kevlar protection (black section along the back of the seat) is showing signs of wear, but it's in great condition and far from the point that it needs to be thrown away, the chromo rails are still in perfect order, in fact I have put that seat on a bike that I use for dirt jumping. I expect to get at least another 2 years out of it and wouldn't be surprised if it survives far beyond that, maybe even far beyond the colour yellow is acceptable on a BMX bike.
I am not saying that the THE Dice saddle is indestructable, it's just that personally I can't fault it. Nor is it the most comfortable seat, but it's a light weight racing saddle that's strong enough to take regular abuse, and since you shouldn't be sitting down for an extended priod of time in BMX races anyway, comfort is hardly relevant. The THE Dice seats are not only built to last but designed to impress. The slick graphics would finish off any bike perfectly.
Rating 19/20:
| | |
| --- | --- |
| Value for money: | 5/5 |
| Weight: | 5/5 |
| Functionality: | 5/5 |
| Looks/Finish: | 4/5 |
Comments:
Buy one seat that will last years, instead of spending money on many over the same period. Now that's a good investment.
Just 10oz, the THE Dice seat is damn light.
If you are after a soft seat for cruising, look in the grandma section of seats with gel and lots of springs at your favourite bike shop. But if you are after a seat that's light, will last and look good then this is the seat for you.
I like the simple graphics. But I think there needs to be either more colours to choose from or something that's a little less contrasting in colour. Like a black and dark black combo, for the people like me with all black components on their bike. But that could just be a personal preference, you should still find something that will work for you no matter what colour combo.
Check www.THE-industries.com for more information about THE Industries products or to locate your local distributor.
THE Industries products are distributed in Australia by ECI (Elite Cycle Imports)
by Shane Jenkins/bmxultra.com