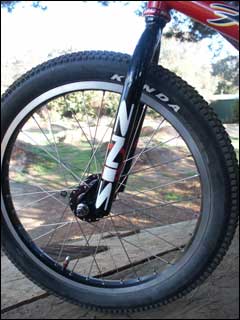 Are you looking for some light weight forks but would rather not go as far as paying big bucks for high-end carbon race forks? There are a lot of heat treated cromo race forks on the market now that offer weight benefits similar to carbon forks but at much lower prices. Sinz BMX racing products have the price tag for the budget minded BMXer and the quality for even the hardest of hardcore racers. Sinz pretty much manufacture any part you can think of from headsets to wheel sets, and grips to forks. The latest range of Intense complete bikes come decked out with Sinz products, including the forks.
We asked Australian Free Agent AA Pro/Team Manager, Shannon Rademaker, to review the Sinz race forks for us. He was a prime candidate to try out the forks since he has been racing with the stock standard cromo Free Agent forks that came on his Limo.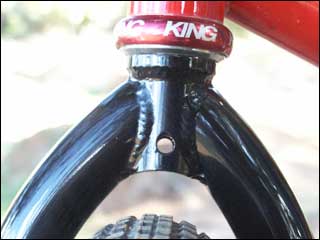 When we asked Shannon for his initial reaction this is what he had to say. "I noticed the difference immediately after making the upgrade to the Sinz heat treated forks. Just from balancing on the gate…the problem I used to have with flex in the forks was gone. I was stumped, they looked too skinny to be as stiff as they are. Right from the beginning the forks felt significantly lighter when manualling, jumping, and coming out of the gate. I have raced with them a couple of times now and I could definitely keep running them."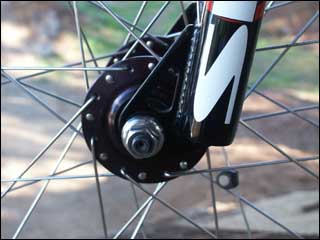 When we asked him what he thought could be improved he said "it would have been nice to have a built in headlock like a lot of the other high end forks are coming out with now, but they do come with "top hat" washers to protect the thread on the hubs from the drop outs, which isn't a bad idea."
The Sinz racing forks are available in a slick looking gloss black finish with the Sinz logo down the outside of each of the fork arms.
They are available in four sizes;
20″ in both 1″ and 1 1/8″ steerer tube
24″ in both 1″ and 1 1/8″ steerer tube
Rating 19/20:
| | |
| --- | --- |
| Value for money: | 5/5 |
| Weight: | 4.5/5 |
| Functionality: | 4.5/5 |
| Looks/Finish: | 5/5 |
Comments:
At around the $AUS120 mark they would certainly be worth checking out
At 900grams (32 oz) they aren't the lightest heat treated cromo fork on the market, but bang for buck you can't get much better
They may look a little skinny but there's no flex! Tough as nails!
Nice gloss black finish, tidy welds, neat simple drop outs and a nice simple logo to go with it that's been sealed with a clear gloss.
Sinz products are imported in Australia by ECI (Elite Cycle Imports)
Reviewed by Shannon Rademaker written by Shannon Rademaker/Shane Jenkins May 11 2007