If you are wondering why you haven't heard of a Perv race bike before well, that's because this isn't a race bike. The Perv Lewd 24 is a cruiser street bike that comes standard with steel pegs and a gyro, for the purpose of this review they have been removed. I have to admit, it's my first time I have ever ridden a street bike. When I started riding BMX bikes there wasn't any such thing, BMX bikes were all race bikes. Just some were more race-able than others.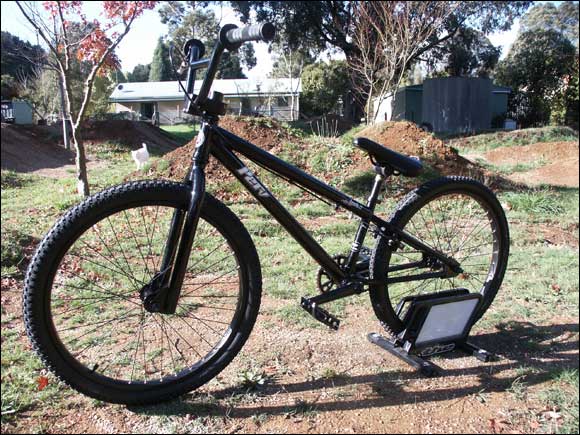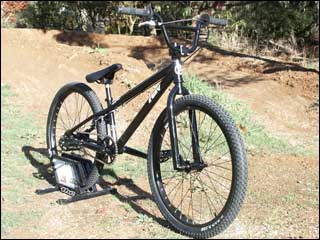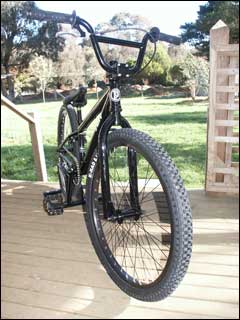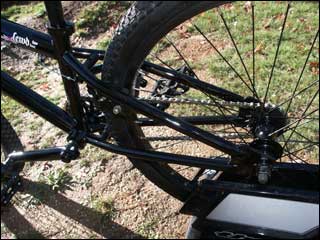 You are probably wondering if we are about 100% pure BMX racing why would we want to review a street bike? It's quite simple really. BMX racing is not all about the lightest equipment with the latest technology and the nice matching price tags. We can never forget the grass roots of the sport. Everyone has to start somewhere and there seems to be a huge number of older guys getting back into the sport with their kids.
When kids first start riding BMX they might ride on the bike paths, the skate park, the dirt jumps and the race track. You generally see the younger ones followed by an adult, usually the father on a mountain bike, and since mountain bikes aren't really ideal for all types of riding it can lead to disaster. I have seen it myself. They are usually the ones going over the bars and ending up with all the injuries.
That's not the only scenario, how about little Johnny who wants a BMX bike? He asks his parents, who usually would reply "you are too big for one of those". Well folks the cruiser is a nice big bike, with less moving parts than an MTB, so with bikes like this parents will have no more excuses.
Now that we have cleared that up the Perv Lewd 24 isn't as light as a race bike, but for a street bike that can be ridden at the BMX track it's not too bad. My instant reaction was nice finish, I love the all black look, but those handle bars. The bars are quite tall and narrow for what would normally be used on a race bike.
The bmxultra.com proving ground was too wet for a session on the Perv so it was off to the race track for a gates session to see how it would handle.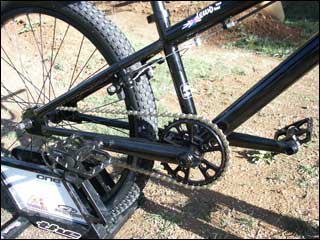 Initially the bars felt so narrow that I was beginning to think that I would need to change them to get a good feel for the bike. I was really struggling to get good power down coming out of the gate. Instead of changing the bars I positioned my hands so that the end of my grip was in the middle of my palm. Probably not ideal, especially for a long term solution, but it certainly felt better, and I was able to get a decent snap out of the gate. I have to add that the bike felt as solid as a rock right through the gate from balancing to accelerating down the hill.
With the gate sorted out it was on to jumping and manualling. To my surprise it performed well both manualling over big long jumps and through tight rhythm sections. The front end feels nice and light. Jumping wasn't too bad either. That was when I noticed that the gearing felt a little easy but not too far off a race gearing, that was fine it meant you could get up to speed pretty quick. The only problem I had with jumping it was when it came to adjusting the bike in the air it seemed like a little more work than what I had grown accustomed to. I guess it was either the weight of the bike or the handlebars being narrow. It certainly felt stable enough and was up for the task.
The 21.5 top tube is probably better suited to riders over the 163cm (5'4″) mark, at 188cm (6'2″) I didn't have any problems, I was comfortable and didn't hit my knees on anything. In fact overall it was a very nice ride.
If you are in the market for a recreational cruiser or something that will cope with all BMX disciplines take a look at the Perv Lewd 24, and maybe throw some wider handle bars on it.
Features:
Sealed bearing cassette hubs
Sun Ringle Rhino Lite XL rims
Cromo 3 piece cranks (175mm)
Cromo forks
Cromo handlebars
Mid sized sealed bearing bottom bracket
Kenda K-Rad tires
Rating 15.5/20:
| | |
| --- | --- |
| Value for money: | 4/5 |
| Weight: | 2.5/5 |
| Functionality: | 4/5 |
| Looks/Finish: | 5/5 |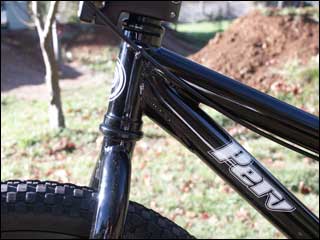 Comments:
For a reasonable price you get a bike that will suit all BMX disciplines
The weight scale doesn't do the Perv any justice, it's not the lightest bike on the market, but that's not a real restriction anyway.
For a street bike it handles very well on the race track
I love the way the Perv looks, nice welds, slick minimalist frame design, all black finish, simple graphics
The Perv Lewd 24 is only available in black and has a 21.5 inch top tube.
Australia specific information:
The Australian RRP for the Perv Lewd is around the $600-650 mark Perv products are imported into Australia by ECI (Elite Cycle Imports).
Reviewed by Shane Jenkins/bmxultra.com May 24 2007
Posted in: Complete Bikes · Reviews