Funn has spent the last 10 years manufacturing MTB parts but they have recently started making BMX products as well, supplying the componentry used on the current Kuwahara's; such as two piece cranks, stem, seat and seat post. I have been very impressed with Funn products so far, the Combat lock-on grips are no exception.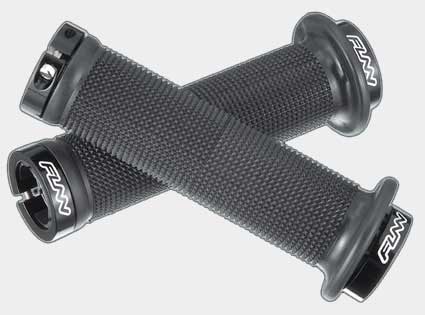 I have had little experience with lock-on grips despite the obvious advantages. Primarily it's a comfort thing that's held me back from taking a serious look at them. I'm not sure if you have noticed but lock-on grips are generally narrower than the traditional grips. They need to be to allow a bulky enough clamp to "lock-on" to your bars and hang on tight after being knocked around.
The Combat grips are quite a thick grip in comparison to others and comfortable right out of the packaging. They could be used with or without gloves. While the rubber grip is soft it's still quite durable and after a month of use is showing no signs of wear.
They have a very simple set up but installation wasn't as straight forward as I thought, maybe it's my clumsy "office boy" hands. You will need only one sized allen key to fit these grips, the plastic end caps have the same sized allen key bolt. The clamps are separate to the grip, locking down to a tongue on each end of the grip. I worked out the best way to fit them is to lock down the outside end first then the inside. With out the clamps the grips are quite loose and would slip all over the place, so as long as you lock them down tight there won't be any problems.
I have a wide hand and when I am racing I have a wide grip, because of the position of my thumb my index finger is usually about 2cms out from the flange, which pushes the outside of my hand over the end of the Combat grips and can get uncomfortable. Most people would push the inside of their hand right up against the flange, in that case the grips are plenty wide enough.
Rating 19.5/20:
| | |
| --- | --- |
| Value for money: | 5/5 |
| Weight: | 5/5 |
| Functionality: | 4.5/5 |
| Looks/Finish: | 5/5 |
Comments:
Combat grips are extremely well priced in comparison to other lock on grips.
116 grams for the set. I don't know if you can expect much lighter.
I think they need to be a little wider, or a wider version made available, aside from that I can't find anything wrong with them.
Very simple looking/clean design and finish.
Reviewed by Shane Jenkins/bmxultra.com June 8 2007