Kuwahara Laserlite Team 2007
Kuwahara is one of the old school names that is synonymous with BMX. It's a legendary brand that reached it's peak around the early 80's, around the time the movie ET was released. The movie featured the famous ET replica model Kuwahara with the unique red and white paint scheme that's still well sort after, even by today's collectors. 20 years later and the Kuwahara brand has been resurrected for a new generation of BMX racers. The quality and attention to detail is as fine this time around as it was back in the day.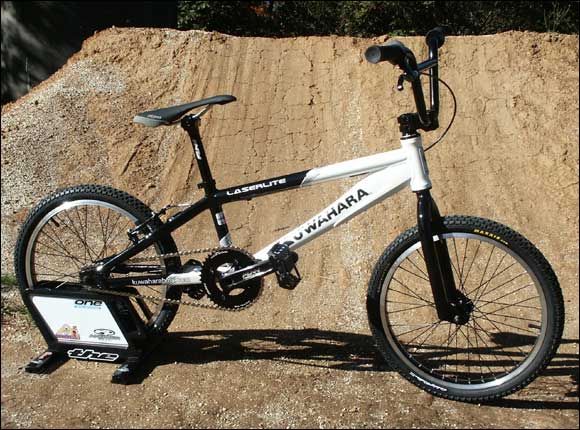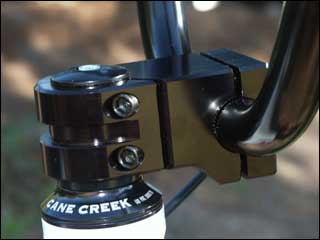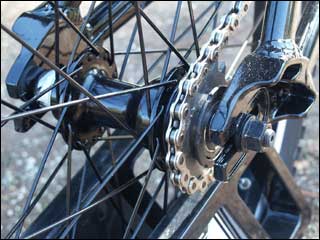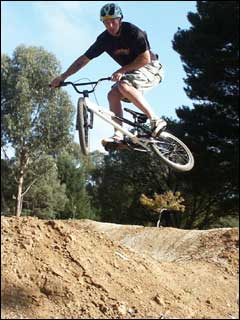 The Kuwahara Team frame is constructed from 7005 Series Aluminium, it features a hydro formed down tube and integrated headset. The light weight frame has an impressive black/white colour scheme finished off nicely with a slick head badge and sticker kit along with a silver lightning bolt to separate the colours. The lightning bolt theme is carried through to the very unique rear dropouts.
The 21 inch top tube makes it best suited to riders from around 165cm (5'4″) to 180 cm (5'11") tall. After spending some time on this bike myself I didn't have any clearance issues, despite being 190cm (6'2″).
The bike is jam packed full of goodies including cromo handle bars, cromo forks, Tektro brakes, sealed bearing cassette hubs, Sun Rhino Lite rims, Maxxis Holy Roller BMXception race compound tires (20 x 1.75 front and back), two piece Funn Hooka DH 180mm cranks with external bottom bracket, sealed integrated Cane Creek headset, Funn Thrilla stem, Funn Soljam Viper pedals, Funn seat and the very unique Funn seat post.
I must admit this was the first chance I have had to take a close look at the Funn products and I was very impressed.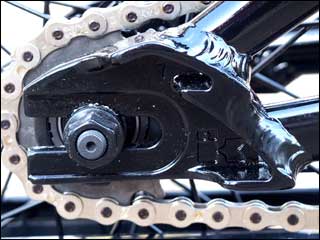 The pedals stick like no other platform pedal I have ever used, the pins are very long which was a little uncomfortable for me at first, since I use the thin soled Vans shoes for riding, but it was worth putting up with considering the superior grip they offer. The stem was probably my favourite of the Funn components with the pinch clamp for the forks on the side, giving it a cleaner look while offering greater clearance and removing the sharp corners that comes with traditionally shaped stems. The bonus is that it's flip-able so you get a bit of adjustment if you find you need to raise or lower your bar height. I hear that it's lighter than the S&M XLT stem. Most importantly I didn't have to worry about anything slipping and there was no sign of flex in the front end. The two piece alloy cranks were a novelty for me, having used cromo cranks for over 20 years now, I was expecting a lot of flex and groaning, but nothing and not from lack of trying either.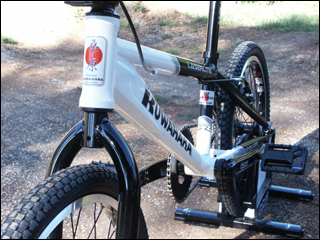 As a complete package the Kuwahara Laserlite Team is a long way beyond an entry level bike however the price tag isn't that much greater when you consider the quality of the frame, parts and sealed bearings right throughout. Despite unbranded standard cromo bars and forks the Team is a very light complete bike. You may shave some weight by changing the handle bars and forks, but you can just take it from the shop floor straight to the track and be ready to race without changing a thing. Well, maybe you would want to put a quick release on the seat post clamp and clipless pedals, if you are that way inclined.
How does it ride?
The mandatory test for me is to see how a bike rides around my backyard track, hybrid dirt jump/race jumps and tight turns are as good a test as any. Immediately I found the bike handled very well. I started off gently by manualling through the doubles, the Kuwahara passed that test with flying colours. I stepped it up to jumping where it felt very natural in the air, and well balanced and it handled well around the corners too. I have to admit I liked riding the Kuwa' so much I held on to it for a little while longer than I needed to for the review, it got quite a work out in the end. Acceleration was fine out of corners and down the start ramp. I also had bmxultra.com team rider Jamie Bullows have a ride while I took some photos and give me a second opinion, he couldn't fault it either.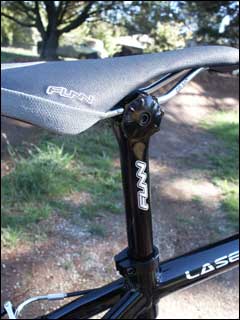 Next stop the race track. I found that the bike manualled well over jumps, but when it came to just manualling on flat ground I had a little trouble. I wrote that off to the frame being a little shorter that what I am used to, besides I don't manual on flat ground when I am racing anyway. Again it was fine cornering and jumping, the real reason to take it to the track was to see how it felt on the start gate. I was expecting the bike to be a little loopy out of the gate, I am not sure what I based that on, but couldn't have been more wrong. Coming out of the gate off a good snap the front end wanted to stay nice and low, which was just perfect because you could focus on getting the power down without having to worry about keeping the front wheel down as well.
In the two or so weeks I spent on the Kuwahara Team the only fault I could pick was the chain hit the seat stay and started to chip some paint off, which is not uncommon on race bikes. There are a couple of ways of fixing that before it even happens. When the bike is new ask the shop if they can check it out, they'll space things out and get the alignment right for you saving you the time and effort. There are also some products that MTBers use to protect their frames too, it would be worth while checking them out and protecting your investment, especially since the Kuwahara is something that you could potentially be riding for a long time.
Features include:
7005 Series Aluminium frame
two piece Funn cranks with integrated external bottom bracket
sealed cassette hubs
sealed internal headset
Rating 19.5/20:
| | |
| --- | --- |
| Value for money: | 5/5 |
| Weight: | 5/5 |
| Functionality: | 4.5/5 |
| Looks/Finish: | 5/5 |
Comments:
If you are in the market for a high performance complete bike package with a nice price tag you should seriously consider the Kuwahara Team
Try finding a lighter pro sized bike straight out the the box
Aside from the problem I had with the seat stay I found the Laserlite handles exceptionally well and is a very stiff frame
The Kuwahara Laserlite Team looks fantastic.
The Kuwahara Laserlite Team is also available as frame only with a choice of a 21 or a 21.75 top tube, it comes in white/black or yellow/black colour combinations.
Australia specific information:
The Australian RRP for the Kuwahara Laserlite Team is $1285
Kuwahara products are imported into Australia by ECI (Elite Cycle Imports).
Reviewed by Shane Jenkins/bmxultra.com April 25 2007
Posted in: Complete Bikes · Reviews