Supercross' ever growing product range now includes seats (or saddles depending on what side of the Pacific you are from). Supercross products always maintain a classic look about them while keeping up with advances in modern manufacturing and are always a step ahead with design.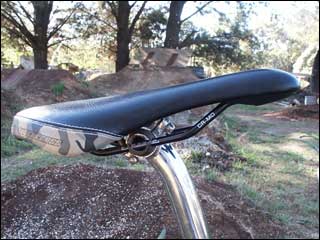 I remember the days of old, very old in fact, where a seat was a hard plastic shell and not exactly made for sitting on. They say there was no padding to save weight, and besides BMXers don't sit on their seats, right? WRONG! Well thank God those days are long gone. I may not be spending as much time on my bike as I did back then, but I am certainly glad there's padding. Sure, you don't need to sit on your seat while racing but how much time do we spend on the bike actually racing anyway? What about sitting between motos, or chillin' at the local dirt jumps? Or simply cruising down the street? I don't know about you guys but I am glad that seats have come so far.
The shape of the SX Pro Saddle is very cut back, or "minimalist" as it's described on the Supercross website "…so it is out of your way while pedalling." It certainly is that and is still quite comfortable for a race seat.
Design features
Durable crash resistant high densiy nylon base
Light padding
Durable synthetic leather cover with kevlar corner protectors
4130 cromo rails.
The shape of the seat and simple design would make it especially appealing for those who want a reliable seat that doesn't take the focus from the bling of the frame, of the rest of the bike.
Having used the SX Pro seat for a good few months now, on my cruiser, I haven't had any problems with it at all and it's been comfortable enough during that time.
The colour range includes Black/Carbon, Black/Camo, and White/Carbon.
Mini and Sammy Cools signature (super light, featuring titanium rails) race saddles also available.
Rating 20/20:
| | |
| --- | --- |
| Value for money: | 5/5 |
| Weight: | 5/5 |
| Functionality: | 5/5 |
| Looks/Finish: | 5/5 |
Comments: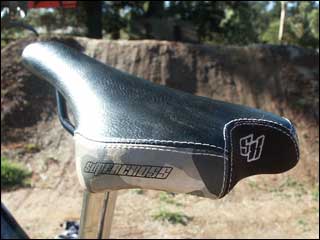 Around the same price as other seats in it's class
You will be hard pressed to find a lighter pro size seat at 208 grams (7.2 oz) it's 20% lighter than the THE Pro Dice seat which is 266 grams (9.4 oz)
Strong construction, cromo rails, padding, durable synthetic leather cover and kevlar corner protectors. Do you really need more from a seat?
I love the basic/classic look of this seat.
For more information check out www.supercrossbmx.com.
Reviewed by Shane Jenkins/bmxultra.com April 19 2007