Sun Ringle are more well known for their high quality wheels and rim sets than they are for any other component in their range of BMX accessories.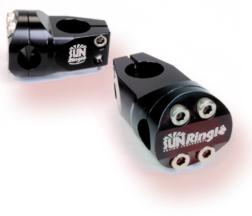 The Bazooka stem deserves so much more attention than to be lost in their catalog as a BMX accessory. It is equally as slick as any of their more well known offerings in so many ways, and it's versatile enough to use across all of the BMX codes, racing, freestyle and dirt jumping.
Team bmxultra.com have been using the Bazooka stem for nearly 12 months and have had very few problems with them, the problems we did face would be the same for any new coloured stem regardless of make. That problem was "slippage", when you have new painted handlebars or stem, as was the case here, the paint can cause the bars to slip no matter how far you tighten them. What you should do before going out too hard is sand the paint down, not right off, but just enough to give it a rougher finish and make sure you do the front bolts up real tight.
When doing gate starts and jumping there is absolutely no flex in the Bazooka stem, and their shouldn't be, this thing is built like a tank, but light enough for those weight conscious riders. 308 grams for the Pro model which is 40mm long, and 395 grams for the XL model which is 60mm long and the one we tested.
The stem is made from 6061 CNC machines alloy and comes in a black finish with a laser engraved logo. There are 2 bolts for the steerer clamp and 4 for the bar clamp, offering plenty of grip, giving our riders a load of confidence.
If you are after a great stem regardless of price, this is it, but it will set you back about $AUS150. For more information on the Bazooka stem or Sun Ringle BMX accessories check out the website at www.sunrims.com.