Supercross BMX Straight 8 pro bars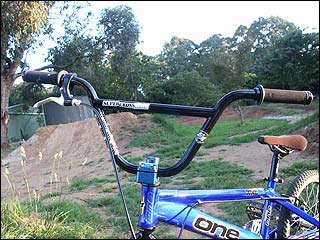 The Supercross BMX Straight 8 Pro bars are light weight, very stiff and very strong. Made from 4130 cromo with Supercross' special post weld processing formula.
The Straight 8 Pro bars specs are:
7.75″ rise
28″ wide
11 degree backsweep
3 degree upsweep
Available in gloss black and white
The major differences from the old Supercross Pro bar are some small tweaks in the geometry, the cross bar has been lowered a 0.25 (or 1/4) inch. Aside from that it has new decal kit. I have to add the decal kit give the bars a nice lift. Awesome designs.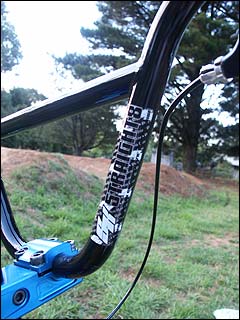 The finish of the SX Straight 8 handlebars is immaculate, a very slick gloss black paint job, and clean looking welds. After having used Supercross products for a few years now I would expect nothing less.
The name Straight 8 came about when SX were toying with the idea of doing a model of handlebar with a V shaped cross bar. Bringing back some 80's style in to the 00's. The V bar model would be called V8. The V bar concept didn't come to fruition (although I am sure that a lot of bmxultra.com readers would have been all over them) but the Straight 8 name stuck.
I am one of the taller and heavier riders you will see on a BMX bike these days, so it's important to use products that will cope with the extra stresses applied. Through the review process I had no trouble with the bars, actually I don't think you could ask for a stiffer handlebar.
Rating
20/20:
| | |
| --- | --- |
| Value for money: | 5/5 |
| Weight: | 5/5 |
| Functionality: | 5/5 |
| Looks/Finish: | 5/5 |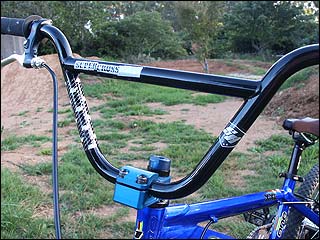 Comments:
These bars are right up there in quality with the recognised leaders and around the same price. You could buy cheaper bars, but remember, you get what you pay for. Spend the extra bucks to get the extra value and quality
Light weight and strong. Perfect!
Stiff, strong and they look great what more could you ask for?
Slick graphics, paint job, and design!
Check out www.supercrossbmx.com for more information
Reviewed by Shane Jenkins/bmxultra.com Mar 14 2008
Posted in: Handlebars · Reviews