Supercross Racerhead Stem V1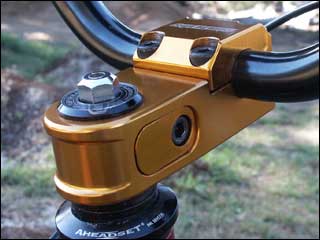 At first glance the Supercross Racerhead stem looks like a slight variant of the standard every day top loading stem. When I saw the pre-production version of this last year I must say I got a little excited, it's extremely light weight and quite a sexy looking stem. Bill Ryan at Supercross told me he was looking to make a super light top loading stem with all the weight saving advantages of a front loader. For those that don't realise, high end front loaders are usually hollow and because of the shape of the stem a lot of alloy can be machined away, however because of the shape of a top loader it's difficult to shave weight without surrendering strength.
The one main thing that really separates the SX Racerhead from other top loaders is the single bolt dual cam system that clamps in front of the fork steerer tube. Most stems have a pinch bolt system which you should be familiar with. It clamps behind the steerer tube, extending the stem into the rider area. Is a single bolt enough? Especially when all other stems have two bolts. The cam system works very well. I have been running the Pro XL (65mm) stem since January, it only came loose once, just after I first fitted it, and that was because I hadn't tightened it up enough. When racing and training with the Racerhead I felt I could trust it to perform as expected, no flexing or groaning, just 100% performance every time.
Despite the weight savings through all of the shaved areas, the Racerhead stem is as stiff and strong as any other stem on the market, and you will be struggling to find another pro sized stem this light. The pro sized stem (55mm) weighs only 10.8 ounces or 300 grams for those talking metric. One of the things I like most about the stem is how it looks, everything from the way it's shaped to the way that all the lower bolt holes of the top loading clamp are sealed away from where mud and grit will get into them.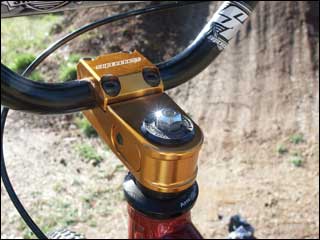 There are four sizes available, including:
45mm x 1″ (Jr. Pro)
45mm x 1 1/8″ (Pro LT)
55mm x 1 1/8″ (Pro)
65mm x 1 1/8″ (Pro XL)
The colour range includes Black Anodized, Blue Anodized, Gold Anodized and polished silver.
Rating 20/20:
| | |
| --- | --- |
| Value for money: | 5/5 |
| Weight: | 5/5 |
| Functionality: | 5/5 |
| Looks/Finish: | 5/5 |
Comments: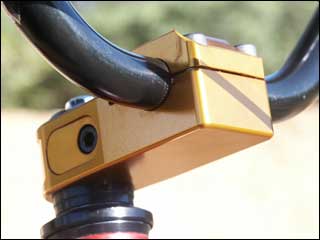 The SX Racerhead stem is priced up with the other high end stems, if you are looking to save weight on a quality product then this is well worth checking out.
You will struggle to find a lighter top loader stem.
Holds on to your bars and forks just as you would want your stem to. It's also flipable if you are looking to lower your bar height. The cam system is a fantastic idea, you will never have to pry the pinch clamp open with a screw driver to work the stem off your steerer tube ever again.
Overall the SX Racerhead stem would have to be one of the sexiest stems on the market right now.
For more information check out www.supercrossbmx.com.
Reviewed by Shane Jenkins/bmxultra.com March 26 2007