Supercross Racerhead Stem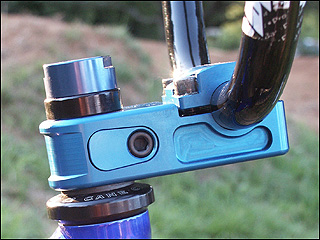 The Supercross Racerhead stem has had a bit of a face lift. It looks very different to the original model we reviewed nearly 12 months ago. Sure, it's still a 4 bolt top loader, and sure it's still the same basic shape, with the same single bolt cam system to clamp down hard on the fork steerer tube.
The design of version 2 of the Supercross Racerhead stem has shaved an extra 0.2 of an ounce off the weight from the original design. Weighing in at just 10.2 oz (55mm), it's the same weight as the S&M XLT race stem – but with 2mm extra reach. The most significant change is in the top clamp. It's been rounded off to trim some weight, but also provide even clamping power over the bars. And the only other differences are that the bolt heads are now exposed on the top clamp and a little more alloy has been machined from the main body of the stem.
The design changes have been made without impact to the strength of the stem nor the clamping power. The stem feels solid and stiff through jumping, gates, and sprinting.
The colours seem to have more of a matt finish than the previous version which works just fine for me. The Supercross Racerhead v2 stem comes in blue, gold, polished, black, red or grey.
There are four sizes available, including: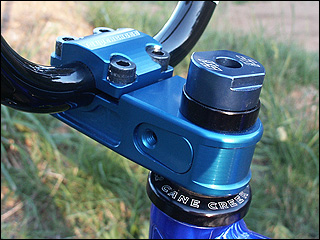 45mm x 1″ (Jr. Pro)
45mm x 1 1/8″ (Pro LT)
55mm x 1 1/8″ (Pro)
65mm x 1 1/8″ (Pro XL)
Rating 20/20:
| | |
| --- | --- |
| Value for money: | 5/5 |
| Weight: | 5/5 |
| Functionality: | 5/5 |
| Looks/Finish: | 5/5 |
Comments:
The SX Racerhead stem is a high end stem with a high end price which is comparable with other stems in it's range, if you are looking to save weight on a quality product
then this is well worth considering, especially if you are after a stem in the 45mm or 65mm lengths which are a little harder to come by.
You will be hard pressed to find a lighter top loader stem.
Grabs on to your bars and forks as you would expect from a stem. The cam system is a fantastic idea, you will never
have to pry the pinch clamp open with a screw driver to work
the stem off your steerer tube ever again.
I still think the SX Racerhead stem is one of the sexiest stems on the market. I like it so much I have one on my 20″ and my cruiser.
For more information check out www.supercrossbmx.com.
Reviewed by Shane Jenkins/bmxultra.com Feb 14 2008