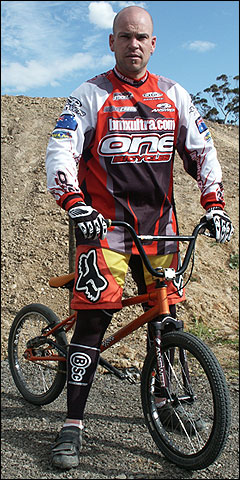 Former Australian Elite Champion, Tony Harvey, has been quite pro active in his retirement, to say the least. He's set himself up HRVFitness.com offering personal fitness training and in his online store you can purchase supplements, compression gear and a whole lot more. Tony offered some compression gear for a product review.
"Compression gear?" you ask. Yeah. You know… Skins, well actually Skins is just one of many brands, technically they are compression pants. The Aussie BMXers like Jamie Gray, Daniel Johnstone and Luke Madill are early adopters of the compression pants, you see them wearing them under their shorts, actually they have been around for a few years now and are pretty big in all sporting circles, not just BMX.
Anyway when Tony offered them to me I thought "oh great some guy has made up another reason for men to get all dressed up in tight lycra". Yes I was totally oblivious to the science of it all and the possible advantages and all caught up in how bad I would look in the things. I palmed the review off to bmxultra.com team rider Jamie Bullows who is also a personal trainer. Jamie would be able to put them through their paces both on the track and in the gym.
It works out that Jamie was hanging out to try them and when I started to read more about them I could see why. Some of the benefits of compression garments include:
Increased blood flow
Increased oxygen delivery
Reduced lactic acid
OK, so let's stop there. Theoretically these things would be perfect for BMX, even just for reducing lactic acid. I'm no sports scientist, but I'm sold already. Although I don't think I want to get into Jamie's pants, he can keep them.
So, back to the review. Not only are compression pants good to use while exercising, or even competing, but they are perfect for recovery afterwards. The Body Science KompressorZ design is to target key muscle groups and according to the website:
Reduces soft tissue damage
Reduces muscle soreness
Aides muscle recovery time
Reduces the risk of injury
Oh and if you are wondering how they target muscles, just take a look at how they are sewn, it's all about the shape of the panels and the position of the stitching.
So what did Jamie think of them?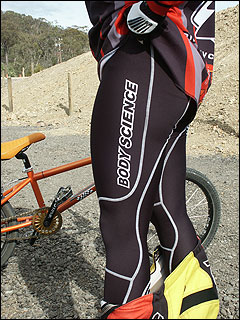 Shane: What did you think of the compression pants in general?
Jamie: "In general I like them"
Shane: Do knee/shin guards slip when wearing them over the compression pants?
Jamie: "Yeah, knee/shin guards do slip a little, but it's not a huge issue, they would slip on sweaty legs or just on skin anyway"
Shane: Would the shorts version be better for racing and long version better for after race recovery?
Jamie: "Yeah definitely use these for recovery after racing, but they also will help during racing because you have them working from waist to ankle rather than from waist to just above your knee. It's probably up to each individual to work out what works best for them."
Shane: Did they make a noticeable difference?
Jamie: "My legs seemed to be a lot less fatigued when wearing them than what they normally would."
Shane: Are they comfortable to wear all day?
Jamie: "Yeah you don't really know you are wearing them under normal clothing."
Shane: Was there anything you didn't like about them?
Jamie: "Just that the knee/shin guards slipped a little while wearing them."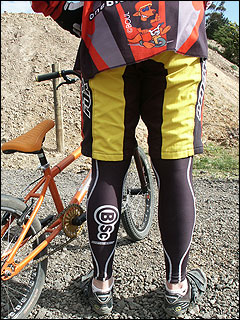 Shane: Would you recommend them to a fellow bmxer?
Jamie: "Yeah, I found they helped out with muscle fatigue, both while racing and after for recovery and also with work I found I can manage through back to back spin classes a little easier and also when I have to do runs with clients."
Shane: What do you think about how they look?
Jamie: "You've seen how good I look in them mate!"
The particular pants that Jamie has reviewed are Body Science Athletic Longs, and retail for around $AUS140.
Rating
18/20:
| | |
| --- | --- |
| Value for money: | 4/5 |
| Weight: | 5/5 |
| Functionality: | 4/5 |
| Looks/Finish: | 5/5 |
Comments:
At around the $140 mark they are a little expensive, but do provide some great benefits and are the same price as other leading brands.
The weight of the pants is hardly relevant, you certainly don't even feel like you are wearing them, there are no restrictions of movement or anything like that.
They do all they say they can do, only they need to come up with a BMX version with something that will make the knee/shin guards stay in place.
They look great and are holding up quite well after a good few months now.
For more information about Body Science products check out www.hrvfitness.com
Reviewed by Jamie Bullows & Shane Jenkins/bmxultra.com December 17 2007.
Posted in: Reviews · Training Systems