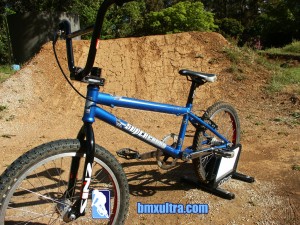 Fans of cromo, or just a nice ride in general, are going to love Supercross' cromo R-CR series frame. While most manufacturers seem to be going with the flow and heading down the alloy route Supercross is one of the few frame manufacturers that is still producing a high end cromo race frames. It's a frame that will perform just as well at the dirt jumps as it will on the race track.
I have had the pleasure of having raced the R-CR predecessor the SX UL. On the surface there's not a great deal of difference between the two models. However SX have managed to keep their cromo frame evolving.The R-CR has a Campy style integrated headset and a bi-ovalised down tube with an ovalised top tube, it also has some awesome new graphics. The ovalised tubing is to increase strength and stiffness, it certainly does that. On closer inspection the dropouts have been machined out to save weight and the built in seat clamp has also been reduced to a minimum.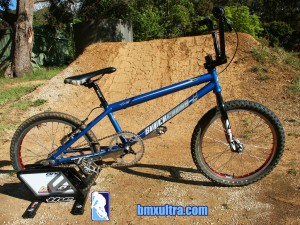 Whether on the race track or on the dirt jumps the R-CR is a very comfortable ride, the bottom bracket height (11.6″) is awesome for acceleration and the 74.5 degree head angle is perfect even through the tightest of corners. The R-CR is awesome out of the gate, with a 15.2″ chain stay length it's well balanced so you can concentrate on getting your power down without having to worry about trying to keep thefront wheel down. Manualling and jumping is very comfortable. I would say to a point that it's a pleasure to ride, it's as easy to throw around and correct weather in the air (or manualling) as it is powering through a corner on a race track.
When putting the bike together I did have one issue. I tried to build it with some older wheels which had a screw on style freewheel but found it put the chain too close to the frame and it was close enough to take some paint off the chain stay, so I put some different wheels in with Profile cassette hubs and the problem was fixed immediately.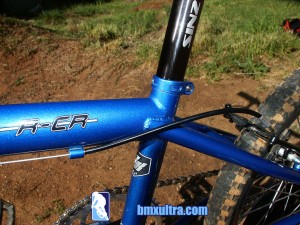 The R-CR is as light as most Alloy frames with the XL weighing in at 4.2lbs.
They are available in the following sizes:
Pro (20.5″ top tube)
Pro XL (21.25″ tt)
Pro XXL (21.75″ tt)
Pro 24″ (21.5″ tt)
The range of colours includes Gloss Black, Candy Blue, Candy Red, Gloss White, or you can pay a little extra for a custom colour.
Supercross Factory riders piloting an R-CR include NAG 5 Challenge Rider 17x Bakari Hassan, 36x Ken Pliska, and 28x Randy Roberts.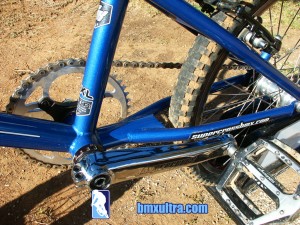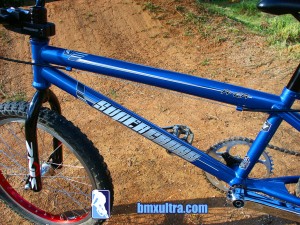 Rating 19.5/20:
| | |
| --- | --- |
| Value for money: | 5/5 |
| Weight: | 5/5 |
| Functionality: | 4.5/5 |
| Looks/Finish: | 5/5 |
Comments:
An awesome high end cromo frame built to last, designed to impress, bred to win
The R-CR is one of the lightest alternatives to Alloy with the reliability of cromo
The R-CR is a great ride, my only gripe is the built in seat clamp set up makes it nearly impossible to fit a quick release
Awesome welds, great graphics and design and a superb paint job you can't ask for more.
For more information about Supercross check out www.supercrossbmx.com.
review by Shane Jenkins 7 Dec 2007