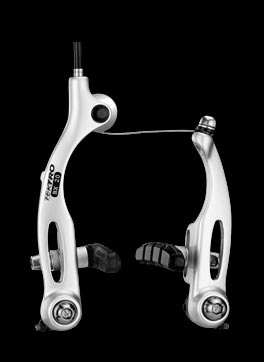 The BX20 BMX specific linear pull brakes are one of the latest editions to the Tektro BMX line.
The BX20 feature all the specs that have become expected in a high quality 'V-brake'. They include; forged alloy brake arms, dual arm tension adjustment, linear spring tensioning, and perhaps one of the most unique yet extremely functional designs since the creation of the 'V-brake', a roller guided cable route.
The roller guide eliminates the need for the conventional L-shaped tube cable guide. This design feature decreases cable drag and helps keep the brakes nice and simple.
I found that for maximum performance it helps to keep the roller guide well lubricated, Tektro recommends the use of Teflon coated cables.
The BX-20 weigh in at only 208 grams.
Tektro Talon Lever
What good is a set of brake arms with out a good lever to compliment the set.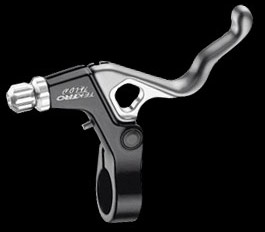 The Tektro Telon brake lever is a high performance, BMX specific, linear pull brake lever.
It's most distinguishing feature is the one or two finger handle design. This makes it extremely easy to ride with one finger resting on the handle,
for a quicker reaction time. It also feels very natural and for those old schoolers out there, it's probably the closest thing you will get to the old style two finger levers that is specific for V-brakes. The Talon lever weighs in at an extremely light 84 grams.
Even if you aren't on the market for a new set of brakes you should check out this wicked combination from Tektro, the brakes specialists.
For further information on the Tektro brake range check-out www.tektro.com.
Reviewed by Luke Chmielewski (Team bmxultra.com) – 9/12/2000