BMX racing news July 2010
31/07 World Championships Live Stream – Elite Classes
by bmxultra.com
Special 6:30pm update
Earlier in the week we advertised the wrong times, we must have read an incorrect press release or converted the time incorrectly or something. But the steam is live in just a few hours from now. Don't miss it!
Live video by freecaster.tv
There will be a live stream of the Elite Classes for the 2010 UCI BMX World Championships on www.freecaster.tv on 31July between 13.30 and 17.00 hours Central European Summer Time CEST or GMT +2.
Local Times
Melbourne/Sydney: 9:30pm 31 July
Los Angeles: 4:30am 31 July
New York: 6:30am 31 July
31/07 bmxultra.com's Levi Collins wins World Championship!
bmxultra.com press release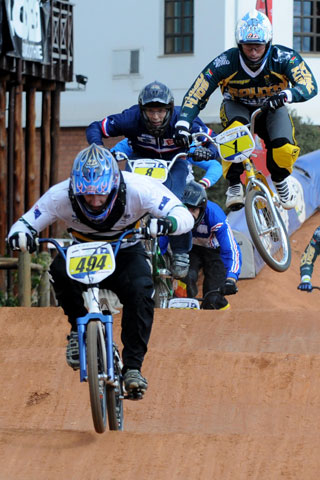 Levi Collins from Shepparton Victoria was crowned the 2010 25-29 Mens World Champion in Pietermaritzburg, South Africa yesterday.
Levi has been a long standing member of the bmxultra.com team and is an all round great bloke.
After taking a year off from racing in 2007-2008 Levi returned to the scene to take on the world's best at the 2009 World Championships in Adelaide, Australia. Although he rode well, it didn't pan out quite the way he'd hoped. In 2010 the Australian BMX Championships were at his home track in Shepparton and Levi had moved up a class to the 25-29 Men's bracket. Levi put in a great effort at the championships riding away with a #1 in the 25-29 Cruiser class and #3 in the 25-29 Men's class.
Since then Levi has been training non stop and was able to get assistance from his local community to help him to compete at the 2010 World Championships and fullfil his dream of winning the World Championships.
It's not over yet though, Levi still has the 25-29 Men's cruiser class to compete in on Sunday.
On behalf of the bmxultra.com team I would like to congratulate Levi, we are all very proud of you. Not only is Levi our first ever World Championship finalist, he's our first World Champion!
You can see Levi's win and other racing at the 2010 World Championships at www.bmx-videos.com
Photos by Mark Squire/Gameplan Media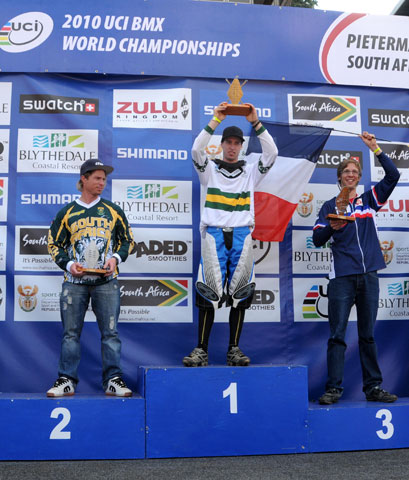 The bmxultra.com team is proudly supported by One Bicycles, Supercross BMX, Dirt Designs, Tioga, Elite Cycle Imports, THE, Profile, Sun Ringle, and Tektro Brakes.
31/07 Day Two Results, copy and photos from the UCI BMX World Champs
UCI press release
Pietermaritzburg – The second day of racing in the UCI BMX World Championships saw the landscape of the challenger classes reshaped by several moments of high drama that saw medal contenders crash out of contention in a day of thrilling racing dominated by France, Australia and the United States in front of packed stands under overcast skies.
The 14 Girls main final was shaken in the first few seconds by a massive crash at the foot of the start ramp that took out the two girls who had dominated the class from the first moto, New Zealander Hannah Sarten and Australian Harriet Burbridge-Smith.
French rider Mathilde Doudoux seemed to move across the two at the base of the start ramp, and within seconds all three were felled in front of the first big double, paving the way for Aussie Harriet Birbridge-Smith to claim the gold medal.
In the next final, American wizz Felicia Stancil continued to sweep all before her, as the Illinois star romped to a lopsided win in the 15 Girls class.
It looked like being a US 1-2 in the next final. However Dani George, who led from the start, watched in shock as Dutch flyer Elis Ligtlee
The rider carrying the local hopes on the second day Queensburgh stalwart Jonathan Chislett was drawn into a thrilling dogfight to try and defend his 25-29 Men's number one plate. Australian Levi Collins and Chislett provided a nail biting spectacle as these two seasoned pros slugged it out on the track, with the Australian toppling Chislett in the closing stages.
"I'm not bummed at all," conceded Chislett, who had beaten Collins in all of his motos. "I had to pass him on the third straight but I could not get it together over the rhythm section, and I realised going into the turn that he had it in the bag."
The win is doubly sweet for Levi, who has just moved into the 25-29 class. After winning his class at the Australian nationals in his hometown of Shepperton, he was unable to afford the trip to South Africa for the worlds.
"My local community came to my rescue and fundraised to get me here," said Collins. "It was so good to win this as a way of repaying my community back home. It's been 25 years since Shepperton had a world champion, so I'm proud to be taking this back home."
Chilean rider Diego Aguirre looked to have the 14 Boys gold medal in his grasp until he succumbed to the long and demanding layout, and surrendered victory on the line to Dane Chris Christensen.
The French stranglehold started in the 15 Boys final where Amidou Mir turned the main final into a procession, showing a clean pair of wheels to two Argentinian chasers left in his dust.
The 16 Boys final saw the form rider through all the motos Kristaps Vinters crash out of contention on the second jump of the main final, leaving the door open for the livewire American star Nathan Padilla to claim the world number one.
The outcome of the 17 Boys final was also reshaped by a crash. This time British contender Billy Luckhurst fell to gasps from the big crowd assembled in front of the first berm. Ahead of him however was the awe-inspiring sight of six consecutive French riders streaming across the line, spearheaded by the 19 year old new world champ Stephane Michalon.
The last main final of the day, the men's masters saw three riders fall, none more dramatically that Dutchman Dorus Brink who was challenging for the lead in the home straight and crashed out unexpectedly, some distance away from any other riders, emulating the demise of Vinicius Moreira of Brazil and Swiss racer Herve Krebs.
All the attention shifts to the junior and senior superstars on Saturday morning, when the prized elite titles will be decided.
SUMMARY OF RESULTS
UCI BMX WORLD CHAMPIONSHIPS
CHALLENGE CLASSES
14 BOYS
1.Chris Christensen DEN
2.Deigo Aguirre CHI
3.Kai Sakakakibara JPN
15 BOYS
1.Amidou Mir FRA
2.Nicolas Santolini ARG
3.Herman Alejandro Santillan ARG
16 BOYS
1.Nathan Padilla USA
2.Carlos Ramirez yepez COL
3.Allan Victor Oliviera BRA
17-24 MEN
1.Stephane Michalon FRA
2.Olivier Begue FRA
3.Remi Wock Tai FRA
25-29 MEN
1.Levi Collins AUS
2.Jonathan Chislett RSA
3.Aurelien Hus FRA
30 AND OVER MEN
1.David Mohi NZL
2.Daniel Roura ECU
3.Nicolas Benquey FRA
14 GIRLS
1.Harriet Burbridge-Smith AUS
2.Anne Sara Rojas SUI
3.Rosario Aguilera Martinez CHI
15 GIRLS
1.Felicia Stancil USA
2.Rachel Jones AUS
3.Shayona Glynn USA
16 GIRLS
1.Elis Ligtlee NED
2.Danielle George USA
3.Nadja Pries GER
17 AND OVER WOMEN
1.Anna Mayer GER
2.Kerstin Fritscher GER
3.Lauren Smith GBR
MASTERS
1.Marco Dell'isola GBR
2.Julian Lim AUS
3.Paulo Fernando Moreira BRA
31/07 BMXMAD at the World Championships
BMXMAD press release
BMXMAD would like to congratulate both Wade Turner and Bodi Turner on their outstanding acheivements at the world championships in South Africa this week.
Wade Turner 7th 13 Boys
Bodi Turner 6th 16 Boys
Wade rode like a demon with riders twice his size smashing him out of the gate but with skill and nerves of steel he swooped on all corners (his trade mark moves) to make it through the quarters and semi finals to finish 7th in the world final.
Bodi was on 'fire with desire'…with 1st and 2nds through the heats. Won the quarters but giving everyone a massive heart attack in the semi when he unclipped out of the gate to be dead last down the first straight. Undetered he rode with the smooth percission he is know for and smashed them down the 3rd straight rhythm to finish in 4th place. Finals were exciting. Bodi's gate was superb and running 3rd down the first straight. He had some contact a rider in a corner and unfortunately unclipped finishing in 6th place.
Awesome results and we are very proud of them!
A very special congratulations to LEVI COLLINS. 1st in the world. He is estactic and we are estactic for him! The nicest guy in the sport. We love you Levi and soooo happy for you.
BMXMAD
Sponsors – Intense, Answer.
30/07 World Championships day 1 results
by bmxultra.com
Yesterday saw the start of competition at the UCI World Championships in South Africa, with the 13 & Under classes. 14 World Champions have been crowned already.
Here's the finals results from day 1.
The remainder of the schedule looks like this. (full schedule)
Friday:
20″ classes 14 & Over, Masters
Saturday: Elite Classes
Sunday: Cruiser Classes
Live video by freecaster.tv
There will be a live stream of the Elite Classes for the 2010 UCI BMX World Championships on www.freecaster.tv on 31July between 13.30 and 17.00 hours Central European Summer Time CEST or GMT +2.
Local Times
Melbourne/Sydney: 9:30pm 31 July
Los Angeles: 4:30am 31 July
New York: 6:30am 31 July
30/07 HRVfitness Rocks the podium at the worlds
HRVfitness press release
HRVfitness sent two of their finest to represent at the 2010 UCI BMX World Titles held in South Africa. Brandon Te Hiko and Jaden Rice. Both riders are in devastating form after winning their respected classes at the recent Australian Titles in Shepparton.
Brandon put in a fantastic performance and managed to come away with # 3 World in the 13 boys. This was Brandon's second worlds, and after a bad spill at last year he was out to prove a point.
But the big news was the "Dominator" Jaden Rice.  Jaden has looked strong all year and when it came to final time he didn't pull any punches. The big fella dropped the hammer and came away with his first gold at a world event.
Congratulations to both riders. What a fantastic job.
HRVfitness Team Sponsors: Intense Bikes, S and M bikes, Altegra, Skin Industries, BMX Press, Phire Bird, DNA Nutrition, Strictly BMX
30/07 Big Time Incentives for staying at ABA's Host Hotel
ABA press release
Last week we announced incentives for booking through the ABA rooming block at The Grand Sierra Resort & Casino for the Black Jack Nationals.  These special rates and rooms won't last long, so make your reservations now!
All ABA riders and parents booking in the ABA BMX Black Jack Nationals rooming block will be eligible for prizes from Kenda Tires, THE, as well as the ABA. Ten (10) sets of Kenda Tires, 20 commemorative Black Jack National THE number plates, and a voucher for a national entry fee for one rider.
Room Rates:

Grand Sierra Room Rate: $79.00 for single, double, triple or quad occupancy
Summit Room Rate: $110.00 for single, double, triple or quad occupancy
Grand Sierra RV Park: $30 for available RV spots including 50amp pull through

To Make Reservations click here for a special ABA Black Jack Nationals reservation page or call the number below.

Rate includes:

Complimentary in room Wi-Fi
Complimentary Health Club Admission
Designated Desk for Quick Check-In
Complimentary Local and Toll Free Phone Calls
(2) Bottles of Fiji Water daily
Two for one bowling coupon per room. Valid for up to four Guests
$5.00 coupon valid for tokens in FunQuest Family Fun Center
$10 Matchplay. Valid players card required
Grand Sierra Resort & Casino
2500 E. Second Street, Reno NV 89512
Phone: 1-800-648-5080 / www.grandsierraresort.com
Please refer to the event name of ABA BMX Black Jack Nationals
Reservations must be made by August 4, 2010
This UCI/Pro Series race is the first race of the 2011 season for UCI points.  Riders vying for London in 2012 from around the globe will all be looking to amass qualifying points for their countries.  Many countries will also be weighing the points earned by individuals to select their Olympic BMX teams.  With the ABA National points up for grabs as the Grand Nationals draws near, this is an important stop for the amateurs and pros alike.
Make your room reservations before August 4th and you could be a winner in Reno!  All prize winners will be posted with pre-signs on Friday and can pick up their prizes at ABA Racewear.  31 prizes are up for grabs just by taking advantage of this great rate and booking your room early.
We will see you in Reno!  To pre-sign for the race, please click here.
About the ABA
The American Bicycle Association (ABA) was formed in 1977 and is headquartered in Chandler, Arizona. "The Sanctioning Body of BMX"©, the ABA organizes BMX racing for boys, girls and adults, nationwide and Canada. With 60,000 active members, 274 racing facilities and a 27 event national race schedule, ABA is the largest promoter of action sports.
30/07 Morphine Industries Hits Augusta, GA like true "Masters"
Morphine Industries press release
Three words summed up the weekend – hot, hot, hotter…oops and more word Imodium?
The track was fast with tight corners and six straights and was ready for a weekend of racing.  Two of the Morphine young guns came to town represent the BLACK, PINK and WHITE.
13X – Noah Reeves showed up with the ponies ready to run on Saturday and run they did.  Noah went wire to wire in his motos and main to end the day with a perfect.  Can you say "Groundhog Day".  Sunday proved to be a déjà vu with Noah running in the front all day posting up another perfect day.
11X – Richie Dey continued the assault on the podium with big airs over the third straight doubles and leading the pack from the start to finish all day adding to his perfect.  Richie picked back up on Sunday where he left off and rolled through the combined 11/12X class to repeat his place on top of the podium.
Thanks Augusta for a good weekend of racing, The Morphine Crew will be rolling into Atlanta in a few weeks running down the final stretch to the NBL Grands.
Morphine Industries would like to thank its Factory Team Sponsors; Haro Bikes (www.harobikes.com), Fly Racing (www.flyracingbmx.com), Alienation (www.alienationbmx.com), Sinz Racing (www.sinz-racing.com), Rennen (www.rennendesigngroup.com), Black Crown (blackcrownbmx.com), Tioga (www.tiogausa.com/bmx)
29/07 Shepparton's Central GV Classic
by bmxultra.com
The Shepparton BMX Club hosted the 2010 Australian BMX Championships just 3 months ago. Their first open race since the big one will be on August 29, the Central GV Classic.
There's a minimum prize pool of $1000 for the A/AA and Pro women's classes.
August isn't the best time of year for weather in Melbourne but Shepparton is much dryer and if there is one track in the state built to cope with a lot of rain it's Shepparton.
There is a whole lot of racing in August through country Victoria, including Wodonga and Bendigo.
Check out our race calendar for entry forms.
28/07 Review: S&M Race XLT Stem
by bmxultra.com
We are fans of S&M race parts, their passion and their lifetime warranty. We've been checking out the XLT Race Stem, click here to read the review.
27/07 One Bicycles Australia at Sydney Olympic Park
One Bicycles Australia press release
Round 5 NSW Southern Region – Sydney Olympic Park (by Miekel Rose)
This was the last round of the NSW State Qualifying Series and was being held for the first time at the Sydney Olympic Park track run by Sydney BMX Club. The track is a well built Dirt Trax and Trailz design with new bitumen corners. A long first straight with super technical sections along with the fast bitumen corners makes this a great track. There had been little racing in the ACT due to wet conditions and tracks were constantly needing repair. Due to the wet weather the kids had not ridden a lot or trained. This was going to be a good workout for them.
Mikayla was on target to clean sweep the 10 year Girl class and had not dropped a race all Series. She was on fire and in great form after a second at the Australian Championships. Mikayla kept a level head and managed wins in all 3 motos. In the Final she hit the big step up at the end of the first straight too fast and landed awkwardly winding herself and dropping back to second behind Bianca Robertson. Mikayla fought back down the second straight to swoop Bianca in to the third straight and rode away with the win and a clean sweep for the series. This is her second year for winning the age Champion and will receive the winners Jersey. It has been a great year of racing between the girls with Bianka Robertson taking second and Renee Williams a comfortable and well earned third.
Mikayla also competed in the Series on her cruiser. This Season she decided to race the boys and had a very consistent run sitting in Third overall in to this round. Due to the leader Evan Thomas travelling to South Africa, Mikayla had a chance to climb the ladder. She came out and showed her intentions winning the first in a tough battle with Matthew Mlinarevic to the line. She rode well in the next two heats scoring another win and a third. Final time and she had a great battle with Matthew and Jackson Cahill and came in third securing second overall for the Series in 8 to 10 Boys Cruiser.
Nikalus was riding well in practice jumping the first two jumps on the first straight and feeling comfortable. Nik was sitting in second overall in the 12 Boys Class behind World #1 Andy Hughes. Nik's ONE Team mate Justin Beattie had returned to the class after suffering a broken elbow. Justin had competed in the Australian Team against the Kiwis at the Mighty 11's and made the Team to travel abroad to take on the kiwis on home soil. Justin was just starting to find his confidence after the nasty crash which broke his elbow and managed to take away the NSW State Pre Titles in Tamworth only weeks before this last round at Sydney. Justin and Nik are great rivals and compete hard with and against each other. They push each other to the limit and it makes them both better riders for it. Nik and Justin lined up against each other in the first heat and it was a great race with Nik taking Justin in the second corner to battle all the way to the stripe for a win. In his second race Nik won this comfortably. Justin had Andy Hughes to deal with and rode a great race for a second. Nik clocked up another win in his third heat giving him lane choice for the final. Justin raced hard in his third heat in an epic battle with Andy and Brody Moore, who was on fire, to secure a third and a gate in the final. The final was fantastic with the majority of the riders on the gate being State, Australian or world plate holders. The gate dropped and they all came out together. On the big double in the first straight Justin got hit from the side and lost control and fell towards Nik. Justin went down and was out of the hunt. Andy Hughes took a commanding lead and was never headed. Nik slotted in to second and there was a gap to third place rider Brody Moore. What a great final. Justin dusted himself off and finished off the race. Both Justin and Nik had a great day and both kids rode well and should be proud. This secured Nik's second place overall. Justin missed a chance at a top spot with missing 2 rounds injured. Justin is super fast and super talented and riding up a class this year has given him more confidence and race craft to mix it with the bigger boys. He is a true Champion.
In 11 to 12 Boys Cruiser, Nik was sitting in second overall behind guess who….Andy Hughes. What a talent this kid is. Can anyone beat him? Andy is such a lovely down to earth kid and a true competitor. Nik and Andy battled all day with some very close racing with Andy taking 4 wins for the day and Nik in Second. This was a fantastic effort from Nik this season and he keeps improving every ride.
Josh was sitting in equal third in the point score and came in to this round confident he could hold down that spot. Josh had a crash in practice jumping the big double in the first straight and hurt himself. More than that, it did his confidence no good at all. In his first race he was holding down fourth and managed to cross the line keeping that spot. He did the same in the next race and felt like he had booked a spot in the final. In the third race he got spat out the back and fought hard to get back to fifth, where he was battling with another ACT rider and Josh ran out of track and went over the second berm. That was the end of day in the 15 Boys Class.
In the 15 to 16 Boys cruiser, consistency had got Josh to first place on the point score. Josh rides his cruiser well and after some recent 4x racing, was more confident on the bigger wheels. The cruiser Class was all ACT riders. Josh was up against his friends Joey Vejvoda and Jake Hindmarch and fellow 15 year old Keagan Davis. Josh rode well and secured thirds in all the heats giving him the win for the series in this Class. For the first time, Josh will wear the Series champion jersey and was stoked. Josh is soon to be starting a new training program to try and lift his game in one of Australia's toughest classes, the 15 boys.
Next stop is the NSW State Titles, being held at the Tamworth track in October. Mikayla is hoping to make it back to back State Champion. Nik is hoping to make the podium on both bikes and josh is chasing his first State plate. Justin is hoping to remain dominate in his age group and secure another State title. With some decent weather and some hard training and some fun riding with the four team mates, there is no reason they can't achieve their goals. Another goal is to win the Corporate Team award again this year, a prize they achieved at their first attempt last year!
I would like to thank Grandma and Grandad Beattie for getting us a great spot at the event and for their undying devotion to the sport and the Team. A big thanks to Jim Beattie for being calm and collected on the weekend and being a good mate. To Adam Carey from the BMXULTRA team, a huge thanks from the kids, who you coached on the two weekends leading up to racing. I can never forget Team Manager Shane Jenkins for his ongoing support and guidance and to ECI (Elite Cycle Imports) for their belief in these amazing young kids and allowing them to be a part of an amazing Team, ONE BICYCLES AUSTRALIA.
PS. Thanks Barnsey for a great plug when commentating for the ONE bikes, after you had a little ride on Josh's bike. Won't be long now mate and you will have your own!
How to buy One Bicycles products in Australia
If you would like to purchase a One Bicycles frame or accessories in Australia the best way to do so is to head down to your local bike store and place an order. If they don't know what you are talking about tell them to call Elite Cycle Imports while you wait and place your order there and then. After doing some calculations ourselves we have found the cheapest way to get One Bicycles products in Australia is through a local reseller.
About One Bicycles
For over a decade ONE Bicycles (operating out of Holland), inducted into the European Hall of Fame, has solely focused all their efforts on the sport of BMX. Today they are at the forefront of BMX product design Worldwide. Utilizing advancements in the industry, some of which were conceived in ONE's own engineering department, their products directly reflect the evolution and maturing of proven BMX design. Like a fine wine ONE Bicycles product line has come of age as a result of years of dedication to the sport of BMX.
One Bicycles are a major sponsor of the bmxultra.com team
Over the years One Bicycles have sponsored
Khalen Young
The Phirebird team which includes 2005 & 2006 World Championships finalist Jamie Gray and 2006 NBL Grands (A Pro) champion Glenn Codega
In 2008 Maris Strombergs rode his One Bicycle to victory in the Elite Men's class at the UCI World Championships and followed that up by taking the first ever Men's BMX Gold medal at the Olympics.
For more information about One Bicycles check out www.onebicycles.com
27/07 BMX booms in the west
 by bikemedia
BMX is having a boom in the western region of New South Wales. Since becoming an Olympic sport in Beijing in 2008, BMX fascinated over 400 million viewers and the growth of the sport in Australia has since had significant growth of between 10 – 20 percent.
Western New South Wales is now starting to see the effect of this change. With new tracks and facilities at Dubbo and Bathurst the numbers have started to swell while Orange is awaiting a new BMX facility.
On Sunday 1st August, Dubbo will host its first ever regional BMX event, the 2010 Regional Rampage sponsored by Darrell Wheeler Cycles.
According to Neil Cameron, the President of BMX NSW Southern Region, "Large events are important to these clubs to help them financially and to show council what the facility can do for the youth of the area.
"We are currently seeing excellent growth in numbers and we have high hopes for the sport in this region."
Bathurst and Dubbo BMX clubs have seen numbers double since holding a Come and Try Day in March.
Bathurst rider and coach, Adam Carey, said he has noticed the growth in the region and expects that this will also raise the level of competition.
"At the moment we have a lot of younger riders and they are all progressing. As the tracks improve so do the skill level of the riders," explained Carey.
Carey said the Dubbo track and the surrounds were appealing and well laid out.
Dubbo BMX Club President, Mr Justin Farrell, agreed saying, "It is one of the best looking facilities around."
"With the support from local businesses and council the track is now ready for competition.
"This facility will invigorate the Dubbo BMX club and we also hope to have a bigger event in 2011 or 2012."
New South Wales riders will use the Regional Rampage event to help them qualify for the 2010 State Titles in Tamworth in October.
For the Dubbo BMX club, Farrell said, "This event will raise the profile of the sport and the club. We hope to even get some new members out of it."
26/07 World Championships this weekend
by bmxultra.com
The 2010 UCI World Championships are on this weekend (Thursday 29th July to Sunday 1st August) at Pietermaritzburg, South Africa. We would like to take the opportunity to wish all competitors the best of luck and to have a safe journey. We won't be attending this year, but will post any news as it comes in.
For more information about the world championships check out:
23/07 Refresh "Dreams for Kids" at Richfield Park BMX in Michigan
ABA press release
Gilbert, Arizona – One of the newest ABA tracks is taking part in the Pepsi Refresh Project to try and raise $25,000.  The top 10 ideas selected by voters will receive funding from Pepsi.  The project is currently sitting at 166 and with the help of the entire BMX Community we can help improve their chances for funding.  Voting for this round of grants ends July 31, 2010.  To vote, simply follow this link http://refresheverything.com/richfieldparkbmx, register, and vote.  Only the top 10 will get enough votes to receive a grant worth $25,000.  Those not receiving funding and in the top 100 will roll over into the next month, so every vote counts!
The "BMX Dreams for Kids" project for Richfield Park BMX will help fund the purchase of BMX bikes, protective gear, an annual license, and cover the cost of competing for a year at the Richfield Park BMX facility.  This project is for kids without bikes and whose parent's are unable to afford the costs to participate.  The grant will assist Richfield BMX in providing for a healthy lifestyle for children in the community while letting them follow their dreams.  The Genesee County Area has been devastated by unemployment leaving kids with little to enjoy.  This grant from Pepsi will bring something positive back to the community by inspiring kids to pursue their dreams.  Funds from the Grant will also be used to build a pavilion for the kids to be protected from the elements on hot humid days and during inclement weather.
About the American Bicycle Association
ABA (American Bicycle Association), formed in 1977 and headquartered in Chandler, Arizona is "The Sanctioning Body of BMX"©. The ABA organizes BMX racing for boys, girls and adults, nationwide and Canada. With 60,000 active members, 274 racing facilities and a 27 event national race schedule, ABA is the largest promoter of action sports.
23/07 On track for the UCI BMX World Championships
UCI Press release
2009 World Champion Donny Robinson not competing
Pietermaritzburg, South Africa – The 2010 UCI BMX World Championships will be held from 29 July until 1 August in Pietermaritzburg, South Africa, the second largest city in the KwaZulu-Natal Province. Who will be crowned the world's best BMX racers per class by the end of next week?

See preview video

"Best track on the planet"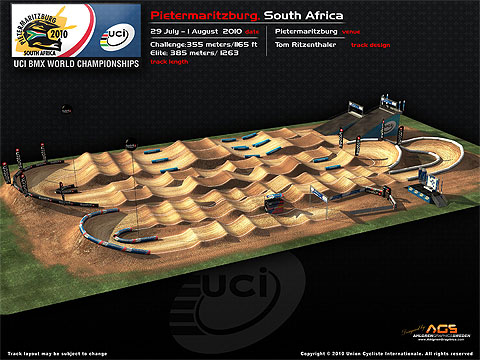 The best 1,100 riders from 37 countries will compete on a track that is purposely build for these world championships. The track is situated in the main arena of the agricultural showgrounds of Pietermaritzburg. The construction is currently ahead of schedule and UCI track builder Tom Ritzenthaler ensures this will be the best BMX racing track on the planet.
The track is unique as it is the first track to feature separate straights and start ramps for the elite and challenge class riders.
The BMX Supercross style track for the elite riders is used for the first time during the world championships and it might favour the technical riders. However, the length of the track will benefit 'power riders'. For the first time ever, the World Championships will include a time trials qualification event, so the time trial specialists will also benefit from having a good seeding going into the main event.
"A great course is not just about power," says Ritzenthaler. "To succeed a rider needs to have to think and plan every inch of the race, then combine speed and power with that thought process."
Who is next?
Unfortunately the defending world champion Donny Robinson (USA) will not be able to race this unique track. Robinson has to sit this one out due to a string of bad crashes and repeated injuries to his ribs and lungs.
One of the favourites for the title in the elite men's class is Olympic champion Maris Strombergs (LAT). The Latvian did put down a strong performance during recent BMX events and he convincingly won the last UCI BMX Supercross world cup stop in Copenhagen.
One of Strombergs biggest rivals will be Sam Willoughby (AUS). The talented young Australian makes his debut in the elite men's class during this year's World Championships. Last year Willoughby won the junior world title in his hometown Adelaide. If he manages to win the elite class this year, it will be the first time ever that a rider wins back to back junior titles followed by an elite world champion title.
But Willoughby is facing more formidable competition. For example Sifiso Nhlapo (RSA). The young Johannesburg resident and local BMX favourite is on a comeback tour this year after a serious injury in 2008. His recent strong performances in some major North American BMX events, indicate that he is able to mix it with the big guns again, this time in front of a home crowd.
Elite women's class
In the elite women's class, experts say that it could be a showdown between Laëtitia Le Corguillé (FRA), who won both rounds of the UCI BMX Supercross in 2010, current elite World Champion Sarah Walker (NZL) and Shanaze Reade, the 2008 World Champion. But others say to keep a look out for riders that could upset like Caroline Buchanan (AUS), the former junior World Champion Mariana Pajon (COL) and Alise Post (USA).
Predict the future
The racing in the junior men's class will probably be very close. With riders like Corben Sharrah (USA), Conner Fields (USA) and Tory Nyhaug (CAN), who can all potentially claim the top podium. They have been very competitive in the BMX Supercross races amongst elite riders, so this will give them a chance to battle it out amongst themselves.
In the junior women's class you should keep your eyes out for Brooke Crain (USA) and Merle Van Benthem (NED) who both have good results racing against senior Elite riders in the UCI BMX Supercross world cup series.
UCI BMX World Championships are sponsored by Swatch and Shimano
Official site: www.bmxworldchampspmb.co.za/
22/07 ABA's current pro standings
by bmxultra.com
Here's the current ABA standings with only nine weekends of national racing left before the Grand Nationals in Tulsa, Oklahoma.
AA PRO

1

SAM WILLOUGHBY

2397

ADELAIDE AUSTRALIA

2

MARIS STROMBERGS

2248

MURRIETA

3

NIC LONG

1422

LAKESIDE

4

RANDY STUMPFHAUSER

1404

SANGER

5

DONNY ROBINSON

1330

NAPA

6

KYLE BENNETT

1301

CONROE

7

KHALEN YOUNG

1261

MURRIETA

8

CRISTIAN BECERINE

952

COSTA MESA

9

BUBBA HARRIS

906

SURPRISE

10

DENZEL STEIN

724

DESOTO
GIRL PRO

1

DOMINIQUE DANIELS

2602

GILBERT

2

ALISE POST

2569

SAINT CLOUD

3

BROOKE CRAIN

1974

VISALIA

4

ASHLEY VERHAGEN

1946

SIMI VALLEY

5

TAYLOR WOLCOTT

1336

ROSEVILLE

6

AMANDA GEVING

1240

LARGO

7

COURTNEY TOMEI

1114

MORENO VALLEY

8

STEPHANIE BARRAGAN

1002

MONTCLAIR

9

ARIELLE MARTIN

917

SPANAWAY

10

AFTON SCHRIMPF

784

LAKEWOOD
PRO CRUISER

1

DANNY CALUAG

2289

CHINO

2

JOEY BRADFORD

1851

MONTEREY

3

BARRY NOBLES

1836

WETUMPKA

4

MASAHIRO SAMPEI

1395

KAWASAKI-SHI KANAGAW

5

BLAKE FOXX

1358

QUEEN CREEK

6

JASON CARNES

926

AUSTIN

7

MATTHEW RUBECK

718

CANYON COUNTRY

8

ERIC RUPE

655

WOODLAND HILLS

9

GAVIN LUBBE

637

MONTEREY

10

TIM KNEIP

627

AUSTIN
VET PRO

1

KENTH FALLEN

2549

ALBUQUERQUE

2

CHAD STREET

2106

RICHLAND HILLS

3

JOHN PURSE

1452

SPRING

4

ANDRES HOLGUIN

1295

HOUSTON

5

DAVID BITTNER

993

FRESNO

6

DALE HOLMES

652

POWAY

7

TIM DINGER

637

CHARLOTTE

8

JASON CARNES

612

AUSTIN

9

ROBERT HARRIS

590

SHREVEPORT

10

PAUL CALDWELL

511

MANSFIELD
A PRO

1

CORBEN SHARRAH

1455

TUCSON

2

KORY COOK

983

TUSTIN

3

RILEY STAIR

841

FOLSOM

4

JACOB PEEBLES

817

CHICO

5

DEAK BROWN

771

GOLDEN

6

MARIS GUTMANIS

740

RIGA

7

DENNISON SMITH

726

BETHANY

8

TYLER FAORO

688

CORAL SPRINGS

9

ANTHONY HOFFMAN

656

CLOVIS

10

LEE LEWIS

533

PACIFIC BEACH
22/07 Saturday Night Magazine X Games Giveaway
by bmxultra.com
Here's a competition exclusively for legal residents of the continental United States and the District of Columbia, Alaska and Hawaii.
Saturday Night Magazine, a monthly lifestyle and entertainment publication for college students and twenty-somethings across California are currently running an exclusive online giveaway for X Games 16 (prizes include tickets to all events, limited edition X Games merchandise).
They asked us to provide this link:http://www.snmag.com/xgames.
Good luck.
21/07 We Support The Australia BMX Industry
by Shane Jenkins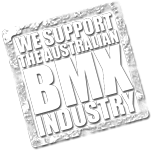 At bmxultra.com we support the Australian BMX industry. That's everything from Manufacturer, to Distributor, to your local bike shop and includes the media that promotes the industry.
How does bmxultra.com support the Australian BMX industry?
buying from local bike shops
working with Australian BMX Clubs and event organisers to promote events
working with Australian distributors to organise product reviews, news and sneak peaks of new products
working with Australian BMX Magazines to help promote BMX
attend local bicycle trade shows and provide BMX specific information and photos to our readers
sponsoring Australian riders
we work with international manufacturers to find Australian distributors
we don't run advertising for overseas stores
When I started racing in the early 80's, Australia had a very strong BMX industry. There were numerous Australian brands like Quicksilver, Malvern Star, Peddle Power, Crisp, Invada, DME competing against some of the biggest names in international BMX, and they were doing well.
There's no doubt about it, times have changed. We don't have the same massive race meetings, the factory sponsored race teams, we don't have the multiple glossy magazines, and we don't have many of our own brands any more. We may never see times like that again.
Because of the internet, and websites like eBay, the way people shop has changed.
For the future of BMX racing bmxultra.com supports local business. It's vital to the survival to our sport. If no bike store in Australia were to carry BMX products at all, it would be impossibe for our sport to grow or even maintain numbers for that matter. Our BMX tracks are generally poked away down back blocks so they aren't often seen by the general public like local football clubs are. And if people couldn't purchase BMX bikes, or even see them on display, in stores it's likely we would lose out to other cycling sports.
Can you imagine what it would be like if you couldn't just go to the local bike store and buy a new tire, tube, grips, chain?…I think you get the picture.
Did you know that BMX companies base their sponsorship budget on income from BMX sales and in Australia it's a tiny margin. By buying locally you might even be helping your local BMX club when they go hunting for sponsorship for their next major event.
When you are looking for a new part or a whole new bike, talk to your local bike shop first, ask if they can price match. You might be surprised with not only the response but the service as well, which is something you can't buy from overseas online stores.
Buy local, and invest in the future of BMX racing in Australia.
20/07 Northern Park BMX Track resurfaced
by bmxultra.com
We've just heard that the Northern Park BMX Track (AKA Lalor), the track that hosted the 1998 UCI World Cup, has been resurfaced after being closed for some time.
It's not clear that the work is finished but the club is preparing to get things rolling again.
19/07 Review: Tioga PowerBand Tires
by bmxultra.com
Here's some more product review love from us at bmxultra.com. Tioga's front specific PowerBand is about to make as much of an impact as the PowerBlock did, click here to find out why.
19/07 Morphine Crew Turns up the Volume at Music City National
Morphine Industries press release
The crew headed north for Nashville by way of Marietta, making a stop at JRev's house to enjoy riding trails, Mexican food, kilted barmaids and getting slobbered on by Diesel.  From there it was a short hop over the Music city and get down to what we came for.  If you haven't raced the track, make it a stop for sure.  It ranks up there with Okeeheelee for sure.
Mike Kapes, AA Pro – Two years in the making and a lot of excitement around Mikes return came to a pinnacle at Nashville.  Unfortunately, Mike came into Nashville recovering from a hyper extended knee but could sit on the sidelines any longer.  The anticipation was furthered with mother nature delaying the pro spectacular till Sunday for a double pointer.
Mike hit the track and did not disappoint taking a few laps to get rev'd back up.  Posting a 4-5-2 in the motos bringing Mike to the main event.   Saddled up in lane 7, Mike charged to a sold 6th place finish in a stacked final lap.
Tim Dinger, Masters – Got a late start the Nashville because his driving buddie and partner in crime turned himself into a human shovel trail riding and broke his shoulder.  ( God speed, Goose).  Regrouping and heading down with the NC crew , he made it in time to sit and sit and sit as the rain turned day 1 of raing for the Pros into a bust, one of the few times it pays to be an Am.
Making up for a day off Saturday, Tim hit the motos hard Sunday pulling a 1-2-2.  Maintime was no sit down either as Dinger flowed through the track to take a soild third.
Jason LaRev, Super X –   After hanging and chillin with the rest of the Pro ranks on Saturday, Jason hit the track with the 21 rider strong Super X class.  Jason displayed his skill over the doubles and through the rhythm posting a 5-4-1 narrowly missing the main
Noah Reeves, 13X- charged his way through 16 riders airing it out over the doubles on the first straight and doubling through the rhythm on Saturday by sweeping motos with a 1-1-1.  Main time brought about a battle for first which Noah was edged out for a solid 2nd.  Can you say Déjà vu?  Noah repeated his performance from Saturday with a solid day of 1-1-1 and again taking a 2nd in the main.
Richie Dey, 11X – The Air Dog started his weekend in true fashion, hitting the first straight with plenty of height between him and the dirt.  With astacked six man class, he racked upa 2-2-2 in motos and took a 4th in the main.
Sunday was on of those days that proved all riders are ON everyday.  Richie took a 4-4-5 in motos and got railroaded off the second turn to take a 6th in the main.
Morphine Industries would like to thank its Factory Team Sponsors; HARO BIKES (www.harobikes.com), Fly Racing (www.flyracingbmx.com), Alienation (www.alienationbmx.com), Sinz Racing (www.sinz-racing.com), Rennen (www.rennendesigngroup.com), Black Crown (blackcrownbmx.com), Tioga (www.tiogausa.com/bmx)
16/07 Profile Racing outboard bearing kit
by bmxultra.com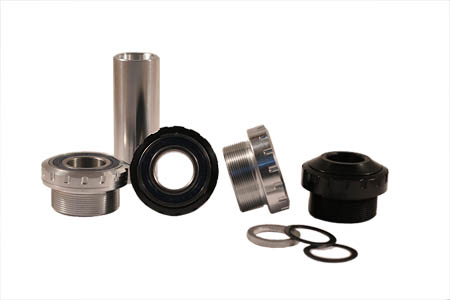 While browsing the web for new products I stumbled across the outboard bearing kit from Profile Racing. Profile admits the "Bearings are larger, stiffer, smoother, and more durable that our existing Euro bottom bracket."
Standard euro bottom brackets for Profile cranks run 4 sets of smaller bearings, these outboard bearings are larger and there are only 2 sets which means less drag.
On the downside, normal chainwheels won't work with the outboard bearings because they protrude outside the bottom bracket shell and throw the chain too far out of alignment.
The bearing kits are available in black or polished cups. There are also 8 colored cone spacers to choose from Black, Polished, Gold, Purple, Green, Blue, Red and Orange.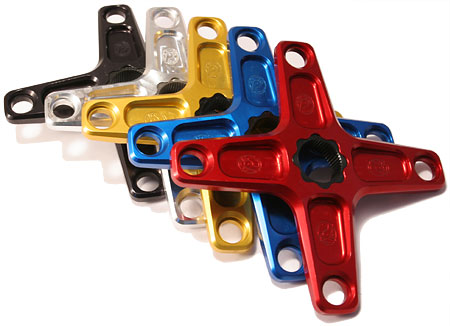 The Spline Drive Spider for Outboard BB's is designed to improve your chainline. It places the chainring over the bearing and cup itself, so that the chainline is closer to the centerline of the bicycle.
Notice the wording "spline drive", that's right, there's no need for the bolt that holds your cranks in place. Instead there's a Heat Treated CrMo Steel insert pressed into the aluminium that just turns with your bottom bracket axel. It also means that you could get away with running 2 non drive side cranks. To change the drive side you could just change the side that the spider is on, which is probably not that relevant to bmx racers, but still interesting.
There are 4 and 5 arm versions of the Profile Spline Drive Spider.
Profile Racing is distributed in Australia by Elite Cycle Imports.
15/07 VSI Launches Speed Bicycles
VSI press release
CERRITOS, CA, July 15, 2010—VSI Products is proud to announce the addition of Speed Bicycles, a new BMX racing line, to its ever-expanding family of brands. The new M Series line from Speed consists of six 20-inch BMX frames and one 24-ich cruiser frame.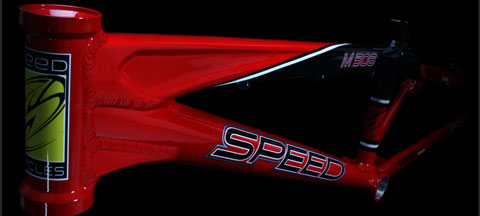 Following the phenomenal critical and commercial success of the Intense BMX line, including the proven race-winning Podium, BMX legend Toby Henderson, VSI's managing director and chief designer, took on the challenge creating a new race platform equal in every way to the Podium, but with a few tweaks and a new look.
Henderson started with the Podium's perfected race geometry then designed a new tube set for the Speed, starting with a beefy, straight-profile, hydroformed top tube. The frames also have Hydroformed seat stays. The result is a super low-profile frame that delivers power to the pedals, corners like a dream, is stable in the air and tames even the most technical tracks.
"I wanted to keep a lot of what we did with the Podium, but create a new line of frames that will appeal to a broader audience. The plan is to keep it as a high-end frame-only line and use it as a platform that we can experiment with and use to push the envelope of design possibilities," Henderson said.
The frames are available Mini XL (M 438), Junior XL (M 476), Expert XL (M 508), Pro (M 520),  Pro XL (M 533), Pro XXL (M 546) and 24" Pro Cruiser (M 534). The numeric names represent the length of the frames' top tubes in millimeters. Each frame is sold including an integrated headset.
M Series frames are currently being ridden to victory by U.S. National Team members Nick Koehler and Shelby Stacey, as well as Jesse Day and Dominique Daniels.
Look for the new Speed 20 Rolling Chassis later this year. The Speed 20s include a frame, fork, stem and headset and feature Speed's revolutionary, 20-millimeter, through-axle iHubs.
http://www.speed-bicycles.com/
14/07 Sam Willoughby goes for the World Championship Three-peat
by bmxultra.com
It's a little weird that this time last year all we would hear about is Australian rider Sam Willoughby going for a record of winning back to back world championships in the junior elite class. Sam went on to accomplish the feat in fine style, it had never been done before. So why aren't we hearing about Sam going for his third straight world #1 title?
If Sam can win the World Championships at South Africa he will be the first male rider to win Junior Elite and then back it up the following year with a Senior Elite win. (From memory fellow Aussie Rachel Marshall won the Junior World title in Canada in 1997 then went on to win the Senior World title in Australia in 1998).
Sam's proven over and over again that he's more than capable of winning against the big dogs of BMX racing. We all know that anything can happen at the World Championships, and it probably will. The World Championships will be no one horse race, but while Sam has a record smashing three-peat on the line, keep an eye on the youngster.
14/07 ONE's Aneta Hladikova and Chris Christensen EUROPEAN CHAMPIONS
ONE KENDA press release
ONE/Kenda EC final rounds 11-12 in Norway
Round 11 and 12 of the Elite and Junior Men/Women European Championship were the last rounds, held in Sandnes Norway, host of the 1991 World Championships. 
The weather was great for racing and the organisation had put a track in the city center of Sandnes. Awesome event !
ONE/Kenda'sChris Christensen from Denmark proved his shape all year and took the European Title, just like he did last year.
His sister Simone took 4th place in 16yo. girls.
In Elite Women ONE/Kenda's Aneta Hladikova from Czech Republic showed her skills.
She had no problems taking jumps faster then others and won both round 11 and 12, Moving her up in the final ranking to a 2nd place.
Jordy van der Heyden from Holland made it to the main in round 12 in Elite Men, taking the whole shot and getting out of the turn in 3rd place.
Unfortunately Jordy crashed in the last turn and took 8th, ending 11th overall.
In cruiser class Tommaso Giustacchini from Italy managed to take 5th place in 15/16 Cruiserclass. 
ONE/Kenda's Aneta Hladikova from Czech Republic was looking good all weekend.
In Elite Women cruiserclass she once again confirmed her shape at this moment.
The European Title went to Aneta, and making it the 3rd victory in this event.
Thanks to our riders for doing so well and thanks to our sponsors for making it all happen.
We are grateful and proud for their support.
Check for the videos here: BMX-VIDEOS.COM
ONE KENDA is sponsored by: KENDA, PINCH GEAR, KMC, SHIMANO, BOLLÉ, THE Industries, SINZ, TVE SPORT, UFO, THOMSON, ODI, NIKE, SELLE SAN MARCO, BEST and F1 DRINKS
14/07 Morphine Industries Race Report
Morphine Industries press release
Gavin Lubbe Hits Salt Lake UCI on Way to South Africa
Gavin Lubbe South African BMXer and Olympic hopeful proved that he can indeed keep up with the top guns during the Great Salt Lake UCI race this weekend.
Gavin Lubbe knew that the AA pro race was going to be a tough feat for him during Saturday's racing but nonetheless motored his way through all the moto's and semi making it into the Main and taking the 7th spot. During Sundays racing the young South African battled it out again showing that he definitely has what it takes.Gavin made it through moto's into the semi taking 6th place unfortunately just missing the cut.
"I knew the racing was going to be tough as it was stacked and after having outside gates throughout the day I managed to make it into the main. After the gate dropped we were all bunched up together, some of us locking bars as we went down the first straight. I managed to stay up and got the 7th overall." Added Gavin after Saturday's main event.
"Overall I had a solid weekend of racing, I'm currently leading UCI points for South Africa so I added some more points to that which I am happy with.  The racing has definitely been some good preparation for the World championships which I'm looking forward to."  Said Gavin.
Morphine Industries would like to thank its Factory Team Sponsors; HARO BIKES (www.harobikes.com), Fly Racing (www.flyracingbmx.com), Alienation (www.alienationbmx.com), Sinz Racing (www.sinz-racing.com), Rennen (www.rennendesigngroup.com), Black Crown (blackcrownbmx.com), Tioga (www.tiogausa.com/bmx)
14/07 SE's All New S1-E Grips
SE press release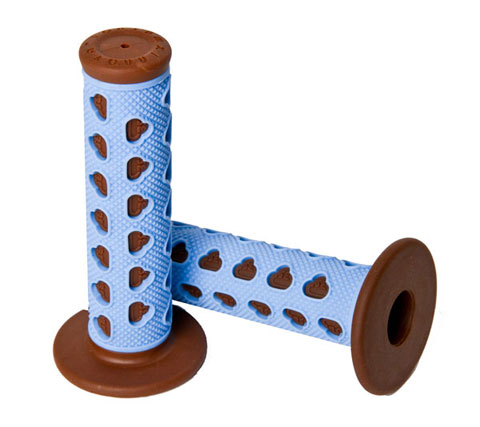 SE's long awaited S1-E grips are finally available. These 2-piece grips definitely have an OG look & come in a variety of colors.
Available at your local SE retailer
2-piece Construction
Dual Kraton Rubber Compound
SE Bubble 3D Pattern
13/07 Mpora TV: Stay Strong 2010
by Marco from STAY STRONG
Please take 5 minutes see the latest Stay Strong edit featuring myself some of our team and also Dale Holmes, talking about SS and Stephen. This video shows Stephen Murrays roots in BMX racing and how and why Stay Strong was started. Please click the link below and check it out, don't forget to spread the word and tell all your friends.
Check out this video: http://video.mpora.com/watch/z9nttrl0A
Thanks Marco
STAY STRONG
www.staystrong.co.uk
13/07 NBL BMX Racing Rocks Nashville with Music City Nationals
NBL press release
Saturday Night Pro Spectacular Pushed to Sunday Due to Rain
GAHANNA, OH — The NBL Music City Nationals, held at Music City BMX in Nashville, Tennessee, July 10-11, drew over 1000 racers and fans to race and watch the action at one of the newest gems on the NBL Elite circuit. The eighth race of the season for the NBL's Elite Series featured more than 400 fast Pros and top amateur riders from across the country.
Fun contests and giveaways marked an exciting Saturday. More than $2000 in prizes were given away, including bikes from Intense and a Hyper dR Replica Bike won by local rider, Brent Campbell. Saturday also featured a Strider bike race for toddlers with bikes provided by the NBL's newest sponsor, Strider Bikes. Unfortunately, a late afternoon thunderstorm forced the Pro Spectacular to be cancelled.
Without a Saturday evening race, Pros from all over the U.S. were racing for double points on Sunday morning. Those extra points could be all the difference at season's end for Ssquared's Josh Meyers who used his lane eight choice to take the lead out of the first turn in the main. He would fend off Intense's David Herman who had been perfect all day in his motos. Morphine's Tyler Faoro slid in for third ahead of SE's Javier Colombo and Alienation's Jeff Upshaw who used his patented pack-riding skills to maneuver into fifth after being last out of the first turn.
Defending champ Dominique Daniels had no problem taking another win and increasing her large points lead. While Dom powered to the win, Keely Kortman enjoyed her first podium finish as an Elite Woman and GT/SC Action Sports' Alaina Henderson again showed the crowd that she is a rookie Pro in name only. Intense/Dyna-Pep's CJ McGuire continued his stranglehold on the Super-Ex class with another win, while Dan's Comp's Weston Pope hung on for second after a collision in the last straight that left Free Agent's Harrison Britt watching from the ground. Percy Owens is having one of his best years in recent memory. The O-Show took the Masters win over Rennen/Intense's Will Murray and Morphine's Tim Dinger.
SUNDAY PRO RESULTS (DOUBLE POINTS):
Elite Men: 1. Josh Meyers, 2. David Herman, 3. Tyler Faoro
Elite Women: 1. Dominique Daniels, 2. Keely Kortman, 3. Alaina Henderson
Super-Ex: 1. CJ McGuire, 2. Weston Pope, 3. Alan Hudson
Masters: 1. Percy Owens, 2. Will Murray, 3. Tim Dinger
The racing in Music City was made possible thanks to the efforts of dozens of volunteers after the flooding in Nashville only two months ago. We give our thanks to the crew for whipping the track into such good shape. Next stop: Trumbull, Connecticut for the Constitution Classic. For complete athlete standings and more information, visit the NBL website at www.nbl.org.
The NBL Music City Nationals were proudly sponsored by Hyper Bicycles (www.hyperbicycles.com), Kenda Tires (www.kendausa.com), J&R Bicycles (www.jrbicycles.com), Intense BMX (www.intensebmx.com), Strider Bikes (www.stridersports.com), Ohio Dreams Action Sports Camp (www.ohiodreams.com), Sinz Racing (www.sinz-racing.com), and THE Products (www.the-industries.com).
12/07 Groundbreaking new track for UCI BMX World Championships
UCI press release
On the final day of the World CUp football one can state that South Africans have become used to sparkling new sports facilities with the World Cup soccer bringing a host of shiny new stadia which were ready months before the kickoff. But for the organisers of the UCI BMX World Championships next month the building of their unique track has to be a tense last-minute rush.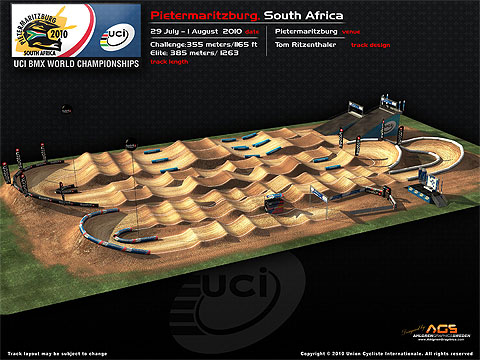 The track will be the first of its kind and is actually two tracks in one! There is the World Championships track for Elite riders and the slightly easier track for the World Challenge age group racing.
The Royal Showgrounds in Pietermaritzburg will be hosting the pinnacle of BMX racing from July 29 to August 1 in 2010, but logistics mean that the ground-breaking temporary track will put together in just eight days with very little room for error.
The track has been designed by the UCI and all the building work will be handled by UCI track builders Tom Ritzenthaler and Kyle Michell under the watchful eye of Technical Delegate John Lindstrom.
South Africa's National Track Design Co-ordinator Eugene Eggar has the massive responsibility of making sure the international delegation have everything they need to produce the world-class facility.
"We have to organise everything they need to make the track," said Eggar yesterday. "We have to get all the sand, machinery and materials they need before they arrive and make sure we have machinery operators to work with them.
"It is a tough logistical operation … for example we have to get five and a half thousand cubic metres of sand into the Royal Showgrounds. We have at least 10 trucks carting all the sand but we have to come in and dump the sand at night so as not to disrupt the Pietermaritzburg traffic.
"We dump the sand and get everything ready for them to start when they arrive on July 19, and then they have eight days to build the complete track."
The main Elite track has an eight metre high start ramp that is 10 metres wide and 26 metres long and leads to a 385m track littered with jumps, including one over the top of the Challenge track. The Challenge track has a five metre high start ramp and the course is 355m.
UCI technical delegate Johan Lindstrom was in Pietermaritzburg last month for a final briefing ahead of the World Championships. After a gruelling 24 hours of meetings and inspections of the Royal Showgrounds venue and facilities, he was positive that the event would be top-class.
"The track will be one of a kind," enthused Lindstrom after inspecting the venue. "Never before have we built a course that will have two separate start ramps, and the track will be technically difficult and demanding."
For Eggar the stress does not end once the riders get onto the track and begin training on July 26.
The event organisers are trying to source a plot of land so they can transfer the soil and materials used in the World Championship track and build a permanent international standard track as a legacy from the World Championships.
The UCI BMX World Championships takes place at the Royal Showgrounds in Pietermaritzburg from 29 July to 1 August.
More information can be found at www.bmxworldchampspmb.co.za
See animation of the unique track
12/07 DK Bicycles Australia sign with Goodlife Health Clubs for 2010/2011 season
DK Bicycles Australia press release
DK Bicycles Australia would like to welcome aboard Goodlife Health Clubs as a major sponsor of the leading Australian BMX race Team for the 2010 / 2011 season. With the DK/Rockstar/LooseKid Industries race team taking out four #1 titles and also the BMXPRESS TEAM of the YEAR award at the recent Australian Titles held in Shepparton and now combining that with the leading health club in Australia the team will only get stronger and quicker.
DK Team Manager Corey Stafford said " This is a fantastic oppurtunity for the team not only are they riding the best equipment now they are able to train in the leading health club in the country, and with 39 locations around Australia, no matter where the Team is competing they know they will have a Goodlife Health Club near by to get that last minute gym session in before an event"
Goodlife Health Clubs joins other major sponsors of the team Rockstar Energy Drinks and Loose Kid Industries check out the teams major sponsors websites
www.dkbmx.com.au
www.goodlifehealthclubs.com.au
www.rockstarenergy.com.au
www.loosekid.com
09/07 The return of cool
by Shane Jenkins
There have been a number of old school brands return to the BMX scene over the years. GHP, Kuwahara and SE would be amongst the bigger named brands. I personally was very excited that CW will be returning. I was on the Australian CW factory team 1985-1986…ahhh those were the days.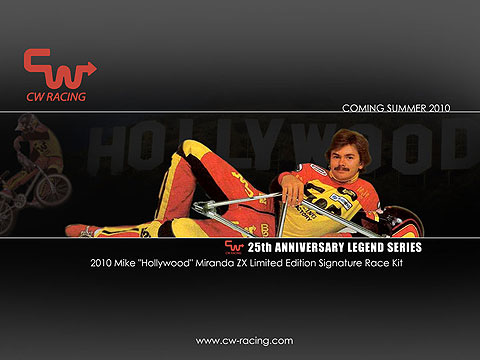 From what we can make out they will only be making old school replica frames, so don't expect to see too many of them out on the tracks.
Try these links for more information.
08/07 ABA BMX updates ABABMXPhotos.com through Great Salt Lake Nationals
ABA press release
Gilbert, AZ – The American Bicycle Association has been in the business of BMX racing since 1977. That's 33 years of BMX history in the making. We've decided to make all the years of ABA BMX race photos available online through www.ababmxphotos.com. As of now we have every photo uploaded on our www.ababmxphotos.com through the 2004 – 20010 seasons, with some older events sprinkled for some added ABA BMX history. We've just update the site with the latest from the 2010 Great Salt Lake Nationals. Be sure to check them out and see if your caught up in all the ACTION!
We are hosting the web site with the existing archival images already in a digital format, shot by BMXer editor/photographer Dan Mooney and past ABA photographers, and we will work from there. Once a month or so we will be adding vintage photos, so check back often. www.ababmxphotos.com was created for your enjoyment and all the images you see on this site are now available for purchase.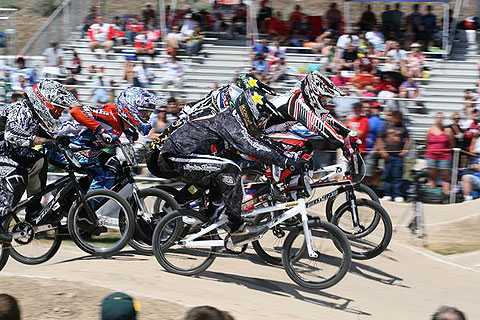 07/07 Retro BMX Grands
by bmxultra.com
This Retro racing thing is really picking up pace all around Australia. Who'd have thought that the old school guys would be willing to spend top dollar on dream bikes, not just to show them off, but to also risk it all and put them through their paces on todays tracks.
The Retro BMX Grands look like they could be a big event at the Macarthur BMX track in NSW in October. Whoever put the poster together must have something against 40 year olds racing it though. With a class for under 40's and a class for over 40's, maybe it's just an error, maybe just the result of sniffing too much chrome polish.
Big kudos to the organisers of the event, it should bring a whole bunch of old school bmxers out of the 80's…now I just need to find a pre 86 bike and I'll be there with my comp III's on.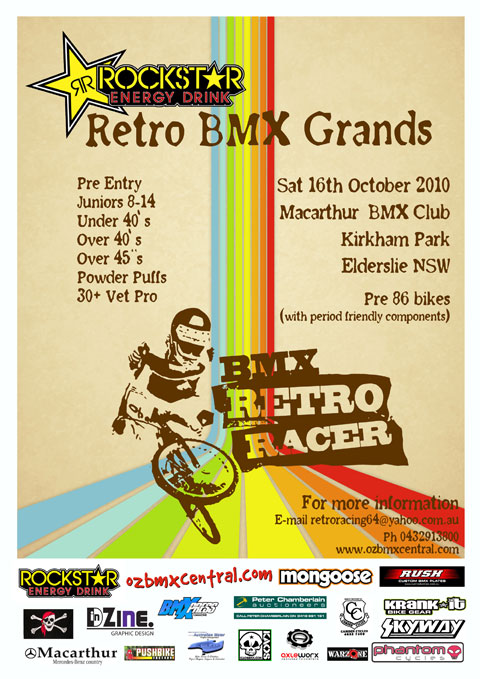 06/07 Supercross E-Line Pivotal Seats and Posts
Supercross BMX Australia press release
Hi folks, this is just a quick update to let you know that the super light weight and very cool Supercross E-Line Seats and alloy posts have arrived in Australia in a variety of colours.
These seats are for park or race and at only 6 ounces for the entire saddle it is a perfect way for weight reduction
Order yours from your local bike shop today!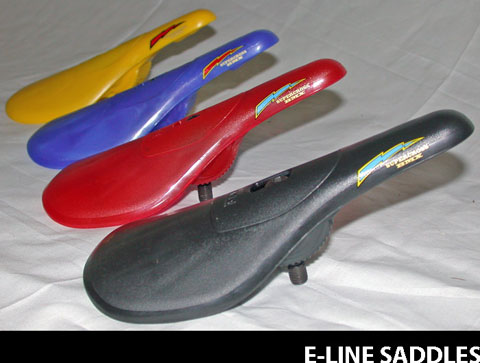 We also have a large range of Supercross and Speedline products currently in stock.
Supercross BMX Australia are a supporter of BSX and the Royal Children's Hospital and co-sponsor the bmxultra.com team.
To find out more information about Supercross BMX products check out www.supercrossbmx.com, and for Speedline Parts check www.speedlineparts.com
If you would like to purchase Supercross BMX products in Australia please have your local bike shop contact us.Please note, we do not sell direct to the public.
For more information and dealer enquiries email sxaustralia@supercrossbmx.com.
05/07 Team bmxultra.com update
bmxultra.com press release
There's not a whole lot of racing going on this time of the year for the Australian team bmxultra.com riders. Many of the riders are taking a well earned rest in the "off season" except for the 25-29 Cruiser Australian Champion Levi Collins who is preparing for the world championships in South Africa later this month.
The rest of the team bmxultra.com riders and sponsors would like to wish Levi the best of luck.
While on the topic of team bmxultra.com, there will be a new addition to the team revealed soon. Want a hint? Let's just say that the rider is one of Australia's top Junior Elite riders and is a well established AA Pro. The official announcement will be coming soon.
The bmxultra.com team is proudly supported by One Bicycles, Supercross BMX, Dirt Designs, Tioga, Elite Cycle Imports, THE, Profile, Sun Ringle, and Tektro Brakes.
01/07 Pimp your browser…with BMX
by bmxultra.com
I don't want to get too deep in the nerd talk about the merits of the Firefox browser over Internet Explorer. However Firefox has a whole lot more to offer in my opinion, but as I said we won't get into detail. (If you don't have Firefox already go and check it out at www.firefox.com. It's free!)
One of the coolest features I have discovered is Personas which is a free theme system to decorate and personalise your browser with. So no matter what you are checking out on the web, you could always have BMX on your browser.
You can check out Persona's for yourself at www.getpersonas.com. All the details about what you need and how to install them are there.
If you want to get directly to the BMX persona's try this link:
www.getpersonas.com/en-US/gallery/All/search?p=bmx
If you don't like what's there you could always create your own.
Keep an eye out for some bmxultra.com persona's coming soon!
Posted in: Archive