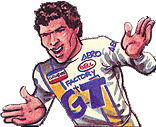 Greg Hill was one of the most dominant Pro riders in the World in the 80's. Although retired now, in his prime he won 5 Pro World Championships. His passion for the sport didn't stop with his racing. Today he continues to share his experience and knowledge through his Speed Seminars, training future champions.
bmxultra.com: How did you get started in BMX?
Greg: My friend took me to watch and I was hooked, raced the next week and loved it!!
bmxultra.com: When and where was it?
Greg: 1974, Western Sports Arama…Orange California.
bmxultra.com: What was your first bike?
Greg: Schwinn Stingray!!! Cool bike…
bmxultra.com: Who were your major sponsors?
Greg: Sponsors…GT/Pedals ready, Webco, SE Racing, Schwinn, Red Line, Shimano, Mongoose, GT, GHP, Robinson, Balance, Red Line again…Sinister steering Systems…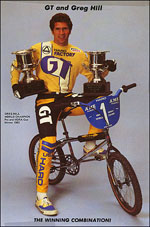 bmxultra.com: What do you think of a single world championship meeting and not a series?
Greg: Single Worlds is MAJOR PRESSURE, excitement…. Does not represent the true number one rider, a series of races and consistent finishes does..
bmxultra.com: Why do you think the world championships are being supported more by the US riders? Is it personal or corporate pressure?
Greg: The US supports the Worlds because of the NBL is involved with the UCI and they do a good job promoting the event in the US.
bmxultra.com: What is your highest ranking at the World Championships?
Greg: Highest Ranking in Worlds..5 times Pro world champion…First IBMXF Worlds in 1981 in Pontiac, Michigan 1st Pro, IBMXF Worlds in Dayton, Ohio 1982 1st Pro, ABA/NBL Worlds in Las Vegas 1982 1st pro, Jag Worlds 1983 Los Angeles, California 1st Pro, IBMXF Worlds Whistler, Canada 1985 1st pro Cruiser
bmxultra.com: What is your most prized trophy/title?
Greg: ESPN Series Pro Champion 1983…7 races and it was intense competition, you had to do well at all events …. I won the last 2 events and took the title…Awesome feeling that I will never forget…
bmxultra.com: How many Nora cups did you win?
Greg: I won the Nora award 83,84,85,89 and am the only rider to have won 3 strait and also 4 cups, to me the Nora is one of my best accomplishments.
bmxultra.com: What was the deal with the Radical Rick cartoon you featured in?
Greg: I did not know they were doing that so it was cool, there is not really much to say about that.
bmxultra.com: Did you keep any of your old gear throughout the years?
Greg: My mother kept a scrap book and it has everything I have ever done in BMX, it is nice to look back but I focus on looking forward in life…
bmxultra.com: Which was your favorite old school bike?
Greg: Old school, I got a Dan Gurney one year from Santa and it rocked!
bmxultra.com: What about the GHP (Greg Hill Products to the new schoolers)?
Greg: GHP was cool and a good learning expierance but I do not like to dwell on GHP, it was and now it is not…Done deal.
bmxultra.com: Did you get to race as many international events as today's top pros do?
Greg: I did travel a lot, many International races and I got to visit many places.
bmxultra.com: What kind of music do you listen to?
Greg: I listen to all sorts of music, Rock, country, pop…Depends on my mood…Music is great and I always have the radio on….
bmxultra.com: What do you think of Neil Young?
Greg: Neil Young, I never really got into his music.
bmxultra.com: What effect do you think the web has had on BMX?
Greg: The web is the future, it has helped to spread the BMX word, we would not be doing this if not for the web. people need to not be afraid of technology and dive into it because it is cool, it is our future!
bmxultra.com: What are your favorite websites?
Greg: www.bmxtreme.com, www.nirve.com, www.mindtools.com…I visit a lot of sites.
bmxultra.com: How are the speed seminars going?
Greg: Speed Seminars are going well, I am always teaching these days.
bmxultra.com: How many people do you get to the seminars?
Greg: I get about 30 people on average to my seminars.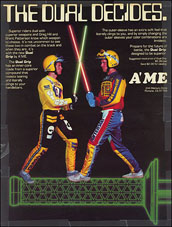 bmxultra.com: Have you thought about taking the seminars on a world tour?
Greg: I would love to do a World Tour.
bmxultra.com: Do you think it is important to eat the right food?
Greg: Eating the right food is important in regard to being healthy, junk in, junk out… You need to eat well if you want to feel good!
bmxultra.com: If there was anything about BMX you could change what would it be?
Greg: I would change all the gossip, trash talking, and try to make people learn that if we all work together the BMX world will be a much better
place!
bmxultra.com: Where do you see BMX in 5 years time?
Greg: 5 years from now BMX will be even bigger than now, the sport is starting to get into a growth period that will continue with a steady rate like never before and I think it will get huge.
bmxultra.com: What do you see as being the most significant change in BMX since you first started?
Greg: Products are so much better, technology has improved everything, tracks are more challenging, it is world wide and getting more exposure than when I first started. It was a local deal when I started, now it is everywhere.
bmxultra.com: Any pointers for someone out there thinking of turning Pro?
Greg: If you are going to turn Pro then it is time to become an athlete, many riders have great talent, few are athletic enough to do much with the talent they have. Commitment, 100% effort, dedication…It takes all these to make it.
bmxultra.com: How is Sinister going?
Greg: Sinister is just getting going here, we have had great interest and the first production will arrive in a week and mare pre sold, so far so good..
bmxultra.com: Who is running the forks at the moment?
Greg: Randy Stumphauser and a bunch of people that I co-sponsor and myself….
bmxultra.com: Where can they be purchased?
Greg: You can purchase them direct from us…Sinister Steering Systems, Inc (818)951-0051 or e mail us @ Hillage@aol.com
bmxultra.com: You had a big involvement in getting John Purse up to the level he is at now, are there any pros you are working closely with now that we should look out for?
Greg: Randy Stumphauser is the man, I have been working with him for a few months and believe his time is coming soon…
bmxultra.com: Below is a list of riders can you give us a quick comment on each of them?
Greg:
Billy Griggs – smooth, consistant..
Stu Thompson – my brother in law
Gary Ellis – one of the all time greats! my bro, been friends a long time.
Perry Kramer – PK, one of the first Pro's.
Byron Friday – my white brothah, funniest guy I know.
Mike Miranda – vanished from BMX.
Scot Breithaupt – OM, Father time of BMX…
Harry Leary – little man syndrome!
Brent Patterson – Great past pro, fun to race,intense.
Brian Patterson – Younger version of big brother, the Patterson Bro's are without doubt the best brother combo BMX has ever seen…Period!
Eric Rupe – Long Pro career, the most under rated pro of his time, great competitor! and friend.
Pete Loncarevich – Power, won mass races and titles
Tommy Brackens – Human dragster, where did he go ???
Toby Henderson – Never really was a factor in the pro ranks, a legend in his own mind!!!
bmxultra.com: What do you think the biggest difference is between the pros of today and the pros of BMX past (70's and 80′)?
Greg: Today the product is way better, the pro's are in better shape and the tracks are way more demanding, and that spells better riders!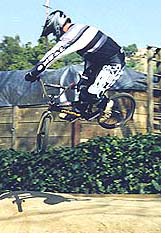 bmxultra.com: Do you think today's pros are over paid?
Greg: Todays Pro's do not make enough $$$, their time will come.
bmxultra.com: How does today's prize money compare to what you were racing for?
Greg: Todays prize money is basically the same, the pro's do not make much $$ as far as winnings go. It needs to really be looked at and the guy's should be making more $$.
bmxultra.com: What do you think of the people out there making comments about the old school pros coming back and competing in the pro ranks in their late 30's and into their 40's?
Greg: I think guy's like Harry Leary should "Know when to say when" You are not going to be competitive in the pro class at 40 years of age, I'm sorry. The pro's are young and in their prime, hungry and not afraid to get hurt. I retired 1 1/2 years ago and am happy about what I have done in BMX and have nothing to prove banging bars with guy's half my age. Time to focus on teaching others and my business as well as my family.
You can keep track of what Greg is up to through his website at www.greghillbmxseminars.com.
Interviewed: 18 Nov 1999
Posted in: Interviews