An Interview with Venny (Gregory Vennerholm). (not long after this interview Greg left Huffy. I hope it still gives you an insight to Huffy.)
bmxultra.com: Tell us a bit about yourself, your involvement in BMX.
Greg: I'm from the good old days (Bob Haro, R.L. Osborne, Stu Thompson, Harry Leary, Greg Hill, etc.), and came to Huffy knowing the future would be big.
bmxultra.com: Did you race BMX?
Greg: Yes. I raced an SE Quadangle (chromed, weighed a bit much, but the look was worth it!) all spec'd up with Profiles cranks, DK stem, GT bars, the works. Before that one, I had a "Race, Inc." frameset… one of the original adopters of aluminum as a frame material. As I remember, it was soft as hell, too.
bmxultra.com: Do you still?
Greg: No. I do ride now and again, but no racing involved. When the major events are nearby, I'll go and watch. I went to the Christmas Classic, which was held about an hour from the corporate headquarters here in Dayton. I get my thrills now by building sites, and watching the reactions of viewers.
bmxultra.com: Did you ride pro?
Greg: Oh no… when I turned 16, it was the decline of riding for me. I was more interested in driving. I wish I'd stuck with it, if not for the competition of it, just for the fun.
bmxultra.com: What was your best finish?
Greg: #6 at the World's in Dayton, Ohio. It must have been in the mid 1980's. I dumped it in the last turn. Famous last words!
bmxultra.com: What about your job?
Greg: This is fun. Always loved bikes, now I'm rewarded to practice my profession "on my hobby." Gotta' love the Web.
bmxultra.com: What is the Huffy Tech Center? What do you do there?
Greg: This facility is where all design (engineering, product, graphic) is done.
We also have a prototype manufacturing set up, so that we can develop our manufacturing processes and get the kinks worked out before we deploy it to our manufacturing plants. Our Design Center (where all graphic design functions are done) is where specifically I work. We've got a staff of 15 people who tend to all design related projects, from bike decals, to websites, to in-store display, to just about anything. It's a blast.
bmxultra.com: What kind of a computer network do you have?
Greg: The Design Center (specifically where I work) is all Mac, sitting on a 100BaseT network, switched into a gigabit network company wide. All graphic design development (web or otherwise) is done, or managed, here. We've got a wall full of awards for excellent design, but the real prize is designing bikes, and related products, that people want.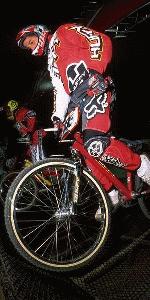 bmxultra.com: How many people do you have looking after it?
Greg: I babysit the Design Center network with one assistant, who also helps out on the web related work, when time allows.
bmxultra.com: How many staff does Huffy have all up?
Greg: The Design Center averages around 15 or so. I really can't speak for the other areas…
bmxultra.com: The relationship with Kmart must be rewarding for Huffy?
Greg: We enjoy great relationships with many retailers, and yes, Kmart is one of them. Our relationships help us bring great bikes to a huge audience.
bmxultra.com: What software did you use to build the Huffy website?
Greg: That site (HuffyBMX.com) was built in PageMill, which is a crappy little tool, but it allowed extremely rapid development of the site. It is going under a major facelift, so hopefully we'll design out some of the little mistakes. I started with Simple Text (a Mac equivalent to "NOTEPAD.EXE" on the PC) and eventually ended up in a graphic editor. I'm primarily a Macromedia-based designer, so DreamWeaver and FireWorks were a natural step. Of course PhotoShop is also a staple of my toolbox, but I also dip into several apps along the way.
bmxultra.com: Would you agree a good knowledge of HTML would help design better websites?
Greg: Yes, I'd agree, a thorough "knowledge base" in html should be a requirement for anyone posting to the Web, but so many of the tools do it for you (to whatever degree). I'm continuously tweaking the code as I go, but with the likes of JavaScript, my pages are just getting "heavier." I guess that's the price we pay for having an infotainment site.
bmxultra.com: What is the latest site you've done?
Greg: My latest site: www.getabuzz.com Lots of JavaScript.
bmxultra.com: Is Getabuzz a part of Huffy?
Greg: Yes. It's a new product that we're very excited about. In fact, it's going to be one of our first offerings for e-commerce. We'll sell them direct from the web.
The other offering might interest your readers even more: we're going to offer fifty signed (as in autographed) bikes directly from www.HuffyBMX.com. Todd and Cory have each signed 25 of their bikes, the TL-88 and the MJ-12, respectively, and we'll have them for sale.
bmxultra.com: Any last words for our readers?
Greg: I just got a look at the Huffy 2000 lineup, oohhh maann, sweet bikes!
Interviewed: 13 May 1999
Posted in: Interviews