Product Spotlight: Supercross BMX Team Issue BMX Bobble Head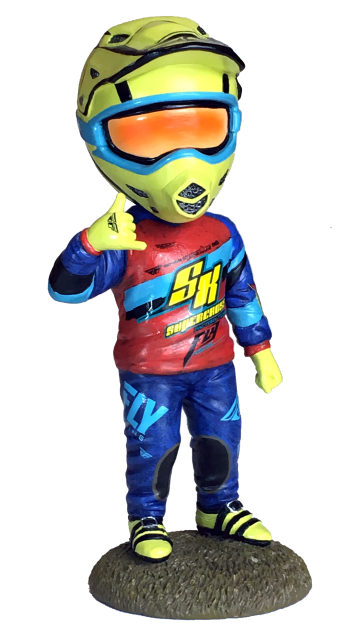 Supercross BMX have been on the leading edge in BMX technologies for nearly 3 decades now. Known for their market leading products and continually pushing the limits, Supercross BMX have recently released a very cool bobblehead, and just in time for Christmas. Manufactured in limited numbers there are just 500 of these guys and 48 are currently on their way to Australia.
Manufacturer's Description
The Supercross BMX Bobblehead is Rad! How cool it is to have a mini BMXer to hang out with all day when you can't be at the track or trails.
At 7″ tall he stands out on your trophy shelf and lets the world know you are a BMXer and that Supercross BMX is your brand. Custom Molded in the "Hang Loose" BMXer pose, Hand Painted with the full Supercross BMX and FLY racing logos, the Hi Vis P-Hyre Clip shoes. He's ready to get on the gate any time of day or night.
Be sure to collect the full series. The one shown here is the 2018 Factory Uniform, which is series 1. Can you guess what is next?
Pre-order yours today
Supercross Australia have teamed up with RJPBMX store, the biggest stockist of Supercross products in Australia, to offer an exclusive opportunity to secure yourself your own collectible 2018 series Supercross Team Bobblehead. Head on over to RJPBMX Store to lock yours in before they are all gone.
www.rjpbmx.com.au/product-page/supercross-bobble-head
Posted in: News