Product Spotlight: TNT Bicycles M80 OS20 Rims
A little while ago TNT Bicycles made a very brief announcement about their new OS20 rims that are available in a large range of colours, but it didn't say a whole lot more, so I thought I would see what else I could find out.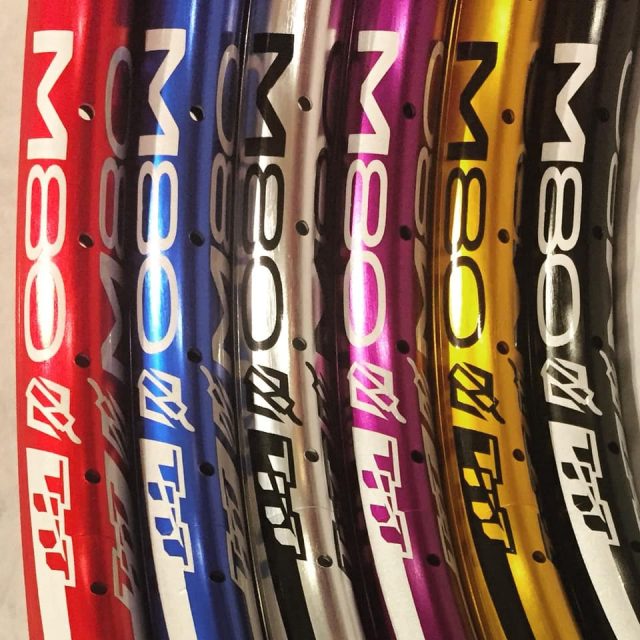 The head honcho Mark Zalewski from TNT Bicycles responded with this
Since we've reintroduced the brand we've been building a lot of custom wheel sets and every so often would get an inquiry about possibly doing an OS20 rim, and realized the options were extremely limited, especially when it came to colors. Unfortunately, most customers don't realize how involved it is to manufacturer and introduce a new size, but there are so many factors to consider when doing so. Fortunately the stars aligned for us, and we were able to work with our supplier to open up tooling and offer a wide range of colors while limiting our risk in an up and coming market. With color choices consisting of silver, black, red, blue, gold, and purple, OS20 fans can now customize their rides more than ever before.
Each rim weighs in at 435 grams while offering a stable overall width of 30.6mm, and profile height of 25mm.
We always try to accommodate our customers when possible, and in this case we were able to make it happen.
Now we just need more tire manufacturers to get on board.
TNT Bicycles products are distributed across Australia by Elite Cycle Imports. To find out more about the TNT Bicycles product range check out www.tntbicycles.com
Posted in: News