Rennen Decimal Gear Chart
After a number of years on the market it appears that the Decimal Gears aren't going away any time soon. After a lot of pressure over the years we've started working on a gear chart specifically for decimal gears. The first pass of that project is a simple gear chart. Our plan is to eventually build it into our gear calculator, but until we refine the interface and improve general usability it will remain a separate entity.
Decimal Gears were the brain child of George Costa from Rennen Design Group after discovering a variation of chainwheels with the same number of teeth having different effects on gearing. This is due to the varying radius of the sprocket from manufacturer to manufacturer.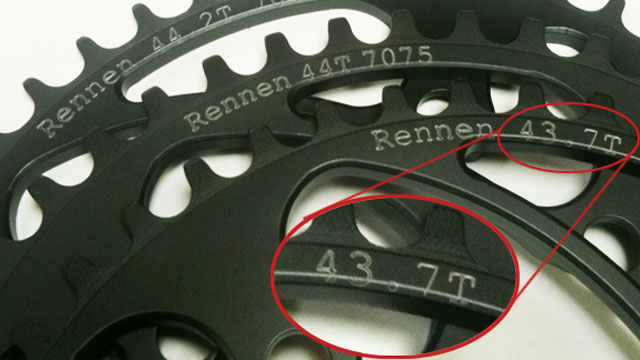 In their own words
Rennen Decimal Gearing is a breakthrough in gearing technology. We have developed Special Engineered Tooth profiles that allow us to manipulate the size of a exisiting gearing to make it slightly harder or easier depending on your needs for the track. Changing your gearing by Fractions of a tooth is now possible.
Now you have the abilty to go down .1T, .2T or .3T
Or go Up by .1T or .2T (Ex. 43.7T, 44.2T)
Rennen Decimal gearing is offered in 104bcd, 110bcd or 19mm and across every gear size we make a total range of 22T-52T
Rennen gears are distributed across Australia by Elite Cycle Imports.
Posted in: News