a-JAYS Five In-Ear Earphones
While BMX is a real passion of mine, so is music. I can't make music, I wouldn't even try, but I do enjoy listening to it. So when I was offered a set of the a-JAYS Five in ear earphones to check out I jumped at the opportunity, we like to mix things up with our product reviews and provide some lifestyle reviews now and then.
I'd never heard of the JAYS brand before but thought why not. It was interesting that there's a selection of 3 different models of a-JAYS Five In-Ear Earphones; one for Android, one for iOS and one for Windows. I chose iOS because I knew that's where I'd get the most use out of them, after all, my phone is jam packed full of music.
I did a little research and found that JAYS is a Swedish brand, and although I couldn't find out much more about the company I did find they have been smashing reviews from all over the world from as early as 2006. Also, they have a wide range of products that includes earphones, headphones and accessories.
I'd never had much luck with in ear earphones before, I'm fairly active, and I like to take my music with me. It doesn't matter if I'm mowing the lawn, riding my bike, digging in the backyard track, working at my desk, or even just chilling out. The in ear earphones I'd used before are the type that come with an iPhone. The old, "one size fits all"…except me style. They always fell out of my ears which is just frustrating and took away from the whole listening experience. For quite some time I've just opted to listen to music from my phone's built in speaker, not ideal, but I got to listen to music when I was out and about.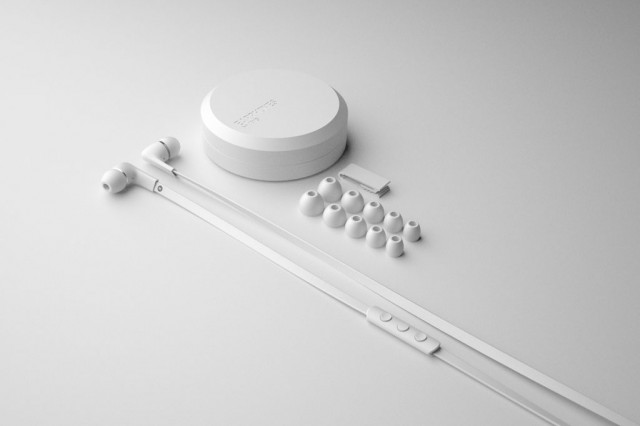 I was happy to learn that the a-JAYS Five head phones were a completely different design that is customisable to fit pretty much any ear by changing the silicon sleeve that fits over the speaker and looked forward to taking a closer look.
First Thoughts
I felt a little privileged when the earphones arrived and had a "pre-production not for sale" sticker on them, it meant that I was checking them out before the masses, which doesn't happen very often.
The a-JAYS Five earphones were well packaged. It looked like they might have hired the Apple designers for the packaging, it was very slick and very well presented.  The kind of packaging that you would see in a shop and would make you want to pick it up to check it out.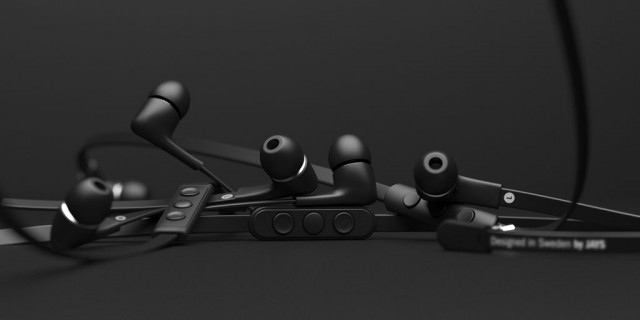 Although the packaging was well marked and everything is quite intuitive there's a nice booklet to go along with the earphones that explain them in full including information about how to fit the sleeves and make them fit your ear properly and safely, how to clean the earphones and, well, pretty much anything you need to know to get the most out of them.
I did start to think that the packing was a little over the top, from a "blokey" perspective, but I was quickly made to realise that the little canister was an awesome way to store and protect the earphones when they aren't in use.
I plugged them in right away to check out the sound and noticed the controls controlled my phone's volume perfectly and taking a call through them was pretty straight forward. I did start to wonder how they would work on a Windows computer since the earphones I had were made for iOS, so I plugged them into my computer. The sound was fine, the only problem was the audio controls didn't work, but that's perfectly acceptable since there is a model earphone for Windows.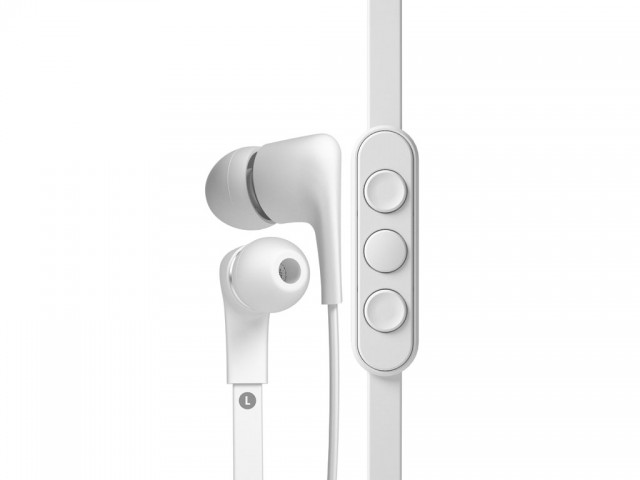 The Test
The real test for the earphones was to use them as much as possible over a two week period, doing whatever I wanted to with them. Although they suggest never to use the a-JAYS Five earphones in traffic I live in a very quiet area, you can see traffic coming from a fair way away. So I headed out on a couple of long distance rides, a couple of sprint sessions, I mowed the lawn on my noisy ride on mower and even did some whipper snipping, a pretty solid test I'd say. In contrast, I also used them while I was at my desk a few times.
Since I usually have my phone in my pocket when I'm mowing, and no earphones, I have missed calls because I didn't hear (or feel) the phone ring. Not a problem with these earphones, the music mutes so you can hear it ring and there is a built in mic so you can talk without having to put the phone to your ear.
Using the earphones while riding wasn't bad, over a longer distance I did find myself pushing them in from time to time, but I did that sitting at my desk too, I think it was more of a preventative measure than them actually falling out of my ears. Just to make sure I didn't get myself in trouble on the road I'd turned the volume down enough to be able to hear cars coming up behind me, but at the same time I did get some wind noise too, which I wouldn't have heard if they were at my preferred volume, but safety should come first.
I started to use the cable clip after a short time, it helped to eliminate noise from the cable moving around and stopped the cable from pulling down on the earphones too.
While I tried out some of the other sleeves to see if they fit better I found the size that came already fitted to the earphones were the right size for me.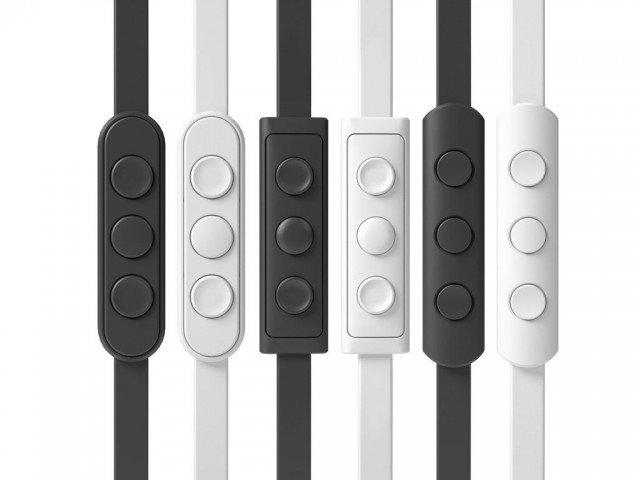 The a-JAYS Five marketing information
a-JAYS Five In-Ear Earphones
Following the success of the popular a-JAYS Four earphones, JAYS wanted to raise the bar even further and set a new standard for in-ear earphones by making something even better. Designed and engineered to match your iOS, Windows or Android device, JAYS have produced their best flat, tangle-free earphones yet.
Made for iOS, Windows and Android
a-JAYS Five come in three different full-feature models for your iOS, Windows and Android phone. The three-button remotes are each designed to match your smartphone and support all features such as answer, hang up calls, play/ pause music and videos, skip songs, change volume, voice control and more. Simply choose the model made for your phone's operating system above and read more about all the features tailored for you.
Durable and Functional
By redesigning the entire earphones from scratch JAYS were able to select and combine materials with different characteristics to create a unique and immensely durable and functional body. Covering precision turned aluminium with a flexible thermoplastic form made it possible to manufacture durable yet soft and flexible earphones with great acoustic properties in an extremely compact format.
Great Ergonomics
The form of the earphone is made in one piece and with complex geometry to follow the same geometry as your ears. Being made in one piece makes the earphone durable and strong. The angled form factor makes them fit comfortably and the soft outer body makes them flexible, following your movements and preventing cable stress.
Flat, Tangle Free Cables
The beloved flat, tangle-free cables have been improved even further to pass our toughest reliability tests ever.
Custom Driver
Inside the earphones JAYS have assembled a completely new custom driver delivering powerful and precise bass with even more dynamics and improved details in the mid-range and highs.
The Colour is in the Music
JAYS believe the colour is in the music and therefore only develop their a-JAYS Five models in black and white.
Gallery
The Last Words
I had a couple of questions about the earphones so went straight to the source to see if I could get some answers.
Q: When will they be available to the public?
A:
volume11.com.au
will have stock from mid-December. Other retailers will get them in January 2014
Q: whats the RRP?
A: $119
I found the a-JAYS Five In-Ear Earphones extremely comfortable and am now a convert to the in ear earphones experience. They sounded great and are a whole lot louder than I expected, most of the time I ran my phone at half volume, which was plenty loud enough to hear everything clearly and drown out any background noises.
I loved the flat, tangle-free cables, they do curl up a little but nothing like the standard old cables. The thing I liked most about them was they didn't flap in the breeze and I didn't get them caught on anything and pull them out of my ears like I had done with headphones before.
Rating
20/20
| | |
| --- | --- |
| Value for money: | 5/5 |
| Weight: | 5/5 |
| Functionality: | 5/5 |
| Looks/Finish: | 5/5 |
Comments
With a retail price of $119 the a-JAYS Five In-Ear Earphones is a little higher than what I expected the sound quality is amazing and they are built to last. Look after these earphones and they will be with you for quite some time.
The a-JAYS Five In-Ear Earphones are lightweight and once you are used to having them in your ears you won't even notice you are wearing them after a while.
The a-JAYS Five In-Ear Earphones have a great sound and perform far batter than I ever expected.
The Swedish designers went to town on these earphones, not only do they look great, so does the packaging. The white looked great but for someone like myself who might get a little dirty enjoying the outdoors,  the black option is an awesome alternative.
JAYS products are distributed in Australia by PowerMove Distribution (www.powermove.com.au). For more information about JAYS check out www.jays.se
Reviewed by Shane Jenkins/bmxultra.com December 14, 2013