ATi are the leader in handle grip technology with an extended product range which includes, padsets, number plates, and handlebars and stems. ATi pretty much have the handle grip market covered with a range of grips that would suit anyone and everyone. Now they have come out with two new 1-ply styles; the Orbit and the Pro-Spike. We are looking at the Pro-Spikes in this review. (For the newbies, 1-ply basically means a single layer of rubber. Take a look at our ATi Jackson grips review for an example of a 2-ply grip.)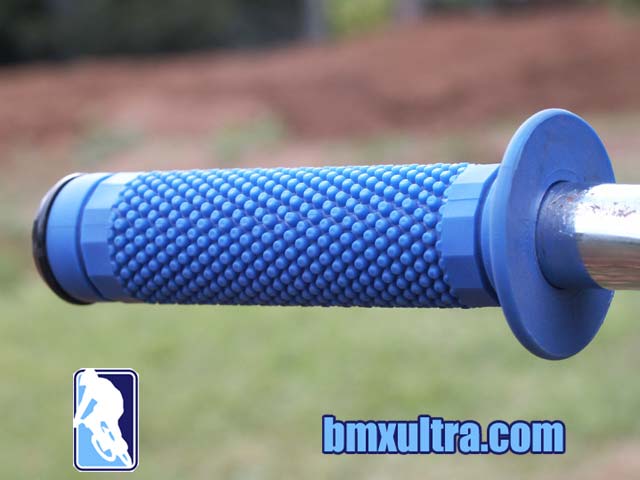 I have a preference for a fuller grip like the 2-ply Jacksons, but ATi now offer something similar to that in a 1-ply grip. The spikes are quite soft considering their appearance, they are fine to ride with on a bare hand.
We had 12 year old Brandan "Lil' KB" Bullows run the grips on his race bike for a while to try them out. He had some softer synthetic leather racing gloves chewed out a little by the spikes over a couple of weeks, but we pretty much determined that the gloves would have been chewed out with any grip, and that the spikes might have accelerated the process a little. He tried some other gloves and didn't have the same problem. Brandan liked the feel of the grip and decided they would be a better suit for his dirt jumper because they were good for riding with bare hands.
Rating 18/20:
| | |
| --- | --- |
| Value for money: | 5/5 |
| Weight: | 5/5 |
| Functionality: | 4/5 |
| Looks/Finish: | 4/5 |
Comments:
The Pro-Spike grips are a few bucks cheaper than 2-ply and just as durable, probably more so with the hard plastic bar ends.
The Pro-Spike grips are so thin weight is hardly a consideration.
Great feel, soft and penty of grip, built to withstand a lot of abuse.
Initial impressions in the packaging where that they looked like they would be nasty on bare hands, once on the bike they are fine.
The ATi Pro-Spike grips are available in red, blue (as above), black and yellow.
Check www.rideati.com to find out more about ATi's product range.