CD: Bullets and Octane – In the Mouth of the Young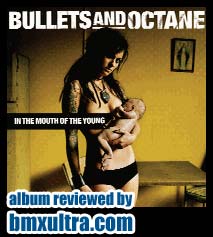 In the Mouth of the Young is the second album for the Southern Californian based four piece Bullets and Octane. It's a slight change in direction from there debut indie release The Revelry, but a change is no surprise with this being their first album under major label RCA. Helmet's lead man Page Hamilton was also signed to produce the album.
Bullets and Octane may not be widely known, but it's only a matter of time. I must admit I hadn't realised that I had heard some of their music before until I started to listen to In the Mouth of the Young. But there are no tracks on this album with the pop/punk/rock sounds of Pirates (from The Revelry), sure the new songs still sound a little anthemic, but probably a little less commercial radio friendly.
One thing that struck me about this album was that their sound has many obvious influences but there isn't any one band you could say they sounded like…which is always a good thing. Maybe if the Distiller's lead singer, Brody Dalle, was a male and if you added a touch of vocal from Lemmy of the legendary Motorhead, then you might get a sound similar to Bullets and Octane.
This is one of those albums parents just won't want their kids to get a hold of for many reasons. But mostly because of the cover featuring the beautiful Hera, from SuicideGirl fame, topless. And that the music isn't for the brainwashed commercial music lovers. Loud, husky, angry vocals with plenty of aggressive, fast and heavy guitar and drums, it's the kind of sound that you would expect to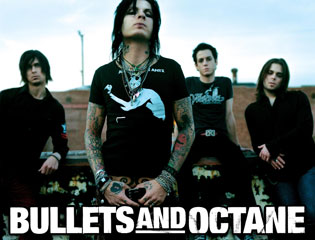 hear on a Crusty Demon's soundtrack. Oh, did I mention they drop the "F" word now and then?
The songs to listen out for are Going Blind, My Disease, I Ain't Your Saviour, Cancer California, Mine Now, and Caving In would have to be my favourite track, heck come to think of it this album is "all killer, no filler".
This is the perfect album to crank up in the car on your next road trip, or play in your walkman to psych up for your next race. After having listened to this album a few times now I can tell you it will be in rotation in my playlist for some time. If I had to rate it I would say 4.5 out of 5.
In the Mouth of the Young has an April 11, 2006 US release date.
For more information about Bullets and Octane check out www.bullets-and-octane.com.
Posted in: Lifestyle