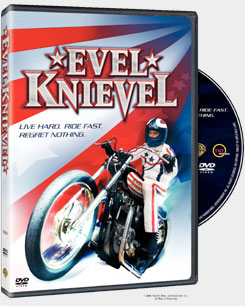 Thanks to Warner Bros. Home Video we are able to bring you our review of the Evel Knievel DVD.
It's because of the likes of Evel Knievel that the sport of BMX is what it is today. In the late 60's Knievel inspired a nation, jumping the fountains at Caesar's Palace in Los Vegas. It's the jump that made Evel Knievel a household name world wide. In no time at all kids were mimicking him jumping their motorbikes and stingrays over anything they could lay their hands on.
A child in the 70's myself, I have a vague memory of Evel Knievel, he was a guy who flew the colours of the American flag and jumped "stuff" on a motorbike. The funny thing was I didn't remember the horrific crashes that caused Knievel to break the Guinness Book of Records record for the most broken bones, and 35 is very hard to imagine.
To get the opportunity to have an early look at the DVD would hopefully put everything into perspective for me. I must admit though I did expect to see reenactments of jump after jump, since to me that's what Evel did, but that's not the case in this DVD. This movie is more about the man, what motivated him and his family that helped support him through some of the toughest times in his career leading up to the Grand Canyon jump.
It contains original footage of the Caesar's Palace jump and other stunts that he did, which are well utilized throughout the film.
It was difficult to come to terms with that Evel was as human as you or me, as much as he was a superhero he had his own ways to cope with fear and fame and like everyone he had his share of floors.
If you want to watch this DVD just for the jumps you might be a little disappointed, however if you are looking to find out more about the man behind the "Evel Knievel" persona it's the perfect film. George Eads (CSI) did a good job as Bobby "Evel" Knievel.
Evel Knievel is available now in North America.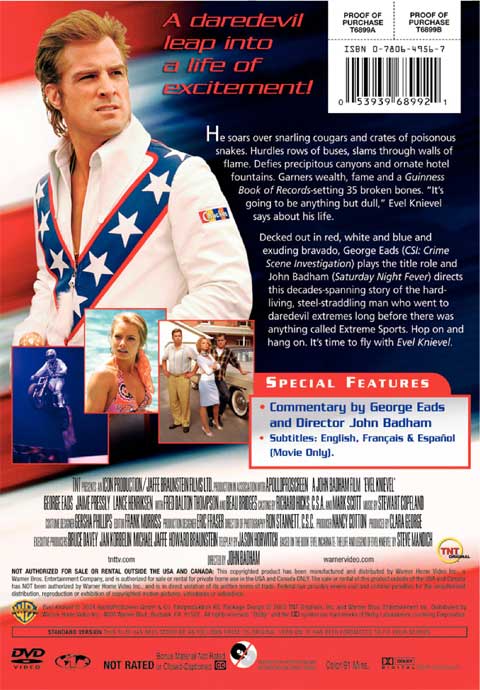 For more information about the Evel Knievel DVD check the official website
at EvelKnievelDVD.com.
Posted in: Lifestyle