Mud Honey MX are an Australian company that specialise in gear for female MXers and BMXers.
Their product range has grown from the performance wear, that we are reviewing here, to include intimate apparel and casual wear.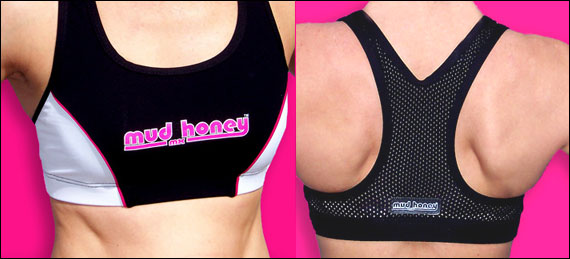 The idea of the performance wear is simply to replace underwear. At the track is can be difficult to find somewhere private to get changed without showing a bit of skin and in sports that are male dominated there's usually no escape. Now the females can get changed anywhere they like and keep their privates…well…private.
Although I am told I can be a bit of a girl at the track sometimes that doesn't qualify me to review these garments, so I palmed them off to Tracy who's a physical education teacher and asked her to put them through their paces, then get back to me with some feedback.
Here's what she had to say:
Comfort:
"Shorts not ideal to be worn under tight pants – have a tendency to ride up the inside of the legs." [editor: this shouldn't be an issue under race pants – Tracy was referring to casual wear usage]
"Extremely comfortable in hot and cold climates – even when sweating the garments did not stick to me."
"Very light garments; after a while I forgot I had the shorts on."
Movement:
"Both the crop top and shorts moved with everything I did. Absolutely no restrictions."
Look:
"It was love at first sight, I wanted to wear the garments because of the way they looked."
"Pink and black does not stand out too much, even if the garments are being worn without clothes over the top. I found them ideal for being worn without riding gear over the top, especially in hotter weather."
"The mesh on the sides of the shorts looks great, however if someone if a little modest and wants to wear underwear, it is very difficult to wear normal briefs – can be easily seen through the sides of the shorts."
"Very feminine looking due to the colours – should be more riding gear that is of similar colours."
The shorts are $59 and comes in Small, Medium or Large.
The crop top is $69 and available in Small, Medium or Large sizes.
Mud Honey MX are a proud supporter of BSX.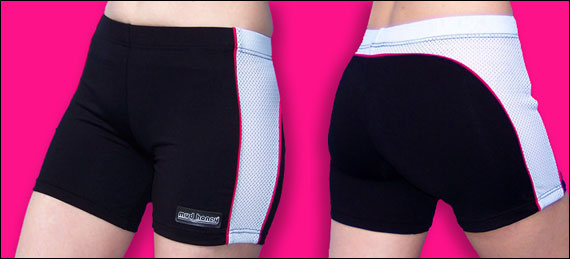 Rating
20/20:
| | |
| --- | --- |
| Value for money: | 5/5 |
| Weight: | 5/5 |
| Functionality: | 5/5 |
| Looks/Finish: | 5/5 |
Comments:
For a race specific garment that can be worn casually as well you will get your value for  money.
The pants feel so light on that you hardly know you are wearing them.
Covering the privates, wihile providing support and looking good!
Well put together, love the colours!.
For more information about Mud Honey MX check out www.mudhoneymx.com.
Reviewed by Tracy Rivett & Shane Jenkins/bmxultra.com August 20 2007.
Posted in: Race Clothing · Reviews