The Pazzaz Carbon Fiber fork, the PZ-F07, is probably the first pure BMX race product that has come out of Pazzaz, and I have not doubt it's not the last. With many years experience with generic BMX products for both aftermarket and OEM, it's no surprise that they have come up with the perfect entry level Aluminium/Carbon fiber fork. At a recommended retail of $265 in Australia, it makes it nearly $150 cheaper than any other carbon fork.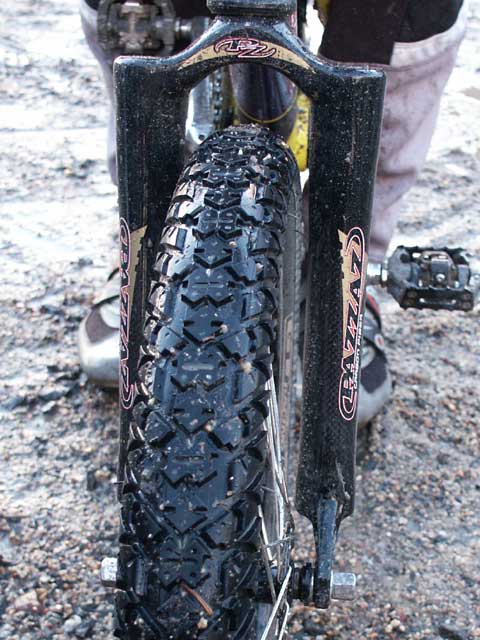 Check these specs out;
Steerer: Cold Forged AL-7075 Diameter 30 to -28.6mm
crown: Cold Forged CNC AL6061
outer leg: AL-7050 Reinforced by Carbon Fiber
lower leg: Forged Dropout
Ok so how do they look? Unlike other forks in the market there is no distinctive crown, it's finished so that it all looks like a single unit. The crown is quite compact in comparison to others but during testing it didn't seem to make any difference. The drop outs are quite long, but they are extremely stiff, they just look a little odd. I imagine the angle of the fork, which has zero rake, has been compensated with the longer drop outs. The finish is awesome, a durable black finish, with the carbon fiber exposed on the legs and some funky newly designed Pazzaz stickers.
How do they ride? We had 19 & Over expert rider Shannon Rademaker (Bayswater Cycles) test these over summer. After stepping off cromo forks to try these out he was extremely impressed. Under race conditions he said they were stiff and very responsive over jumps and when cornering. "They make a big difference when manualing and doing gates, everything seems easier and more natural."
If you would like more information about the Pazzaz Carbon Fiber fork check your local bike shop or go to www.pazzaz.com.