The 2002 MX276 stem is another new product in the extensive range of products on offer from Pazzaz, the Taiwanese manufacturer. When Pazzaz sent this stem for our review "Trash Can" Luke, our trusty reviewer, was looking for a way to lower his bars, so he was the perfect candidate to give the MX276 a trial run.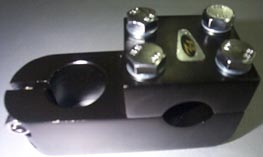 With the stem installed in the upside down position, as it was designed (that means those top hex-bolts in the photo point towards the ground), he was able to take a bit of the height out of his bars and do the review in comfort.
This is what he had to say; "The MX276 retains many of the great features of previous model Pazzaz stems. This means it works well, looks cool and suits anyone's budget. However there are some small differences.
Other stems can be inverted to vary the height of your bars, but this one was made specifically with that in mind. The biggest difference is the bolts that are used to clamp the bars to the stem, instead of using conventional allan bolts, Pazzaz have opted to use 'hex' bolts. The advantage in this is that you can clamp down on the bars with more force, eliminating the chance of yours bars slipping. I found this to be true during testing, and as stated before the basic design of this stem has been proven. So you can be sure that this stem is a winner, just be careful not to over tighten the bolts as this stem has so much clamping power it could crush your bars."
The testing procedure was the usual rigorous bmxultra.com standard of ride with it for a couple of weeks and have a few races, to get a good feel for what the product is really like. "I noticed the difference that it made when doing gate starts and jumping…it really put my bars in a comfortable position…not only is the positioning good but the stem is really stiff…and no matter what I did I couldn't get anything to slip, that stem locks down better than Fort Knox". Sounds like I'll have trouble getting it back off his bike.
The stem is made from cold forged 6061, T6 aluminum has a 5cm reach and comes in black. It would be most suited for racing and dirt jumping.
For more information on the Pazzaz range of products go to www.pazzaz.com.