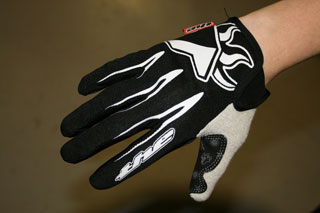 The THE Skinz gloves are very different to anything I have used before. There are two major differences. Firstly the fact that there isn't a strap to fasten the gloves around the wrist which may not be a new idea, but it's the first time I've come across it. The second major difference is the fact that there is no reinforcement, padding or stitching in the palm of the hand, just a light weight material seperates your hand from your grip. For these reasons the THE Skinz felt a little odd for me right off the bat, but that's because of 20+ years of racing in more traditional styles of gloves.
The THE Skinz would be highly suited to riders who don't really like to use gloves at all but have to because of certain rule books, but also for people who wouldn't normally ride in gloves who might want a little bit of protection, just in case.
The feel of the Skinz really grows on you, it really does start to feel like you have no gloves on making for a more natural feel on your grips without any of the bulk or bunching up which can happen with other gloves.
The Skinz do share some of the design features of some of the other gloves we have reviewed over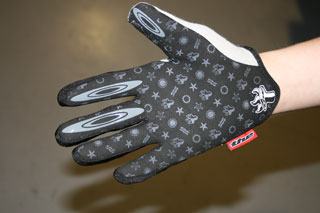 the years like the terry cloth thumb wrap to wipe away the sweat, the non slip finger and thumb tips and material with plenty of stretch to contour to your hands.
If you are used to your gloves covering your wrists it might take some getting used to the Skinz, but I often found on other gloves that I had my wrist straps done up on my wrists tight enough to keep the glove on but also tight enough to remind me that I had something on my wrist which was a bit of a nuisance.
All in all the THE Skinz are very comfortable, so much so that you would hardly know you were wearing gloves at all. I think the Skinz gloves will make a big impact on the BMX scene.
Available in sizes XS to XL and a colour choice of black on white or white on black.
Rating 19.5/20:
| | |
| --- | --- |
| Value for money: | 5/5 |
| Weight: | 5/5 |
| Functionality: | 5/5 |
| Looks/Finish: | 4.5/5 |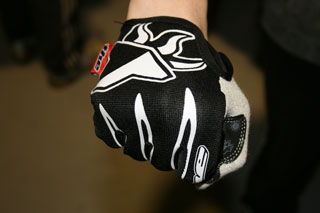 Comments:
THE are all about value for money, good products for a good price, THE Skinz are just another example.
The Skinz basically weigh nothing and you won't even know you are wearing them once you are used to them.
If you are after a lightweight, comfortable glove without the bulk of MX style gloves these are perfect.
These things look great, but I wonder if there should be slightly heavier materials used to make them last that little bit longer.
THE products are imported into Australia by ECI (www.eciimports.com)
Reviewed by Shane Jenkins/bmxultra.com November 20 2008
Posted in: Race Clothing · Reviews