BMX racing news December 2005
31/12 Total BSX Update
by bmxultra.com
Starting hill completed
Jamie and Brandan Bullows spent a couple of days in sunny Kinglake and we managed to finish off the starting hill, which looks more like a roll in tower. It extends the height of the hill to twice the original size. The idea is for the gate to rest on the bottom end of the wooden ramp. The top of the platform is for the starter to stand on. Thanks Jamie for all the hard work and the time and effort that went into building the hill. If anyone knows where we can get some cheap expanded metal/walkway mesh drop us an email.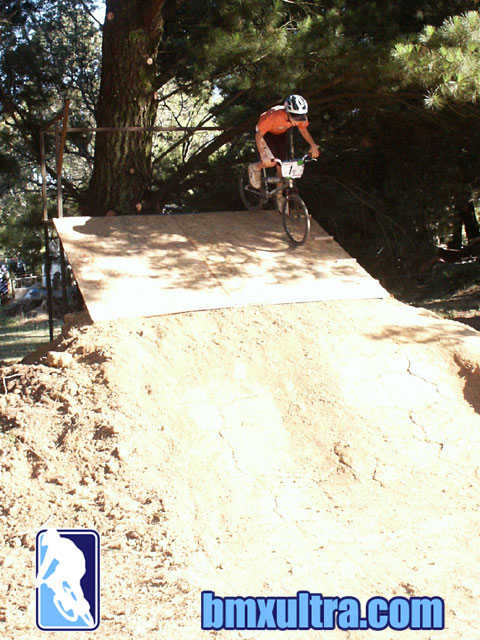 New track photos
We have put some more photos on the BSX page to give people a better idea of the track and it's layout. BSX track tester/TeamWBR rider Brandan Bullows show's us how it's done.
Poster Updated
With additional partners helping up to raise money for the Royal Children's Hospital Foundation we've updated the Total BSX poster.
More information and photos at www.bmxultra.com/bsx
Total BSX is supported by TotalBMX (www.TotalBMX.com.au), ManageSoft (www.managesoft.com), Dirt Designs, Cyclelink.com.au, Safe and Sound, BMXTronic, One Bicycles, Torque sports drink, Corona Extra, Stella Artois, Kadarina Berries, Alpine Timber Windows and Doors, and bmxultra.com.
29/12 Favourite races for 2005
by bmxultra.com
A couple of weeks ago we did a shout out for people to tell us what they thought was the best race for 2005 and what they are looking forward to in 2006. We were hoping for a bigger response from our large international audience, but it is Chrismas time.
Here are the responses we did receive (all from Australia):
Damien Callan
My favourite race meeting would always be the World Titles, so much suspense and incredible racing. Apart from that we have always enjoyed Nerang (Qld), Track Attack (Vic) with so many days of racing, and the Aussies at Cairns (Qld) was a great meeting.
Matt Dickinson
I was lucky enough to make it to most of the big Victorian meets and some big interstate ones like Orange Blossom (NSW), Tamworth (NSW), Canberra State Titles (ACT) and Brindebella (ACT). The meeting I think was the best was the NSW Tri Series (Maitland, Lake McQuarie and Terrigal) it was run very well, had awesome competition in all fields, magnificant track quality, good food, good weather and we were part of the Victorian "dirty dozen" tour…a great bunch of guys!!! I am looking forward to the 06 Track Attack series…this race meeting just gets bigger and better every year!…also looking forward to the 06 dirty dozen tour !!!
Ben Maher
I think the best race meet of 2005 was definitely Nerang Nationals. Even though I didn't race, because of injury, the atmosphere was awesome, the racing was intense and it made the event fun for the riders, but also fun for the crowd. In 2006 I am defiantly looking forward to the Nerang Nationals and I think it is the best race meet to kick of the years racing.
Colin Ironside
I think the BMX Racing in Victoria for 2005 is good as I did all the Northen rivers, Bellarine Spectacular, Shepparton pro am and Victoria state titles . They were all sick as but the sickest event I have done was the Bellarine spectacular. I liked It becuse the track was well maintained and the event was well organised and run well. The track was especisally good, it had sick jumps, berms and a good as gate. In racing I had some alright motos the final was the best I got 5th overall, not the best, but I still had fun.
For 2006 racing in Vic should be good becuse my home club Bendigo is having an open meet so I look forward to that, Aussie titles and Vic titles and all the others meets I do in 2006 but I would to see more BMX Racing meets in Victoria.
Jan Glass
Nerang Nationals are sick!
28/12 17+ 20″ female challenge at Worlds
by Leone from sicchicsofbmx
Here is some information I have received from BMX Chixx (www.bmx-chixx.com) about having 17+ challenge female classes at future World Titles.
The female challenge cruiser classes will remain. At present the UCI isn't considering adding a 30+ women cruiser class. The UCI will discuss the possibility of including a 17+ 20″ challenge class for females. This is going to be discussed in January 2006 and if they feel confident that they will have a sufficient number of participants in 2006, it will be announced for the 2006 Worlds. If not probably for 2007…..
If you will participate in a 17+ 20″ female challenge class at the World Titles in Brazil in 2006 please
e-mail Mascha van Spellen at M_vanspellen@hotmail.com with your name, birthdate, country of origin and e-mail address. She will then e-mail a list to the UCI, who will then decide if the field of participants is big enough to start the class at this years World Championships.
28/12 Music: Wheatus – The BMX Bandits
by bmxultra.com
Wheatus, the band that sung "Teenage Dirtbag", have released a new song that might interest BMXers. It's called "The BMX Bandits". Parents be warned, there is a little swearing and I couldn't find the link to the censored version.
There are links to the video from http://www.wheatus.com/modules.php?name=News. If you can't find them try these:
Visit the Wheatus website at www.wheatus.com for more information about the band.
27/12 Photos: Woodward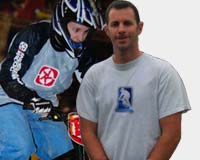 by bmxultra.com
We have finally upgraded our disk space allowing us to post more photos from each race meeting. So we have gone back and added more photos to the Woodward collection from the NBL Supercross Nationals from the road trip with Shannon Rademaker back in September.
Included in the additional photos are a couple from our new US photographer and 30-34 expert rider Jason Bergstrom. Expect to see a lot more photos from Jason throughout the 2006 season.
26/12 Vet Pro at Track Attack
Track Attack press release
It's not mentioned on the Track Attack entry form, but anyone wanting to enter can just write it on their entry form. The entry fee and prize money are the same as Bruiser Cruiser ie $17 entry, and $130 prize money per round.
We had dropped the class for 2006 due to a lack of support at Track Attack 2005 but we of the Senior Classes were 'severely lobbied' by Jock Kelly and his ugly mates in the 30+ age groups at the Victorian State Titles before every round of motos (we were lined up behind them of course) and they promised that if we offered the class that plenty of them would come and support it, so here it is. Now it's up to them to deliver.
26/12 Stolen bike
by Ian Page
I thought I would drop you a line to let you know we had a break in at our shop in Somerville last Sunday morning. They smashed the front door in and stole a new Felt Manic street BMX 2006 model, gloss black with chrome plated alloy rims. There would be very few if any on the street as yet.
If you are in the Frankston/Melbourne area (Australia) and someone tries to sell you a cheap Felt Manic email Ian on page.home@telstra.com
23/12 Free Agent World Team news
Free Agent press release
Free Agent World Team picks up 2005 male and female junior World No.1 riders Nicole Callisto (AUS) and Ramiro Marino (ARG).
4 times World Champion Ramiro Marino from Argentina will be racing down in South America in 06 in Junior Men along side some races in the US.
Current Elite Women's Australian champion and Junior Elite Women's World champion Nicole Callisto will be flying the Free Agent colours on the Australian circuit.
23/12 GT Bicycles Re-Signs Stumpfhauser to 2006 BMX Team
GT Bicycles press release
MADISON, Wis. – GT proudly announces that it has re-signed BMX Race champion Randy Stumpfhauser to the 2006 GT Team.
Stumpy jumps back into the thick of it after a great 2005. Winning Elite Cruiser at the World Championships in Paris and winning the ABA Pro Cruiser title for the fifth year in a row are among his 2005 highlights.
In 2006 his goals are to continue being consistent and to enhance his already impressive riding level.
"I hate going out there and not riding at the level I know I am capable of, so I want to raise that level and concentrate on winning races and the titles will come with those goals," said Stumpfhauser.
How's he like riding for GT?
"Riding for GT is something I used to dream about when I was younger. In this stage of my career I am very happy to have the support from a company that makes great bikes and gives me support at the races."
Randy will be riding the Ultrabox 20" and Cruiser in '06 and will compete in most NBL and ABA National events along with the World Championships and hopefully some UCI Supercross events.
Information about GT's athletes and bike models is available at www.GTBicycles.com.
GT Bicycles sells incredible bikes globally. A market leader, GT continues to lead the way in innovative, high performance cycling products for people of all ages. Visit www.gtbicycles.com for more information.
23/12 Kelvin Batey joins Intense
Intense BMX press release
2005 UCI World Championship Silver Medalist, Kelvin Batey has joined the Intense BMX World Team.
Intense BMX is proud to announce the addition of Kelvin Batey to the 2006 World Team. Kelvin will join Jamie Staff and Michael Robinson on the Intense BMX World Team.
In 2006, Kelvin will be competing in the UK National Series, the UCI European Championships series, and at the World Championships in Brazil. Kelvin has already been selected by the Great Britain Racing squad as one of the riders whom have been brought into the Olympic training program and will train and travel with the staff from the GBR training squad.
After years with One Bicycles, Kelvin Batey has left to join forces with Intense BMX. It was a tough decision for him to leave his long time sponsor, but Kelvin was enticed by the direction of Intense BMX and how far they have come in just a year and a half. "I am really looking forward to going into 06 with team Intense and the incredible support for the GBR squad. Combined I don't think I could be getting any better support…After riding the Intense bike on the first day, It felt perfect and I feel race ready."
Kelvin will also receive support from THE, and SINZ from VSI products for the 2006 season. Intense BMX and Tires, THE Products, and Sinz components are all distributed by Snap Distribution in the UK. Intense BMX has recently won the Golden Crank, an award that the racers of the American Bicycle Association vote on, to pick there choice of Bike of the year. We are happy to have Kelvin on the team and look forward to a long relationship. The Intense World team will receive support from THE Products, Shimano, Intense Tires, and SINZ.
2005 – World Silver Elite Cruiser
National Champion Elite Men
British Champion Elite Men
European Finalist
2004 – National Champion Elite Men
No Clips Champion
2003 – European Finalist Cruiser
National Champion Elite Men
British Champion Elite Men
No Clips Champion
Intense BMX, Intense Tire System. THE, Vigor Helmets, and SINZ are proud to be associated with the finest Bicycle dealers world wide. Intense BMX Products are a division of VSI Products. – www.vsiproducts.com
23/12 Matt Dunsworth looking for a ride to Qld
by Trevor Dunsworth
We are trying to find a lift (or spare seat) in any car going up to the Nerang Nationals from Melbourne for Matt Dunsworth. He is staying up there with friends and flying back with them for Track Attack. If you think you could help out call Trevor on 0425 756 923. He will have a bike box and 1 bag. We will chip in for petrol and are flexible with travel times from Boxing Day on.
20/12 Interview: Sirius Bikes (Adam Campbell)
by bmxultra.com
New Zealand based Sirius Bikes are making a big impact in the Australasian market with Staats, Revtec and other brands. We had a chat with Adam Campbell to see what he's up to.
Click here to check out the interview.
19/12 Sirius Bicycle Press Release
by Adam Campbell/Sirius Bicycle Press Release
Elite riders Marc Willers (Staats), Haden de Boer (Revtec), Lisa Horlor (Hyper), Jason Kelly (Intense), Tim Ferguson (Staats), & Rhys Telford (Hyper) will all be winging their way to Queensland (Australia) later this month for the first two UCI rounds of 2006 for the Oceanic region. Accompanying Tim will be fellow Staats/Dickies teammates Kane Barry & Cory Martin. I will also travel in a support role i.e. cheerleader… but I may well race a lap or two here & there.
The first race will be held at the Nerang track on the 1st & 2nd of Jan, and the 2nd race at Centenary Plains the following weekend. From this point on a rider's ranking within their region may determine their eligibility to represent their respective country at the 2008 Olympic games. With that in mind every Junior & Elite (Oceanic) male & female rider is likely to be in Queensland this New Year's.
For me it is an opportunity to see many of my team riders from Australia race, to catch up with friends – new & old, & to promote the brands that Sirius Bicycles represents throughout New Zealand & Australia. I'll also be taking plenty of photos for the website & I'll prepare a race report after we return to NZ so be sure to check back in the New Year for that also.
Merry Xmas everyone & allow me take this opportunity to wish you all a Happy New Year.
16/12 It's opinion time again
By bmxultra.com
While things are quiet on the news front, we would take the opportunity to ask you, our readers, what you think was the best race meeting for 2005 and tell us why. We'd also like to know what race meeting you are looking forward to in 2006.
Just email your opinion to webmaster@bmxultra.com
15/12 Total BSX update
By bmxultra.com
We have finally had a chance to put together some photos from the last part of the backyard track to be used for the Total BSX (Bicycle Supercross) event in January.
The BSX is a fund raising event for the Royal Children's Hospital Foundation of Melbourne. $1500 has already been donated directly to foundations a result of the event, thanks to ManageSoft and Michael Carabetta. Other monies from sponsorship has been used to set the event up, including building the track, insurance and portable toilets. Entry forms and spectator tickets available soon.

More information and photos at www.bmxultra.com/bsx
Total BSX is supported by TotalBMX (www.TotalBMX.com.au), ManageSoft (www.managesoft.com), Dirt Designs, Cyclelink.com.au, Safe and Sound, BMXTronic, One Bicycles, Torque sports drink, Corona Extra, Stella Artois, Kadarina Berries, and bmxultra.com.
14/12 bmxultra welcomes Jason Bergstrom
By bmxultra.com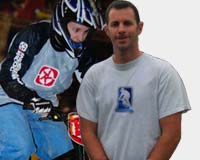 We first met Jason Bergstrom at Akron OH back in May racing in the 30-34 Expert class, he had just stepped up from Novice and was in a tough field. "He reminded me of what BMX is all about…having fun" said Shane Jenkins, owner of bmxultra.com. Jason was racing in jeans, on platform pedals and he was doing all he could to make the main. Even when he didn't he was cheering on his mates come final time.
Fast forward to September, we hooked up with Jason again at the Supercross nationals at Woodward, PA. Jason narrowly missed out on the main but kept smiling and kept cheering for his friends, only this time he was taking photos too.
Jason is a freelance graphic designer and photographer from TN. He's also been a BMXer for many years, having started when he was 8 years old and a former pro snowboarder, it won't be long before you see him having fun but also making the mains.
Jason will be taking photos for bmxultra.com at some of the US (mostly NBL) nationals throughout the 2006 season.
14/12 New XBR BMX newspaper
XBR press release
XBR (Xtreme Bicycle Racing) is a monthly newspaper for the BMX racing community of Australia and New Zealand. Anyone in the BMX community can contribute to this paper by submitting an article, review, photo, letter to the editor or race report.
Every state, territory and island has its own editor and its own dedicated section in the paper. Inside you will find information about races (including race nom' forms), rider profiles, classified ads (for private sales of bikes and race gear) a double page colour lift out and much more.
XBR is the most comprehensive BMX racing paper in Australia and New Zealand and can be purchased through most BMX clubs for $1 in the first week of every month. So don't miss out on your copy; go to www.xbr.com.au to reserve your paper and remember: "BMX is XBR"
13/12 Adam Carey joins Ultra crew
by bmxultra.com
We are happy to announce that Adam Carey, current #1 Victoria in the 17 Boys expert class and #5 in A Pro, will be joining the bmxultra.com crew as a co-sponsored rider. When he races next, in early January, he will be wearing a custom bmxultra.com jersey and riding a 2006 One Bicycles frame. Look out for Adam in 2006, if 2005 is anything to go by, he's only going to get faster. His other co-sponsors are Pr1ck clothing and BMXBits.com.au.
13/12 Rumour: Jill Kitner to race BMX downunder
by bmxultra.com
We hear from a good source that mountain bike star Jill Kitner will be returning to her roots, and hitting BMX races in Australia. Jill's mountain biking boyfriend Brin is from Australia, they have both picked up a deal from GT for BMX and will be at Nerang for the Nationals at the start of January. We could also see them at the Track Attack series in Victoria mid January and maybe at the Total BSX race, we'll keep you posted.
12/12 BSX test run
by bmxultra.com
On Sunday we had a few guys over to help us work out any "bugs" in the track and in the way we intend to run the event in January. All riders had the opportunity to give the track a good run as well as give us any feedback they had. Tony Harvey was great ironing out a few of the rougher jumps, the clay had taken a beating since the warmer weather had kicked in. The Callan family brought their new 2 man gate with ram. Jamie Bullows started to build an extension for the back of the starting hill so we didn't have to use so much dirt. There is a little more work to do there but penalty of time to do it.
Each of the 14 riders that showed up did one timed run all on the same side of the two lane track. We had 3 stop watches and averaged the 3 times for each rider, this should reduce the chance of bias or mistakes. Tony Harvey was having fun with the timed run, transferring from one side of the track to the other over jumps, while Shaun Craven struggled to even get around the track, we gave up on timing him after his third attempt.
On the day of the BSX riders will get one shot only, if they crash that's it, they have to get back on the bike, cross the line and hope others crash too. Josh Callan posted the fastest time and was looking real smooth, having his own gate there might have given him a small advantage. Luke Pretlove was the second fastest qualifier, because we had 14 riders they would get to sit out of the first round of elimination, he crashed out in the second round, right before the finish line.
In the eliminations it became obvious that one side of the track was more of an advantage especially when Josh and Tony raced each other in the semi, they were neck and neck the whole way around the track until the last corner, but Josh had the inside corner and got to the line first, that's something we will be fixing real soon. (The fastest qualifier in each round got first choice of lane.) In the other semi Shaun Cravan beat out Ermin Deumic. In the final the race was close, but it looked like Josh Callan had it won until he hit a soft spot in the third corner causing him to lose speed. Cravan took the win.
Qualifying times:
| | |
| --- | --- |
| Josh Callan (Redline/TotalBMX) | 21.38 |
| Luke Pretlove (Redline/TotalBMX) | 22.36 |
| Tony Harvey (Avent/TotalBMX) | 22.56 |
| Shannon Rademaker (FreeAgent/Cyclelink) | 22.79 |
| Ben Ross | 23.00 |
| Ermin Deumic | 23.19 |
| Grant Carra | 23.44 |
| Adam Carey (Pr1ck/BMXBits) | 23.88 |
| Shane Jenkins (BMXUltra.com) | 24.24 |
| Ahron Jeffree (TotalBMX/Intense) | 24.40 |
| Adam Robb (Redline/TotalBMX) | 24.68 |
| Brandan Bullows (Percentage/TeamWBR) | 25.43 |
| Ziggy Callan (Redline/TotalBMX) | 26.68 |
| Shaun Cravan (Intense/TotalBMX) | No time |
09/12 Total BSX update
by bmxultra.com
RCH already benefiting
The Total BSX event is primarily a fund raiser for the Royal Children's Hospital. The race itself is the draw card.
All the track work is done, the only things left to pay for now are the porta-loos and insurance. When we were sent a large donation from Michael Carabetta of Boston, USA we were able to forward it straight to the Royal Children's Hospital foundation. We are proud to be able to help the RCH more than a month before the event is scheduled.
Riders updated
We have had a couple of riders withdraw due to other commitments but have been told by GT's Steven Robinson that current Elite Men's Australian champion Luke Madill will be added to the already very strong field. We have also been told that the New Zealand team riders will be at the Track Attack series in Melbourne in 2006 and are very keen to ride at the BSX event, expect some late entries.
Poster updated
We have had some recent additions to our partners list, including ManageSoft. The Software Management Company. So we have updated the poster accordingly.
BSX page updated
We have found some time to add a little colour to the BSX page, putting in a new flash banner.
For more check out www.bmxultra.com/bsx
Total BSX is supported by TotalBMX (www.TotalBMX.com.au), ManageSoft (www.managesoft.com), Dirt Designs, Cyclelink.com.au, Safe and Sound, BMXTronic, One Bicycles, Torque sports drink, Corona Extra, Stella Artois, Kadarina Berries, and bmxultra.com.
09/12 Abbotsord, Canada, Indoor
by Gary Harder
Gary Harder here from Abbotsord BC Canada.
We run a outdoor and indoor track on the West Coast just 30min from Vancouver BC. For photos and full details visit www.abbotsfordbmx.ca.
We will be rebuilding our indoor track this friday and be open till Jan 1st then takedown and rebuild for our last indoor build on Jan 20 to Feb 12 weekend and last takedown of indoor for the season.
08/12 Vic's for state challenge in Qld
by bmxultra.com
Tony Harvey, Victoria's state coach and most dominating AA Pro for the last decade, has asked us to put a shout out here for all Victorian riders planning on heading to Nerang, Queensland for racing in early January. He's trying to organise a Victorian team for the proposed state challenge.
If you are heading up please email Tony at tonyhrv1@hotmail.com.
07/12 Geneva Indoor, Switzerland
One Bicycle press release
EUROPEAN INDOOR CHAMPIONSHIP GENEVA
Round 3 and 4 of the European Championship INDOOR were held in Geneva, Switzerland.
For those who came by plane, they only had to cross the street to get to the hall where the track was built.
Although the track was wet and slippery during round 3, the racing was good.
In Junior Men Crupi's Martijn Scherpen was super fast and unbeatable on saturday.
Sunday however he got passed in the last turn by ONE's Edzus Treimanis from Latvia.
Martijn is leading the championshiop, followed by Edzus.
In Elite Women ONE's Vilma Rimsaite from Lithuania was fast all day.
In the main event ONE's Aneta Hladikova from Czech Republic took the holeshot but unclipped just before the last jump on the first straight and crashed hard.
Laetitia Le Corguille won with Vilma in a good 3rd spot.
On Sunday Aneta was the leader in the championship, but she was struggeling through the motos.
She made it to the main but the victory went to Laetitia Le Corguille again with ONE's Jana Horakova in 2nd place.
Jana is now leading the championship, with Aneta in 2nd and Vilma in 3rd place.
In Elite Men there were great competitors.
Haro's Jason Richardson, Avent/Bomshell's Tyler Brown, Free Agents Cristian Becerine and Dale Holmes made the trip to Switzerland.
ONE's Arturs Matisons (Latvia) was dominating the race, although Thomas Allier was in shape.
In the main event Arturs was leading the pack into the first turn, but slid away while pedaling out of the turn. He crashed and got the whole pack over him.
Dale Holmes finally won the race on saturday.
In sunday's Semi the same happened to Arturs while leading into the first turn. This time he managed to stay on his bike making Cristian Becerine to get along side him and going towards the 2nd turn they hit each other and crashed, leaving the door open for Tyler Brown.
Tyler Brown won the main event, with Thomas Allier in 2nd.
Arturs is still leading the championship followed by Supercross' Arnoud Dubois and Haro's Raymond v.d Biezen.
Next meeting: Indoor St. Etienne, France – December 10 and 11, 2005
ONE Bicycles' BMX team is sponsored by: TROY LEE DESIGNS, BOMBSHELL, SHIMANO, BOLLE, WLM DESIGN, BOMBA, THOMSON, FIZIK, ODI, ZITOUN, KENDA, COOLSHIRT, NIKE 6.0, NIKE Cycling, NIKE Timing and BMXPIX
07/12 Track Attack entry form
by bmxultra.com
The 2006 Track Attack series, ran over 6 races over 9 days starting from January 14th in Melbourne's Eastern suburbs, could be the biggest yet. If you need an entry form check out our race calendar.
07/12 TeamWBR – National Hogs Breath Cafe TV Commercial
TeamWBR press release
TeamWBR has been involved in more than just racing lately as Wade Bootes was invited to participate in a National TV commercial for Hogs Breath Cafe. The commercial is advertising the new menu at Hogs Breath featuring most of their athlete's they sponsor within Australia. BMX is joined in with the Hogs Breath sponsored PWR/Supercheap V8 Super car, Power boat, Surfing and kit Surfing sports. The commercial is running for the next few months starting Dec 4th. Check out www.hogsbreath.com.au for restaurant locations.
Bootes was also invited along for the Drive Day of the PWR/Supercheap V8 Super Car team. Wade jumped at the chance to do a few laps with his friend Paul Weel in his race car. Wade would like to thank Hogs Breath Cafe and PWR/Supercheap Race Car Team for a great experience.
TeamWBR is proudly supported by: Percentage Designs, One Ring, Volkswagen Australia, Hogs Breath Cafe, Velocity Wheels, Investco Merchant Bankers, JBL Audio, Strathfield car radio, ATI, Hayes Brakes, Fox Shox, IRC, Cane Creek, BSC, QuikShade, Bell Helmets, Truvativ chain guide, Funn, Nike Cycling, Shimano, Sockguy and www.TeamWBR.com.
07/12 Ozcrank.com – 30% off Percentage
Ozcrank press release
Ozcrank.com is the home of Percentage Designs and One Ring, which is an all Australian company, supplying race clothes, casual clothes, bags, frames, chain rings and cranks for the BMX, MTB and Moto cross riders. Percentage Designs are offering Team Member Packages for a limited time only at crazy prices. We are currently doing 30% OFF retail on our race packages, starting from $168 (Aust).
For more information and a list of products, check out www.Ozcrank.com and order now so they will arrive to you before for Christmas.
07/12 ActionProfiles.com's support your local shop program launch!
ActionProfiles.com press release
Newport Beach, CA. – ActionProfiles.com Inc. announces it's launch of the "Support Your Shop" program which aims at helping local shops make it easier to connect to their local riders. ActionProfiles.com will begin its quest in aiding these local shops in connecting them with their local riders and customers all online through the ActionProfiles.com website.
"Since launching just over three months ago, we have had an amazing response from our supporting companies and members as well," said ActionProfiles.com President and Founder, Brandon Winnie. " We understand that the headwaters to corporate sponsorship starts at the local shop. It's a great way for these shops to track their local rider's progression and participation through local contests and events…"
The "Support Your Shop" program is designed to help both the riders and shops as well. With this program, shops will be able to manage their local team of sponsored riders and also promote their business as well. The program is free, but you will have to be able to get 50 local riders to sign up and create profiles on ActionProfiles.com. After the shop has achieved this, they will receive a free online profile in which they will manage their team and promote their shop.
For more information about how you can get your shop involved, email support@actionprofiles.com or call their headquarters at (714) 717-7112.
ActionProfiles.com is an online action sports community that gives the unheard rider a voice. We offer space to create professional looking profiles in which you can post videos and photos, create a resume and personal bio, communicate to sponsors and also land sponsorship deals. Not only that but we are a great place to meet new people to ride with, and just have a great time! Check us out now, www.actionprofiles.com.
06/12 Review: ATi Pro-Spike grips
by bmxultra.com
We have been testing the ATi 1-ply Pro-Spike grips, check out the product review to see what we found.
06/12 Virginia BMX Continues…
Virginia BMX press release
The Events kicked off, with tremendous success, on Saturday December 3rd with a Clinic then a Virginia State Qualifier. The rider count for the Qualifier approached 160 and motos in the 40's. Truly, this State Event was about the size of many Regionals Last Season. The 16 and over Amateur Open Wheel Series offered a very competitive day for practically two full gates of Pros, Former Pros, and Top Notch Experts. The local double race on Sunday offered more than 30 motos and the "Trophy Runs" enabled the riders best matched competitively to compete in full gates. The "Trophy Runs" were indicative of a Full Gate at a National and really sparked some competitive spirit while enabling the riders to train for the upcoming National at Lexington in January 2006.
.The Facility is great and the track (built by NBL's Tom Ritzenthaler) is very smooth and offers something for everyone. The State Qualifier Event had two BMX Bike Shop vendors on-site and some great concessions that we understand will continue throughout the program. Indoor racing at this level cannot be better!
Rocket BMX will be sponsoring some PitBike Challenges on December 11, and December 18 with 100% payouts to add a little variety to the fun.
The Blue Ridge Website continues to be updated with News and Events so stay tuned to…… www.novabmx.org/nova/blue_ridge_track.html
The Virginia BMX State Website also is a great source of Information www.vabmx.org
05/12 Gavin D's Vic Titles photos
by bmxultra.com
Gavin D, Australia's finest free lance BMX photographer and famous for the Gavin D BMX racing calendars, has updated his website with literally hundreds of photos from the 2005 Victorian State championships.
If you were there then you would have to be invisible for him to not have captured you on film. There are also some awesome presentation, group racing and crash shots worth checking out.
Don't take our word for it, check them out for yourself at www.gavind.com.au.
02/12 Rumour: ABA riders at 2006 UCI World Titles
by bmnxultra.com
Rumour has it that there are negotiations that will allow ABA licenced riders to compete at the UCI world championships. How that will effect qualifying in North America is unclear, but it could mean that the ABA won't run their own World Title event any longer.
You can't believe every rumour you hear, but this is from a reliable source, and that wasn't the first time I'd heard it.
02/12 bmxultra.com Christmas stocking stuffers
by bmxultra.com
Stuck for something to buy the BMX freak in your household for Christmas?
Why not check out the Home Brew DVDs? The 2005 Aussie Titles, our latest release, is our best work yet. With plenty of elite class action and lots of age class finals for just $20 it's a bargain. Email webmaster@bmxultra.com for details.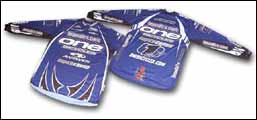 The bmxultra.com/One Bicycles jerseys are building momentum and selling right through Asia/Pacific, Europe and North America. These jerseys are customised for your preference, include your countries flag on the sleeves, your name on the back, even down to the main colour. While the bmxultra.com team riders use blue, you can select any colour you want. Contact One Bicycles through www.onebicycles.com for details.
02/12 Derek and Tracey Harris have baby girl
by Shane Jenkins
Earlier this week the South Eastern BMX Club president, Derek Harris, and his wife Tracey had their first child. They called her Katelyn Elizabeth. Tracey and Katelyn are doing well.
Congratulations guys.
01/12 Looking for pics/vids of Aussie champ Jim O'Neill
by bmxultra.com
We've received an email from a mate of Aussie Old School BMXer Jim O'Neill who's trying to track down some photos or even footage. Jim raced for Diamond Back and was one of the best riders in Australia who won the Australian championships back in the day…my memory doesn't do early 80's well so I can't remember class or the year, I was just excited to be racing BMX at the time.
If you have anything or know of anyone who might, drop us an email at webmaster@bmxultra.com.
01/12 BMX Mexico Grand Nationals in Aguascalientes, Ags.
by Rogelio Salgado
Hi All,
Just to let you know that we are having the BMX Mexico Grand Nationals this coming December 10th and 11th in Aguascalientes, Aguascalientes – Mexico.
This Final will be held in the "La Pona" Park on Alameda Street and Heroes de Nacozari.
Schedule:
Saturday begining at 16:00 hrs.
Sunday at 12:30 hrs.
Anybody in Mexico on that dates should come!
Posted in: Archive