BMX racing news March 2010
31/03 Review: VholdR ContourHD Helmet Camera
by bmxultra.com
The ContourHD by VholdR is one of our favourite techy toys of all time. A super compact and lightweight helmet camera that you don't even know is there but can also capture high quality HD footage. Click here to find out all about it.
31/03 EPIC Action Video Cam Adds Their New High Definition Wide Angle Camera to Line of POV Cameras
EPIC press release
Oceanside, CA – Building upon their current success within the POV camera market, EPIC is excited to announce the addition of their new, highly anticipated High Definition camera. EPIC brings Action Sports, Motorsports and Adventure enthusiasts into the world of YouTube with a self-contained, ultra compact, lightweight digital video camera ideal for capturing your best moments from the athlete's point of view.
The EPIC Action Video HD Cam provides users with the ability to shoot their favorite sports in High Definition  by including a variety of camera mounts and 3 AAA Energizer Lithium Batteries. Whether it is mounted to your helmet, your board, your handlebars, your kayak or the hood of your car, it brings a new perspective to video.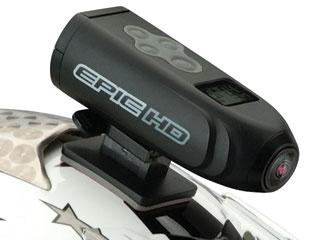 Epic HD Features:
720P HD 1280×720 Digital Video (total of 3 resolution settings)
H.264 Video Compression
30 Frames per second
168 degree wide angle lens
4x digital zoom
Accepts up to 16GB SD memory cards
8MP Still Cam with 1-9 Action Sequence burst mode
10-30 second adjustable self  timer
A/V output for video preview and review
Audible guide
Upside Down mode
USB Out
Operated on 3 AAA Batteries (included)
Be sure to check out EPIC Action Video Cam at various events, races and competitions throughout the country in 2010. EPIC Action Video Cam is also a proud sponsor of the Troy Lee Designs/ Lucas Oil/ Honda MX Race Team, GT Bicycles Factory MTB and BMX programs, Hentges Racing National Guard/ Polaris Snowmobile Team, US Cup MTB Series, 2010 Mammoth Motocross, Red Bull Cold Rush and premier athletes across the globe.
Founded in 2000, EPIC offers specialty digital cameras, along with a variety of accessories to enhance outdoor pursuits. For more information, contact: EPIC Action Video Cam 3923 Oceanic Drive, Suite 200 Oceanside, CA 92056, Phone: 760-450-1006
CONTACTS:
Media/ Sponsorships: Todd Ballard (760) 828-3822 TBallard@NXTagency.com,
Dealer/ Distributor Inquiries: Doug Mann, (760) 450-1006 dougmann@gsmorg.com
30/03 New cycling sports association for Australia and New Zealand
Xtreme Sports Association Ltd (XSA)
AUSTRALIA and NEW ZEALAND'S NEW ASSOCIATION
Introducing Australia and New Zealand's newest Sporting Association;
Xtreme Sports Association Ltd (XSA)
XSA is looking to expand on a variety of BMX and MTB racing activities currently available in Australia and New
Zealand ranging from Pump Racing, Duals and 4X to old school, modern and even Supercross race events.
XSA believes that the introduction of a second Association for extreme sports like BMX racing and MTB will provide
a number of benefits for riders and their families including increased value for money as well as a greater variety of
events. There is no licence requirement for XSA race participants and all membership and insurance fees are
included in the cost of entry.
XSA will be hosting its own "Grand National Championships" in Australia to be conducted in late 2010. Based on
rider feedback, XSA will offer five random motos over two days, (eg non UCI gate selection – so riders have a chance
to race different people in all of their motos), no qualifying criteria (eg anyone can enter) and best of all, XSA promises
to keep entry fees to a minimum. XSA encourages the participation of riders from all countries at their events.
Our motto for our Grand Nationals;
"Twice the fun. Half the price"
XSA is now collating a calendar of events for their 2010 and 2011 seasons and are requesting expressions of interest
from riders, councils, clubs and individuals who would be interested in hosting an XSA event at a track near them. If
you have an idea for a race event in your area, please send your "Expression of Interest" to: info@xtremesports.org.au or phone Gavin D Andrew on 0412 246012 for more information.
More information about XSA & the events on offer will be available soon via the website www.xtremesports.org.au
Xtreme Sports Association Ltd is proudly supported by XBR.
30/03 Introducing CUMAGUTSA
CUMAGUTSA press release
CUMAGUTSA is the brand name for a NEW range of apparel, T shirts and caps and stickers focusing on ALL extreme sports. CUMAGUTSA at the moment supports the following riders, BMX RACERS, Max Cairns 6 world in the 13 boys at last years world titles, Brock Tuckerman elite mens, Kyle Horton junior elite mens number 1 in Aust in cruiser class last year, Branden taheko now in 13 boys this year and is currently number 1 in Victoria. Local Bendigo FREESTLYE rider 14 year old Adrian Stratford and 12 year old A grade MX YAMAHA rider Matthew Hopcons/Talty currently number 1 in Victoria in the 85cc class. Cumagutsa is happy to be supporting these 6 great riders,and looks forward to some really good results thought out this year. CUMAGUTSA now also sponsors freestyle rider Adrian Stratford & A GRADE Junior Yamaha 85CC rider Matthew Hopcons/Talty & Junior Sprocket rider Rhys Slater from Brisbane.
CUMAGUTSA Is always adding awesome new designs to the range of apparel so keep an eye out for those. With an exciting WOMENS range in the making. If there is something you would like to see in the CUMAGUTSA range, feel free to write and let us know, as we are always open to new ideas.
U can buy these t shirts on ebay.com.au or you can visit the CUMAGUTSA myspace page to see our full range.
CUMAGUTSA Is Australian designed and owned.
WHATEVER SPORT YOU ARE INTO, THIS IS FOR YOU!
29/03 ONE Bicycles Team at the N.S.W. Southern Region Round 2 – Penrith, Sydney
One Bicycles Australia press release
The Second round of the NSW State Qualifying Series was held at the Penrith Club in Sydney. As usual the track was well prepared and super technical. We raced here last year and the kids really like the track, with each year allowing them a chance to challenge themselves on new sections of the track. Having Justin Beattie located in Sydney allows him to try these tracks out and encourage his Team mates to try different things at the track!
Mikayla Rose was still in hot form after taking out the ACT Championships and never dropped a moto all day on her 20" bike in the 10 Girls. She was in total control of all her races keeping her friend and rival Bianca Robertson at bay. In the final Bianca fell beside Mikayla and missed the start completely. This almost caused Mikayla to topple too, but she managed to leave the gate and pull a commanding lead all the way to the stripe for a clean sweep for the day.
On her cruiser she raced in the 8-10 Boys class and had an erratic day on the bigger bike but good enough for a place in the final. She has an amazing start and gets up in the pack of leaders before almost coming together with a couple of them. When the dirt and pack settled, she found herself in the sixth spot and that is where she finished on the day. Not a bad effort for a young girl racing some great talent in the boy's class.
Nikalus Rose was lucky to have his Team mate Justin Beattie there to keep him on his toes again in teh 12 Boys 20" Class. Nik was keen to have a good event after the disappointment of missing the final at the ACT's and was riding well in practice hitting up some sections of the track with Justin. In the first race Nik and Justin lined up and the gate dropped to a two horse race between them. Nik got the first one out of the road with a win over his team mate. In the second heat Nik drew Justin again and he struggled to clip in at the gate and watched as the rest of the field took off. He eventually got clipped in and took off giving the field a good 20m head start. He rode like a machine and managed to reel in a 4th spot. In his third heat he gated with Andy Hughes and they battled all the way to the stripe for a second for Nik. In the final Nik drew gate 4 and had Andrew, Justin and Ben Bainey on his left and Brodie Moore on his other shoulder. Gate dropped and Nik had another shocker of a start getting boxed out by the first jump spitting him out the back to last. He raced like a child possessed and after some amazing riding secured a close fourth finish. Not the finish he was hoping for after the weekend he had.
In 11-12 Boys Cruiser, Nik was on fire, winning 2 of the 3 heats only being beaten by Andrew Hughes in an arm to arm battle to the first corner. In the final Andrew showed why he is W3 and took the win over Nik in a close second. Nik was happy with the weekend but noted he needed some work on his gates to stop being shut down by the other riders.
Justin Beattie rode up in the 12 Boys class again in preparation for the upcoming big events. There is a wealth of talent in the 12 Boys Class with a large number of State plated riders competing and Justin showed once again why he is 4W and current Australian Champion. In his first heat he drew Nik Rose his Team mate and the two of them were battling hard all race with Justin getting a close second behind Nik. In the second heat, Justin had a great gate and left the field behind challenging Andrew Hughes for the top spot. Andy pulled away and finished ahead of Justin in a close second. In his final race Justin was unstoppable claiming another win for the day and setting himself up for a great lane choice in the final. Justin sat beside Andy on the gate and ACT plate holder Ben Bainey beside him also, with Team mate Nik in gate 4. Justin came out well slightly ahead of Andy but Andy pulled his amazing power out and muscled the lead back quickly pushing the two riders beside him over causing Justin to sit in second and spitting Nik out the back. Justin chased hard but Andy had it sewn up. Another amazing event for Justin, in a class above his own, against some tough riders. That puts Justin ahead of Nik now in the Series and behind Andy Hughes.
Josh Rose had a very short time off the bike and did some 4X riding before realising he missed the racing and decided to race the event too. He had begun training for the Aussies and felt it time to get back on his new ONE. He rode awesome with a very close fifth in his first heat, slowing down to get beaten at the stripe by the rider behind him. He learnt not to do that again and came out flying in his next heat challenging the big guns in the Class to get a great third. In his third race he managed another third securing another Final in the 15 Boys Class. Josh was coming to terms with his new ride and loving it! In his Final he rode well challenging the pack and finished the day with a credible 6th spot. An awesome day's outcome, on his return to racing.
On his cruiser Josh had two other Canberrans to compete against. I had just changed his gearing at his request and it appeared to work with Josh coming out flying to win all three heats in what seemed little effort on his behalf. By the time the finals had come round, Josh noticed his fitness letting him down a little and the heat of the day didn't help. He came out a little late in the final and got boxed out, something I had seen in a final earlier! Josh couldn't catch the other two riders up enough to challenge for the lead and crossed the line for third.
All the kids were happy with the way they rode on the day, having fun and learning from the experience. Thanks to Kevin Vahtrik for saving us a great spot on the first straight and a big thanks to my wife for coming along on the weekend to help out with the tribe.
The ONE Team are riding well in the lead up to the Big ONE in May, the Australian Championships. I hope the Team can bring home some great results in Easter at the Shep event! See ya all there.
How to buy One Bicycles products in Australia
If you would like to purchase a One Bicycles frame or accessories in Australia the best way to do so is to head down to your local bike store and place an order. If they don't know what you are talking about tell them to call Elite Cycle Imports while you wait and place your order there and then. After doing some calculations myself I have found the cheapest way to get One Bicycles products in Australia is through a local reseller.
About One Bicycles
For over a decade ONE Bicycles (operating out of Holland), inducted into the European Hall of Fame, has solely focused all their efforts on the sport of BMX. Today they are at the forefront of BMX product design Worldwide. Utilizing advancements in the industry, some of which were conceived in ONE's own engineering department, their products directly reflect the evolution and maturing of proven BMX design. Like a fine wine ONE Bicycles product line has come of age as a result of years of dedication to the sport of BMX.
One Bicycles are a major sponsor of the bmxultra.com team
Over the years One Bicycles have sponsored
Khalen Young
The Phirebird team which includes 2005 & 2006 World Championships finalist Jamie Gray and 2006 NBL Grands (A Pro) champion Glenn Codega
In 2008 Maris Strombergs rode his One Bicycle to victory in the Elite Men's class at the UCI World Championships and followed that up by taking the first ever Men's BMX Gold medal at the Olympics.
For more information about One Bicycles check out www.onebicycles.com
29/03 Willoughby wins Madrid Supercross World Cup
by bikemedia
Just when no one dared to think he could do any better than his amazing record breaking rides last season, young BMX phenomenon, Sam Willoughby from Adelaide, came up with another  impressive win in the first round of the World Cup Supercross season in Madrid. The 18 year old outclassed Beijing Olympic gold medallist, Maris Strombergs (LAT). As defending world cup series winner, Willoughby did not have it all his own way with a challenge in the final straight by a strong finishing Connor Fields (USA). Fields placed second while Ivo van der Putten (NED) finished third.
"This is how I wanted to start off the season," said Willoughby however the lead up was far from ideal after a recent move by the 18 year old to train and race in the USA.
"It's been a bit of a hard build up as I haven't had a track to ride on. A big shout out to the USA Cycling for letting me ride that Chula Vista track," he added with a grin after beating their young upcoming star, Connor Fields.
"It (the win) means everything, I have come into it as prepared as I can. It's always a bit of pressure coming in when you are a defending champion everyone has sort of got their eyes on you.
"To come away with a win early in the season is exactly what you want to do to start things off on the right foot."
A third place in the time trials helped Willoughby secure himself a more favourable inside starting position on the gate.
"It's super important to start on the inside," stated Willoughby. "I had Cristian Becerine (ARG) in my heat and he is the fastest guy out of the gate and down the first straight. So to have the inside got me out of trouble. I definitely was not "hole shotting' every race. I was lucky to have the inside and get around Cristian in most of them."
In the final though Willoughby had to start in the middle of the pack.
"I had to come from the outside in the final after a bit of a mistake in the semi. I was just stoked I could get it done," he added.
Sydney's Luke Madill also outclassed many elite riders throughout the heats and was the only other Australian to make the men's final finishing a creditable seventh place.
One of the earliest departures during the heats was Donny Robinson (USA). The current world champion crashed and was unable to continue racing.
Caroline Buchanan from Canberra claimed third after challenging the multiple world champion, Shanaze Reade (GBR) in the final straight. Olympic silver medallist, Laetitia le Corguille (lar-teesha le cor-guile) was the defending World Cup series winner and dominated the final by a clear margin.
Buchanan was just a half a bike length off Reade across the finish line and her podium finish is the best result for an Australian woman rider to date. The day started well for Buchanan with a third place in the qualifying time trial. From then on her skills on the difficult second straight paid off getting her into the final and close to Reade who struggled with that section.
Buchanan's performance now places her second overall in the World Cup rankings with 180 points.
Beijing Olympic finalist, Nicole Callisto from Perth, also had an impressive return to the world stage with a fifth place.
Rachel Bracken from Townsville put in some strong performances in the qualifying heats but was unlucky to crash in the semi-final placing 6th just two places away from making it into the final. Bunbury's Lauren Reynolds was unable to progress into the semi-finals and is currently in 23rd position overall while Bracken is ranked 15th.
This round marks the start of a five World Cup series with the second round in Copenhagen(DEN) on 7 – 8 May.
28/03 Willoughby wins men's event & Le Corguillé outperforms all women at Madrid Supercross
UCI press release
Madrid – It was another victory for Sam Willoughby (AUS) in the men's final of the UCI BMX Supercross in Madrid. In the final motto Willoughby battled with Olympic Champion Maris Strombergs (LAT) for the lead in a very crowded first turn. Willoughby, the junior World Champion and last year's World Cup winner came out the turn leading the pack. He never looked back and continued to win the race. Conner Fields (USA) came second, Yvo van der Putten (NED) finished third, Strombergs fourth. BMX World Champion Donny Robinson crashed in the earlier qualifier stage and was taken to the hospital for a routine check. He is doing fine.
Laëtitia le Corguillé (FRA) won the women's event. At first it looked like Shanaze Reade (GBR) would claim victory in the final. She won the gate and the first turn. Then Reade made a mistake in the second straight and the French rider quickly overtook the multiple World Champion. Le Corguilé defended her lead to the finish. Reade was second and Caroline Buchanan (AUS) finished third.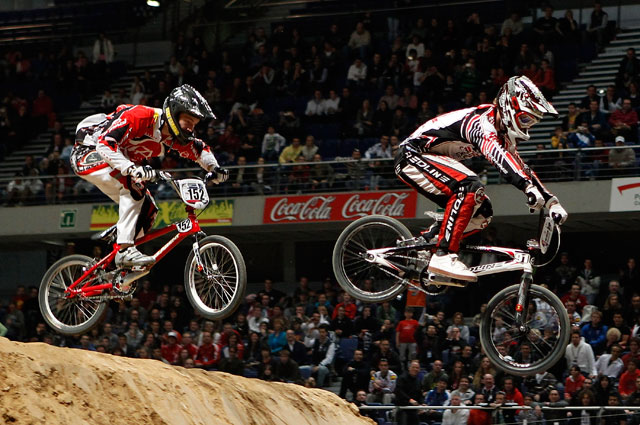 More than 4.000 thousand spectators watched the spectacular racing in the Palacio des Deportes downtown Madrid. BMX Supercross introduced another innovative element called 'the box'. This box can best be described as a massive, steep, almost square tabletop obstruction that is part of the second straight in the men's section. The riders had to jump on the box and off again. The enthusiastic Spanish crowd loved this challenging element that combines BMX freestyle, slope style and racing.
A record number of 174 competitors from 27 countries entered the first World Cup of the 2010 UCI BMX Supercross season in Madrid. The best 64 men and 32 women qualified for the finals based on their time trial results. Each rider got two time trial attempts to secure the desired slot in the finals. The finals started with a qualifier stage over three rounds. The men raced in eight mottos and the women in four. After the qualifier stage 32 men and 16 women continued to the finals.
Shanaze Reade made her 'come back' after serious injury in 2009. "I started the event a bit shaky. But I improved. I am happy with this result. But it was a very difficult track. The first turn especially. I really took time away from BMX racing with my injury. I took my time and tried to get some things sorted like buying a house. I am 3 months back on the bike again after my injury. I need to sharpen up a bit but this is a good beginning."
Sam Willoughby (AUS): "A BMX race is so short. Anything can happen. I do not plan a race. I go step by step. First a good gate, then the first turn and so on. I really benefit from racing a lot. That is a big bonus. Having experience on the track to react to situations. 70% of winning is mental. The best races are the ones I don't really remember. You are so focussed then."
Yvo van der Putten (NED): "I was between Maris Stromberg and Sam Willoughby on the gate. They got a bit ahead of me. I thought I drop back otherwise I could get in the mix. From then on I could follow my own line. I am happy with this result so early in the World Cup season."
Conner Fields (USA): "When you stand at the gate of a final I tell myself. I did everything right. Worked hard, trained hard, I have done all I can. That gives me confidence. It was a very hard race. I was close to Sam in the last turn. There was little space. But did want to risk to crash us both."
Photo by: UCI BMX / Getty Images Angel Martinez
27/03 Record amount of riders for Madrid UCI BMX Supercross World Cup
UCI press release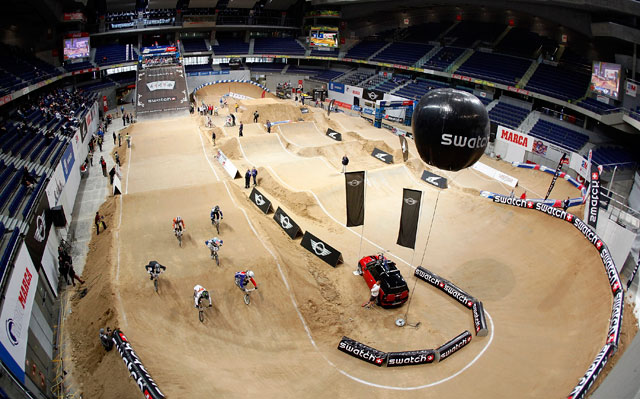 Madrid, Spain – Today the UCI BMX Supercross in Madrid got underway with the first practice sessions for elite men and women. A record number of 174 riders (136 men and 38 women) from 27 countries turned up in the Palacio des Deportes in the heart of Spain's Capital.
Tomorrow March 27 the BMX riders get another chance to master the extremly challenging Supercross track. In the early afternoon time trials will start to determine who advances into the finals that kick off at 18.35 central European time. Only the fastest 64 men and 32 women will be able qualify.
With only two years to go before the 2012 Olympic Games nearly all the big names are present, like Olympic Gold medallist Maris Strombergs (LAT), World Champion 2009 Donny Robinson (USA) and last year's Supercross overall winner Sam Willoughby (AUS) in the mens field. With the women the focus is on World Champion Sarah Walker (NZL), Junior World Champion Mariana Pajon (COL), last year's winner of the BMX Supercross world cup Laëtitia le Corguillé (FRA) and multiple World Champion Shanaze Reade (GBR) who returns to BMX Supercross.
Watch the racing live on freecaster.tv.
Photo by: UCI BMX / Getty Images Angel Martinez
27/03 Aussie World Cup champ lines up for first race of season
by bikemedia
Nine Australian BMX riders will contest the first of the World Cup Supercross in Madrid this Saturday. Headlining the talented field will be last season's World Cup series overall winner, Australia's rising talent, Sam Willoughby (Adelaide, SA). The 18 year old two time world junior champion will face some top international competitors including current men's world champion, Donny Robinson (USA) and the 2008 Beijing Olympics gold medallist, Maris Strombergs (LAT). Willoughby enters the competition with the number one world ranking and will be the last rider out of the gate for the preliminary time trials.
Australia's Olympic riders, Luke Madill (Sydney, NSW)  and women's Olympic finalist, Nicole Callisto (Perth, WA) return to the world cup series for the first time since Beijing.
A new breed of young talented BMX riders will compete including women's national Champion, Caroline Buchanan (Canberra, ACT) plus Lauren Reynolds (Bunbury, WA) and Rachel Bracken (Townsville/Gold Coast, QLD). The three Australians currently hold world rankings of five, six and eight respectively.
The women will be up against a large USA contingent including Alise Post and world champion bronze medallist, Arielle Martin. Also on the start line will be multiple world champion, Shanaze Reade (GBR) and current world junior champion, Mariana Pajon (COL) both expected to make the final.
Brother and sister, Joshua and Ziggy Callan (Lilydale, VIC) are the only family pair racing out of 150 riders from 27 different counties.
Making his international debut will be 16 year old Darryn Goodwin (Perth).
Australian Brian Kirkham (Adelaide) withdrew after sustaining injuries to the shoulder and hand in a fall two weeks ago.
After Madrid, the four remaining rounds of the UCI BMX Supercross World Cup series will move to Copenhagen, Denmark (7 – 8 May); Chula Vista, USA, (17 – 18 September); Fréjus, France (8 – 9 October) and Monaco (15 – 16 October) for a five round series.
The UCI World Championships will be held in Pietermaritzburg, South Africa,between 29 July – 1 August.
Finals will be conducted early Sunday morning at 06.15 AEDST.
The event can be viewed on Freecaster.TV http://freecaster.tv/live/bmx/1011490/uci-bmx-supercross-world-cup-2010-madrid
26/03 New Tioga D-Spyder saddles available now
Tioga press release
Los Angeles, CA — Two new models of Tioga's D-Spyder BMX saddles are hitting dealer floors today.
Starting with the performance oriented D-Spyder S-Spec with its proprietary Carbonite O? translucent shell and Hollow Composite Rail that together, at 145g, creates the lightest BMX saddle ever offered by Tioga. But besides being almost 20% lighter than the previous D-Spyder, the S-Spec SpyderWeb™ shell also offers 30% more base flex for greater overall seating comfort (should you decide to sit that is).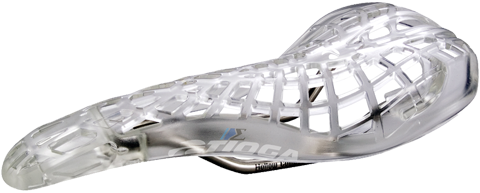 D-Spyder S-Spec
Next up is the D-Spyder 'Original', a more durable and economical version of the previous D-Spyder. Just like the S-Spec above, the 'Original' retains the same proven shape but utilizes the more durable Carbonite composite shell matched to a stronger but less exotic hollow Chromoly rail. At 175g, the D-Spyder 'Original' is still one of the lightest BMX saddle on the market, and now, it's also the most affordable D-Spyder saddle ever! Whereas the D-Spyder S-Spec is designed for performance at the expense of some durability, the 'Original' is built strong and can take on the rigors of any BMX action without issue! The D-Spyder 'Original' is available in white, black, green, and chocolate.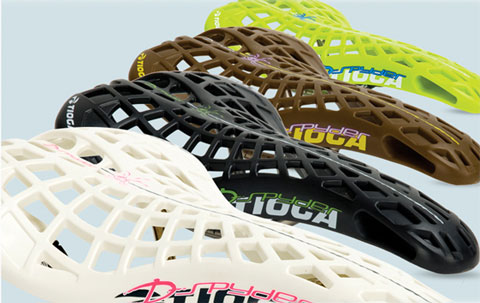 D-Spyder Original MSRP
Of course the best part of all is that both versions are available now at your local independent bike retailer. For more information, please visit www.tiogausa.com/bmx
About Tioga:
With over 30 years in the cycling industry focusing on function with style, Tioga has created numerous industry advancing components from the Comp-III BMX racing tire to the industry standardization of the 1-1/8" steering system. Tioga's new generation of stylish components are functionally designed to accommodate serious athletes, and to reflect their commitment to the sport.
26/03 HRPdesigns Factory Racing Desoto Race Report
HRPdesigns press release
What can you say about this past weekend's racing?  Beautiful weather on Thursday and Friday (Day 1 of the Super Nationals), and then the rain, snow, and cold temperature roll in for Saturday (USA Cycling BMX Championship) and Sunday (Day 2 of the ABA Super Nationals).
HRPdesigns had a small team in attendance with Ryan Livaudais, Chris Kennedy, Brandon Pyper, Trevor Harrison, and Stuart Harrison filling out the roster for Friday's national.  Overall it was a pretty good day with Ryan taking the 2 spot in 21-25 cruiser, and Brandon Pyper and Chris Kennedy settling for the 4th in 31-35cr and 36-40x respectively.  Trevor Harrison raced well and came up just short in the 9x semis, and Stuart has seen better days on the track.
Saturday was a different story for the HRP boys, Trevor took the day off to visit family in Texas, so it was just four riders, or so we thought.  Chris unfortunately has a nagging injury that flared up and with the arctic temperature that came in that day, he decided his weekend was over and headed back to LA.  Brandon and Stuart found the weather to just be too cold and called it a day after round one, leaving Ryan as the sole HRP rider. Ryan made the most of it by standing on the podium for the bronze in a tough 17-24 cruiser class at the USA Cycling BMX Championship.  Congrats to him!
After hitting up the SX race on Saturday night at Cowboy Stadium (that place is amazing) we wake up Sunday morning to 3" of snow on the ground, and the weather was no warmer, we even heard in the pits the wind chill was around 19 degrees.  Only three riders in action Sunday as Ryan continued his podium ways with a 3rd in 21-25cr, Pyper braved the cold for another 4th in 31-35cr and once again Trevor rode well but ended up on the outside looking in the 9x semi's.
Overall it was a very fun weekend, despite the cold and wet conditions; the track was in great shape and very fun.  Our hats off to the Desoto and ABA crew for a great facility and track to race on.
HRPdesigns would also like to thank our sponsors, without their support the team would not be possible, Fly Racing (www.flyracingbmx.com), Clayborn Bicycles (www.claybornBMX.com), Cyclecraft Bicycles (www.cyclecraftBMX.com), Snap BMX Products (www.snapbmxproducts.com), Sun Ringle (www.sun-ringle.com), Kovachi Wheels (www.kovachiwheels.com), and Cane Creek (www.canecreek.com)
26/03 Troy Lee Designs at Don Ash Bike Hub
Don Ash Bike Hub press release
We have just received a huge shipment of Troy Lee designs gear.
All 2009 gear is 20% off & 2010 gear is 5% off.
We have the following in stock, but there is alot of the 2009 range still available.
PANTS
2009 GP Air – red/black, size 30 & 32 – SRP $235, now $189
2009 GP Air – Gold/White, size 28 & 34 – SRP $235, now $189
2009 GP Youth Monaco – White, size 26 & 28 – SRP $159, now $129
2009 GP Youth – Blue, size 24 – SRP $159, now $129
2009 GP Headline – Blk/White, size 30,32,34 & 36 – SRP $199, now $159
2009 GP Lucha – red/white, size 34 – SRP $199, now $159
2010 GP Prism – navy/white, size 32 – SRP $185, now $175
2010 GP Beta – green, size 34 – SRP $185, now $175
2010 GP Youth Checkit – Yellow, size 24 – SRP $159, now $150
2010 GP Girls – White, size AUS14 9/10 – SRP $189, now $179
2010 GP Girls – Black, size AUS10 5/6, AUS12 7/8 – SRP $189, now $179
JERSEYS
2009 GP Air – red/black, size L – SRP $72.95, now $59
2009 GP Air – gold/white, size L & XL – SRP $72.95, now $59
2009 GP Monaco – White, size S – SRP $72.95, now $59
2009 GP Youth – Blue, size M – SRP $62.95, now $50
2009 GP Headline – Blk/white, size M,L,XL,XXL – SRP $76.95, now $62
2009 GP Lucha – red/white, size M – SRP $76.95, now $62
2010 GP Prism – navy/white, size L – SRP $79.95, now $75
2010 GP Beta – green, size L – SRP $79.95, now $75
2010 GP Youth Checkit – yellow, size M – SRP $68.95, now $65
2010 GP Girls – Black, size Sml & Med – SRP $69.95, now $65
HELMETS
2010 D2 Comp – Love/Hate, Md/Lg – SRP $399, now $379
2010 D2 Comp – Pistonbone, XL/XXL – SRP $399, now $379
TLD Jet Bag – grey – SRP $53.95, now $50
If you are interested in any of the above, or would like availability of any other TLD products please call our shop on 0358 213378. Ask for Nathan Barker or Nathan May. Remember, we ship Australia wide & are located in Shepparton, home of the 2010 Nationals….
http://donash.bikehub.com.au
25/03 Huge Incentives for ABA Tracks to Support the Wiregrass Nationals
ABA press release
Gilbert, Arizona – The American Bicycle Association and the Dothan Area Convention & Visitors Bureau are pleased to present an exciting awards program for ABA tracks to promote the ABA Wiregrass Nationals May 14th -16th to their local riders.  A $2,000 purse will be awarded to the top 4 ABA tracks with the most riders in attendance for the weekend.
ABA C.E.O. Bernard Anderson had this to say, "We are constantly analyzing new and creative ways to add value for both our tracks and membership.  Through our partnership with the Dothan Area Convention & Visitors Bureau we have funding available to promote the event and feel that there are no better organizations to reward for their efforts than ABA tracks.  Simply by promoting a national in their area, ABA tracks can win as much as $1,000.  This is a great program to promote the event and an even better program for local ABA tracks!"
The ABA Track Bonus will be awarded as follows:
1st           $1,000
2nd             $500
3rd           $300
4th              $200
The Holiday Inn, Dothan will be the host hotel for the event.  With a rate of $69.95 (plus tax) per room and 2 complimentary hot buffet breakfasts per room, this too is incentive for families to attend.  Participants can call the hotel directly to book ((334)794-8711 or (800) 777-6611) and mention they are with the BMX event to get the rate and rooms.  The hotel is located at 2195 Ross Clark Circle SE, Dothan, AL 36301.  The hotel website is www.hidothan.com.
The Wiregrass Nationals will be held at Circle City BMX, one of the best facilities and most exciting tracks on the ABA National circuit.  The track is simply amazing with beautiful red clay, huge smooth asphalted turns and jumps throughout which can best be described as fun!  The track is best known for its cross over section, where the first straight is crossed over by the second straight, creating a unique and exciting twist for the riders. Additional facility attributes, which will make this race exciting, are a beautiful park setting, covered staging, and FREE asphalt parking.
To pre-register for this event, visit ababmx.com.
24/03 The new bmxultra.com/One Bicycles jersey revealed
by bmxultra.com
Here's the latest bmxultra.com/One Bicycles jersey that's available online only at www.onebicycles.com.
Each jersey is custom made to order, all you need to do is select your size, your name for the back and country flags for the sleeves. For the first time your race number for the back of the jersey is also customisable. If you email your order or call it's possible to ask for custom colours too to match your current race gear.
One Bicycles have changed to a different manufacturer for these jerseys so if you have had a bmxultra.com/One Bicycles jersey before the fit is a lot different now and you would need to consider going down a size or two. (See the sizing chart below)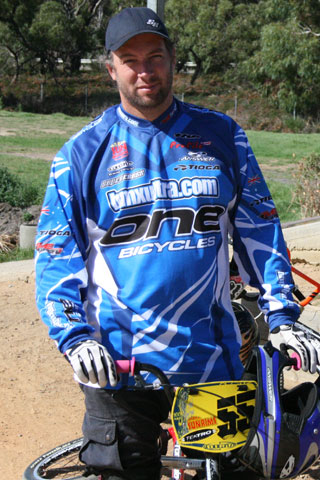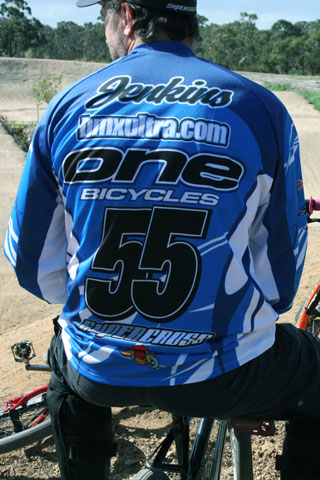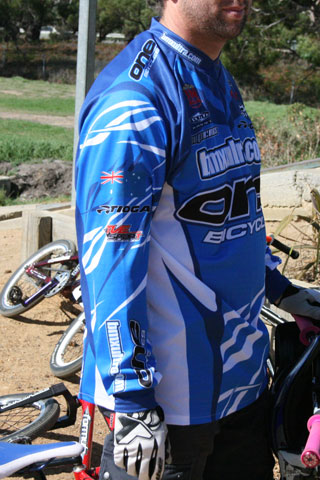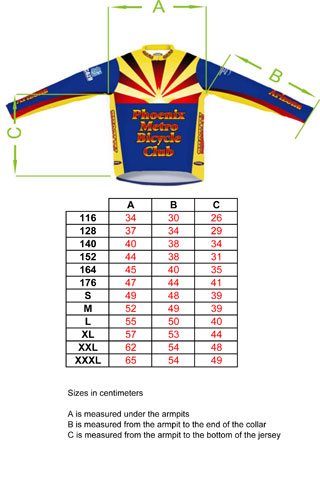 The bmxultra.com team is proudly supported by One Bicycles, Supercross BMX, Dirt Designs, Tioga, THE, Profile, Sun Ringle, and Tektro Brakes.
23/03 ABA/USAC National Championships Race Report ABA Super Nationals Desoto, TX March 19-21
Double A Marketing/BMX Pros.com press release
Round 5 of the 2010 ABA Pro Series was held in Desoto, Texas this past weekend. The Desoto Track has hosted a great National event for the ABA for many years, but for the 3rd year in a row, they also hosted the USA Cycling National BMX Championships.
Danny Caluag had a stellar weekend, as he was in all 5 main events for all 5 Pro races he entered. On Friday, Danny started things off with a 6th in the Elite Men's main event. In the Pro Cruiser Main event, he was fighting for the lead down the first straightaway, but instead of a win, he crashed and finished up 8th. Beaten but not dejected on Day 2, during the USAC event, Danny came back strong. Danny once again battled for a win, and this time, he didn't wind up on the ground, but up on the podium, with a 2nd place finish in Elite Men. Day 3 saw Danny take a win home in the Pro Cruiser Class and a 4th in AA Pro. Overall a great weekend for Danny. Danny's sponsors include Intense BMX, THE Products, Fly Racing, SINZ Racing, Shimano, Intense Tyre Systems, Skull Candy, OGIO, Thomson, GO211.com, S & M, Cyto Sport, and BMXpros.com-Follow Danny on Twitter @DannyCaluag87 or at Go211.com
Double A Marketing is the premier BMX racing marketing agency in the world. For over 10 years, Double A Marketing has been working with and supporting the best BMX Pros racers and companies in the sport of BMX Racing. For more information on Double A Marketing, Please visit www.BMXpros.com. We are proud to currently work with The ABA #1 AA Pro Randy Stumpfhauser, The ABA #1 Pro Cruiser rider, Danny Caluag, and the NBL #3 Elite Men's Pro and Olympian, Cristian Becerine.
22/03 Morphine Industries release the CHOKE HOLD stem
We are stoked about the release and introduction of the CHOKE HOLD stem.  It's immediate impact and demand has been exciting.  Morphine Industries is broadening it line of quality products this year with many new introductions in the race and street markets.  The CHOKE HOLD is only the start.
The CHOKE HOLD STEM – Front load aggression for the street, park and track.
MADE IN THE USA – THIS AINT' MADE IN CHINA
Front load with 2 piece top plate
CNC'd from 6061 T6 heat-treated aluminum
Made for 1 1/8" steer tube
8mm bolts
Reach: 53mm
Weight: 9.15 oz
Colors: Black, Red, Gold
Retail $69.95
Come on get a grip
BE SURE TO ASK FOR THEM AT YOUR LOCAL BMX RETAILER
P.S.  No Vet Pros were hurt in the making of this press release.
20/03 ABA Super Nationals Web Cast
GO211 press release
Watch the ABA Super Nationals live from Metroplex BMX in Desoto, TX. The race action starts Friday 3/19 with Day 1 of the Super Nationals. On Saturday 3/20 the USA Cycling will run the US National Championships.On Sunday the ABA continues their event with day 2 of the Super Nationals.
While watching the action fans can chat with each other on Go211's Live Chat feature. Also available to viewers is a downloadable moto sheets so you can keep up with the action.
Watch it live at: http://www.go211.com/ababmx/abasupernationals2010
Coverage Schedule (USA EST):
Friday 3/19 – 3:00 PM EST
Satuday 3/20 – 12:00 PM EST
Sunday 3/21 – 9:00 AM EST
19/03 Formula Australia at the ACT Titles
Formula Australia press release
The recent ACT titles in Canberra was the first official race for the newly formed Australian team. The team made the trip down from Brisbane and the Gold Coast with high hopes of doing well, however Brandon Mcqueen-A Pro and Bryce Wells- 16 Boys were concerned as they only had their new 2010 pro xl nucleus frames for 1 week. Neither of them had been able to ride it before leaving due to the constant rain in queensland at that time. But that didn't slow them down, nor the other team riders, as everyone present brought home a plate.
Brandon Mcqueen- A Pro- 1st
Macey Gore- 15 Girls- 1st, A Pro- 2nd
Justin Lamb- 30+ Masters- 2nd
Shaune Affoo- 40-44 Men- 2nd
Bryce Wells- 16 Boys- 2nd
Kye Affoo- 10 Boys- 4th
The win in A Pro puts Brandon Mcqueen up into the AA Pro class and the entire team is looking forward to the aussies in shepparton. Current team sponsors- Formula( formulabmx@optusnet.com.au), Cheetah BMX Coaching, Rainbow Cycleworx- helensvale.
19/03 Entries closing soon for Victorian Country Cup 2010
BMX Victoria press release
This is a reminder to all riders that entries for the Victorian Country Cup at Shepparton, Easter 2010, close next Thursday 25th March.
As with the State Titles, no late entries will be accepted.
It is suggested that if you have not entered already that you use the online entry facility available at www.bmxv.com.au under '2010 Events'
Transponders have to be ordered the day after entries close so there will be no allowance made for items being 'lost in the post'.
If you choose to use Australia Post then it is suggested that you use Express Post. If entries are received late due to delays by Australia Post they will be rejected.
18/03 Tioga Gear Chart and Calculator
by bmxultra.com
As Tioga is a big supporter of bmxultra.com, and BMX in general, we decided to create a version of our gear calculator and charts specifically for Tioga tyres. So now you can get exact rollout measurements for your Tioga PowerBock or Comp III tyres instead of reading from generic charts. Click here to check it out.
17/03 BMX riders prepare 2010 Supercross season at World Cycling Centre
UCI BMX press release
With the beginning of the 2010 UCI BMX Supercross season just two weeks away, several National Federations are preparing the first leg on the BMX track at the World Cycling Centre (WCC) in Aigle, Switzerland.
The Spanish capital of Madrid will welcome the first round of the Supercross on March 26th and 27th and this weekend four nations sharpened their skills at the WCC. Some were preparing the race in Madrid, while for others it was a question of an early-season session to get the feel of the Supercross start ramp and track.
Making use of the WCC infrastructures at the weekend were riders from Germany (March 10th – 14th), Great Britain (March 11th – 13th) the Netherlands (March 12th – 14th) as well as 10 BMX athletes from the French Cycling Federation (March 12th – 14th).
This week the WCC will host BMX riders from the Czech Republic (March 18th – 21st), the Netherlands (19th – 21st March), Norway and South Africa (20th – 25th March). At the end of the month four riders from USA Cycling (28th March – 1st April) and five from the Australian Cycling Federation (29th March – 1st April) will train on the centre's BMX track.
After Madrid, the UCI Supercross series will continue in Copenhagen (Denmark) on May 7th and 8th, Chula Vista (USA) on September 17th and 18th and Fréjus (France) on October 8th and 9th. A fifth leg in Monaco has yet to be confirmed.
17/03 HRV Elite Racer Clinic at Shepparton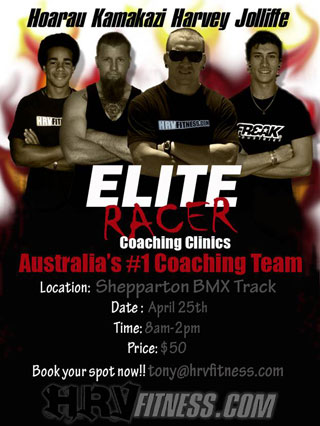 by bmxultra.com
Tony Harvey and his band of merry men, including local Victorian hero Olivier Hoarau, Olympian and multi time Australian Champion Kamakazi and the current Australian Champion Billy Jolliffe, will be hosting an Elite Racer coaching clinic at the Shepparton BMX Track, the host track of the 2010 Australian Championships on April 25.
Date: April 25
Time: 8am-2pm
Price: $50
Location: Shepparton BMX Track Victoria
Book now: tony@hrvfitness.com
17/03 Versus Returns to Direct TV
ABA BMX press release
Gilbert, Arizona – After a six month contract dispute, Comcast and Versus have reached an agreement that will place the Versus Network back on Direct TV. Versus is currently in more than 73 million homes and with Direct TV an increase of up to 18.6 million more homes could be seen. Bicycle Motocross airs weekly on the Versus Network at 5:30 p.m. ET. For a current listing of air times you can visit http://www.versus.com/shows/aba-bmx/.
The agreement returned the Versus Network to Direct TV last night at 7 p.m. This means that Direct TV subscribers can tune in to watch the re-airing of last years Super Nationals from Desoto, Texas, tomorrow. Subscribers can then catch the action from Reno, Nevada, the following Wednesday, March 24. "We are excited that an agreement was reached and that even more of our many fans, sponsors, and supporters can now watch this fantastic show in the comfort of their own home," state BA Anderson, CEO of the American Bicycle Association.
Recently every ABA track received posters to help promote the airing of BMX on Versus TV. Posters were also distributed to numerous bike shops. Anderson stated in an earlier release, "It is exciting to offer this level of promotion for our sport. We strive everyday to provide better marketing tools to over 250 ABA sanctioned BMX tracks and this level of exposure will only make our Track Operators' job easier to gain a new riders interest." He went on to add, "With the consistency of airdates it will be easier than ever before to offer someone the opportunity to check out the sport we all love so much. It will be as simple as saying…hey check out Versus every Wednesday and then come to the track this weekend."
About the American Bicycle Association
ABA (American Bicycle Association), formed in 1977 and headquartered in Chandler, Arizona is "The Sanctioning Body of BMX"©. The ABA organizes BMX racing for boys, girls and adults, nationwide and Canada. With 60,000 active members, 274 racing facilities and a 27 event national race schedule, ABA is the largest promoter of action sports.
16/03 Supercross BMX adds Steven Wong, #1 Mens Elite from Hong Kong to the Supercross BMX Family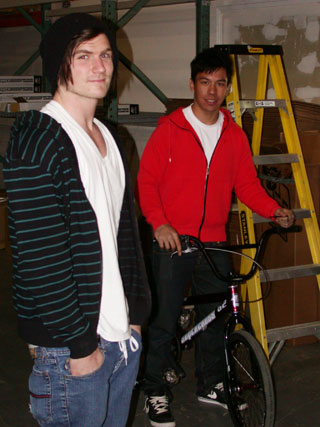 Supercross BMX press release
Apple Valley, CA – Supercross BMX is proud to announce the addition of Steven Wong, the #1 Mens
Elite from Hong Kong and the 2009 Hong Kong Sports Star Athlete of the year
award to the Supercross BMX Family.
Steven has been a fixture on the UCI circuit and is making his name known as
he forges ahead towards his goal of the 2012 Olympics. Steven had been
training with Supercross' Samantha Cools in Europe at the UCI Training
Center in Aigle Switzerland and was ready to step his game up by joining the
Supercross BMX program.
Steven had been staying in So.Cal the last few weeks and got to come up and
hang out at the Supercross BMX factory, watch the CNC machines run, build up
his new Supercross EVO iS, Ride the shop ramp with Kris Fox and got to have
a private practice session at Supercross' Apple Valley BMX Moto Park.
Steven's Sponsors include: Supercross BMX, Redbull, Oakley, Nike, Champion
Systems, and Speedline Parts
Steven's first Race for Supercross will be the UCI Supercross in Madrid
where he will show off his new Uniform and bike to the world.
For more information on Steven, Supercross and the rest of the Supercross
BMX products and team, click on over to www.supercrossbmx.com for the up to date
news.
16/03 Victorian Dynamite Series
BMXVictoria press release by Wayne Berryman
BMX Victoria
President
Further to our Press release on March the 5th on the Victorian Dynamite series. Please be advised that BMX Australia has made the following change to the criteria of this race series.
The series is now for riders aged 11, 12 & 13 in 2011.
If you require any further information regarding the Victorian Dynamite series please feel free to contact me on president@bmxv.com.au
15/03 Review: S&M T3 Race Bars
by bmxultra.com
We've been checking out the S&M T3 Bars lately, click here to read the review.
12/03 Todd "TP" Parry Joins to SE Factory Squad!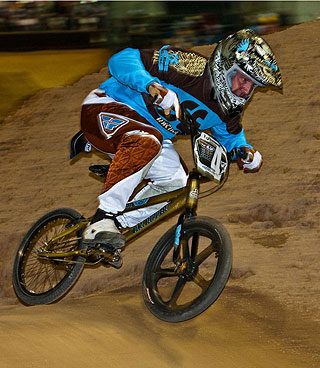 SE Bikes press release
There aren't too many BMXers out there that have been around longer than SE Racing. But that's just one of the many things that 42yr old Expert racer, Todd Parry can claim. And he can now add "SE Factory Squad Racer" to his long list of accomplishments that include:
Top 5 Nationally ranked Vet Pro racer 6 yrs in a row.
ABA Vet Pro World Champ
Oldest rider (at 40yrs old!) to ever win the A-Pro class @ a Pro Series National
100+ career Pro Podium finishes
Keep an eye out for Todd racking up a ton more podium finishes in the 41+ Expert class this year. But this time he'll be doing it in SE Racing Colors.
Welcome to the team Todd!
12/03 One Bicycles at the ACT BMX Championships
One Bicycles Australia press release
2010 ACT BMX Championships – Canberra Clubby Miekel Rose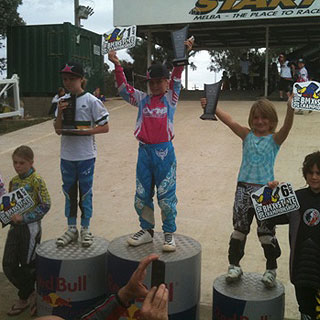 With the recent weather hitting NSW and the ACT both the Tuggeranong and Canberra tracks were copping a deluge of water. Over the Christmas break the Canberra Club had decided to completely level their old track and build a brand new state of the art track to accommodate riders of all skill levels. Because the weather was not kind to the Canberrans, the track was not completely finished the way the Club had liked. In the weeks leading up to the event the track copped 100mm in 3 hours causing all sorts of concerns for the upcoming Titles being held there.
On the Friday the Tuggeranong Club held Round 5 of the ProBikz/Champbix Series in appalling weather. This weather hit the Canberra Club hard too. On Saturday morning the heavens opened up again making sections of the new track very boggy and some parts just muddy. With some amazing work from the Club and riders and parents in the crowd, they managed to keep the track sound enough to continue racing. After the UCI round the sun broke through in patches and the ACT Championships were under way!
Mikayla Rose was looking forward to her battle with 1A/7W Shelby Green and 5A/5W Bianca Robertson. This was going to be some great racing ahead in the 10 girls division. Mikayla was determined to keep both girls on their toes and managed to come out in the first moto and show her intentions for the weekend. In the first race Mikayla and Shelby came together in the second corner with Shelby losing a pedal and coming down, Bianca managed to catch the two girls and with Mikayla trying to clip back in, got unco forcing Bianca and herself off the track. Bianca ended up face first in a large mud puddle and this was just moto 1! WOW, what an event this was going to be. The battle continued over the two days of racing with Mikayla and Shelby being on the same points leading up to their final race. What a cracker with Mikayla and Shelby doing battle again on the big second straight, which allowed Bianca an opportunity up the outside. Bianca managed to keep Mikayla out to the line with Shelby finishing in third. What a great weekend of racing by the Girls, with Mikayla taking out her first 1 ACT plate, with Shelby in second, Rene Williams third and Bianca fourth.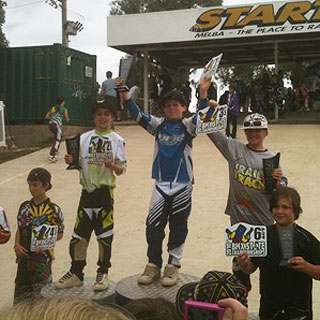 Mikayla also raced the 13 and under Female Cruiser Class and held down consecutive 6th places in each moto to get 6 ACT for the event. Not a bad effort from a young girl taking on riders 3 or more years her senior and not letting them get to much on her. Mikayla is a little fighter and is now looking forward to the upcoming Australian Titles in Shepparton in May.
Justin Beattie was the favourite for this event in the 11 Boys and came out to prove why. Justin didn't have it all his own way with some close racing in the motos leading up to the finals. In saying that Justin is a calm, cool and collected rider who does what he needs to do to win and stay safe. In saying that….he did try and jump the big step double in the second straight and came up a little short destroying a rear wheel in the process. Justin won his semi and came to the final focussed to take away the Championship. After some discussion with Dad, or should I say direction, not to jump the double, Justin came out flying and did what every racer does and let instinct take over, jumping that same double and managed to put a few bike lengths on his competition. Justin had it all under control taking the victory in the final to walk away as 1 ACT for 2010, a great effort and another number 1 for ONE.
Nik Rose was looking forward to his competition on the weekend with a number of Australian plated and well recognised riders making the trip to the Nation's Capital for the event. Nik was on fire in the motos with wins in 3 of the 4 motos only being beaten by Jake Tunney from the Northern Territory. Nik was racing well and came in to the Quarter finals in third place behind Andrew Hughes and Jake Tunney. Nik was very confident he would do well this year after crashing out in the warm up at the ACT's the year before, knocking himself out and requiring surgery for a broken wrist! Nik won his Quarter final easily and came in to the semis pumped. Nik got a bad gate in his semi and got boxed out very quickly by the talent in the field. He fought back hard and raced to the line but unfortunately missed the final by a tyre coming in 5th. Nik managed 9th overall in 12 Boys and was gutted after riding so well all weekend. One bad gate in the Semi was all it took to finish him on the day. Nik was devastated, but still had cruiser to go.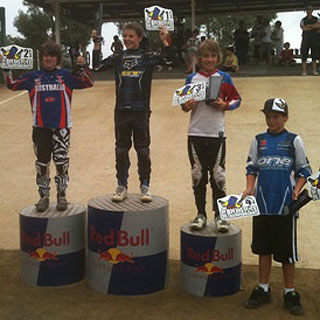 In 11-12 Boys Cruiser, Nik was riding awesome with wins in most races again only being beaten by Brock Griffiths and Andy Hughes. Nik was riding very aggressively and was using every move he could to negotiate his way to the finals. After the motos Nik was sitting in third as he was on 20". He was determined to get a plate on one of his bikes on the day and came out of the semi in the third spot securing a place in the final. In the final Nik struggled again with his gate and rode well to pick his way through to hold down the 4th spot as they crossed the line behind, Andy Hughes, Like Skinner and Josh McLean. 4 ACT for Nik on his cruiser was a good result after the disappointment of missing the final on 20". Nik is focussed too now on the Australian Titles and intends on training hard to achieve his goals this year of making the Aussie final!
Issy Penglase came up to the event and rode like a girl possessed challenging both days for the lead in 12 Girls. Issy looked like she enjoyed the track and managed to place second in most heats with a win in another. Finals time and Issy was battling for the lead all the way to the stripe. She only just missed the top spot but finished the event with 2 ACT, an awesome effort.
Joshua Rose pulled out of the event a week before, after struggling to come to terms with his recovery from a badly broken arm and a brand new bike rebuild. Joshua had broken both bones in his arm in a football accident and spent the Christmas period off his bike for 2 months. Over that period I had built a brand new 2010 Ultimate one XXL for him. After he was allowed back on the bike, he struggled to get his fitness and strength back to a level he felt necessary to compete with his class in 15 Boys and 15-16 Cruiser. Josh was devastated and sat track side during the event supporting his team mates as they took on their respective classes.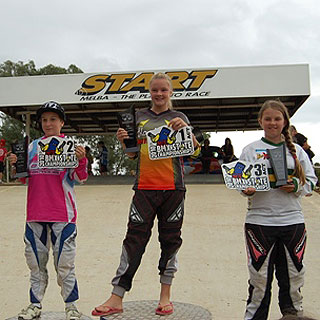 Not a bad haul for the ONE Bicycles Australia Team from the 2010 ACT Championships, with two number 1 plates, a number 2 plate, a number 4 plate and a number 6 plate.
The Team are ready for the upcoming Australian Championships and hope they can better those results there! Be great to catch up with the rest of the Team there too. See ya there.
How to buy One Bicycles products in Australia
If you would like to purchase a One Bicycles frame or accessories in Australia the best way to do so is to head down to your local bike store and place an order. If they don't know what you are talking about tell them to call Elite Cycle Imports while you wait and place your order there and then. After doing some calculations myself I have found the cheapest way to get One Bicycles products in Australia is through a local reseller.
About One Bicycles
For over a decade ONE Bicycles (operating out of Holland), inducted into the European Hall of Fame, has solely focused all their efforts on the sport of BMX. Today they are at the forefront of BMX product design Worldwide. Utilizing advancements in the industry, some of which were conceived in ONE's own engineering department, their products directly reflect the evolution and maturing of proven BMX design. Like a fine wine ONE Bicycles product line has come of age as a result of years of dedication to the sport of BMX.
One Bicycles are a major sponsor of the bmxultra.com team
Over the years One Bicycles have sponsored
Khalen Young
The Phirebird team which includes 2005 & 2006 World Championships finalist Jamie Gray and 2006 NBL Grands (A Pro) champion Glenn Codega
In 2008 Maris Strombergs rode his One Bicycle to victory in the Elite Men's class at the UCI World Championships and followed that up by taking the first ever Men's BMX Gold medal at the Olympics.
For more information about One Bicycles check out www.onebicycles.com
11/03 ONE Bicycles launches new website
ONE KENDA press release
It was time for a change. Not just the ONE frames have changed, also the website has gone through some nice changes. We felt it was time after having run the previous site for a few years.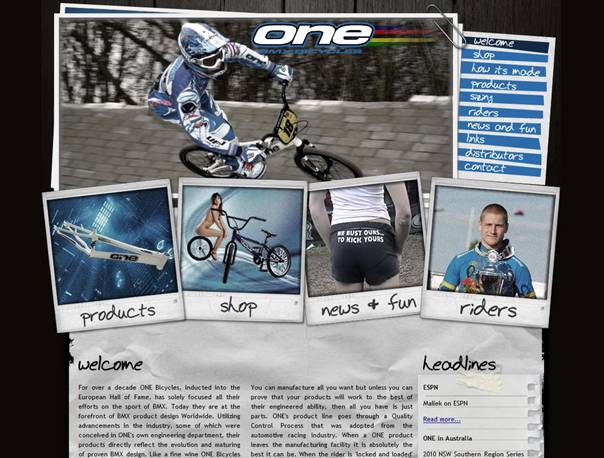 ONE Bicycles is proud to welcome you to their site which of course includes the webshop, photogallery, riders line up and a new fun section where we will soon put BMX related fun, but also non BMX fun.
Check it out at ONEBICYCLES.COM
ONE KENDA is sponsored by: 
KENDA, PINCH GEAR, KMC, SHIMANO, BOLLÉ, THE Industries, SINZ, TVE Sport, UFO, THOMSON, ODI, NIKE, F1 ENERGY DRINKS, SAN MARCO
11/03 New Formula Australia team
Formula Australia press release
Hi guys, Formula has a new Australian distributor for their frames and have established a race team . The first shipment of 2010 frames have arrived, unfortunately they are almost sold out, some limited sizes available. The next shipment is due April/May, get in early so you don't miss out. Our contact is formulabmx@optusnet.com.au
Formula Australia team riders-
Krystal Cranfield- AA Women
Macey Gore- 15 girls-2A / 3W
Kara Wells- 14 girls- 2A / 4W
Justin Lamb- 30+ masters- 2A / 3W
Brandon Mcqueen- A Pro- 4W ( 15-16 CRUISER )
Bryce Wells- 16 boys- 6A
Kye Affoo- 10 boys- 4Q
Shaune Affoo- 40-44 men- 6Q
11/03 THUD at the Western Australian State Titles
THUD Racing press release
WWW.THUDRACING.COM riders perform Extremely well at WA State Titles. Another year has passed and THUD Racing has capped off its' training regime in notable fashion. A total of 48 THUD trained riders made the mains at the WA State Titles last weekend. 24 were Podium finishes and 8 scored State Champion Status. Several clean sheeting for the entire weekend. We are very proud of all our riders who participated and congratulate them on their outstanding performances.
The ULTIMATE Achievement of the weekend goes to Factory THUD Racing/GHP rider Ben Davis. Making a comeback to the Elite ranks, in only his 3rd race back, Ben dominated the Hills Race Track by Holeshotting every race, including the Main. The only glitch for Ben in the final was when a rider momentarily passed him, where Ben then guided his GHP through the ProSection to blockpass into the last straight for the win. A big Congratulations to Ben for his first Senior Elite State Title. An awesome comeback for someone who has been off the bike for 2 years. What people didn't know was the several months of hard training that Ben had put in to get this win..Nothing comes easy, you have to work for it. Another notable comeback was Bens' training partner Dylan Ouvard who also guided his GHP to a 5th in the hard Elite Mens Final. Well done.
With the Olympics and Junior Olympics showcasing our sport, the role of coaching is becoming more and more prominent. Riders now realise they need expert help to enable them to gain skills and experience. Speak to your local track about their local coach and take it from there. Being coached the right way is the best chance of fast tracking your results and preventing unnecessary injuries. Train Hard, Train Smart !!
10/03 Northern Park (AKA Lalor Park) track flooded
Northern Park BMX Club press release
Due to heavy rainfall the Northern Park BMX Club are forced to cancel gate practice tonight and racing on Friday night.
Once we return to our normal schedule the Northern Park Bmx Club will be holding club races on the second and fourth Friday of the month starting February and gate practice every Wednesday night..
About Northern Park BMX Club
The Northern Park BMX Club (AKA Lalor Park BMX Club) has one of the richest histories of any BMX club in Australia.
Recognised as the oldest BMX club in Victoria
Host to the NBA Grand Nationals many times
Multiple Australia Vs USA challenges
The 1998 UCI World Cup and Pacific Continental championships
The Northern Park BMX Track is located at Sycamore Reserve, Mill Park, Victoria (AUSTRALIA).
10/03 Park Orchards "Clash Of The Titans" Rescheduled
Park Orchards press release
As many in the BMX Victoria community will be aware, the Park Orchards BMX
Club was successful in obtaining a grant as part of the Federal Government
Stimulus Packages issued in 2009. The grant was provided for what we at POP
BMX have termed SHIP – short for Start Hill Improvement Project, and is being
managed by the local council.
SHIP includes raising the height of the start hill and resurfacing, installation of a
new Madill Gate, lowering of the first berm, and adjustments to the second
straight spectator area.
Initially these works were due to be completed in 2009, however after some
delays, changes to the scope of the project and other planning issues, the project
was delayed. A final project plan was set in January 2010, and the site was
handed over to council just after Track Attack, on the 27th January. The project
was due for completion in early March, prior to our scheduled open race which is
set down in the BMXV calendar as the 21st March.
Due to unforseen circumstances the project has been delayed, with the council
now scheduled to hand the track back to the club by the 19th March. This
unfortunately will not allow the club enough time to carry out important works,
which need to include track maintenance, changes to the jumps in the first
straight, and testing of the new gate.
Park Orchards BMX Club in conjunction with BMX Victoria have therefore
rescheduled the Clash Of The Titans open race event to Sunday April 11th,
2010. A new entry form with the correct race details is available on the BMXV
website and online entry will be available in coming days for this event. We would
like to apologise for the delay in holding this race meet, however I think you will
find the improvements well worth the wait!
09/03 Double A Marketing @ ABA Winter Nationals Phoenix, AZ March 6-7
Double A Marketing press release
Round 4 of the 2010 ABA Pro Series was held this past weekend in Phoenix, Arizona. Phoenix is one of the premier ABA racks on the circuit and it was freshly reconfigured for the National. AA Pro/Elite Men was once again stacked with 56 riders on Saturday. With the UCI SX Series about to kick off in just 3 weeks, that will be webcast live on Freecaster.com, the International field of Elite riders was huge in Phoenix, many getting there first racing underway for the 2010 season. All 3 Double A marketing riders were in attendance and each made a super stacked Elite Main during the weekend. Here is how they finished up:
Cristian Becerine has been always known for his incredible first straight away speed and the Phoenix track is known as a full horsepower track. On Saturday, Cristian showcased his power potential in main event and the great mix of his power on a power track. When the gate dropped for the Elite main, Cristian holeshotted what may have been the most stacked main event of 2010 and took the lead from the start and never gave it up, winning the biggest event so far of the season. On Sunday, when the rains came, Cristian decided to race the first few laps, until it was too muddy. He wanted to make sure he is good and ready for his next event, the South American Games, where he heads off to race in Columbia next week and then onto the 1st round of the UCI SX in Madrid.
Cristian's sponsors include Free Agent, SINZ Racing, THE Products, Shimano, Stay Strong, Kenda, Thomson, UFO, Tioga, S & M, and BMXpros.com
Randy Stumpfhauser has consistently continued to keep on earning some great results in the ABA Elite Class in 2010 and Phoenix, being one of Randy's favorite tracks, was looking to be another great weekend. After sifting through the 56 riders in qualifiers, Randy was also in the stacked Elite Men's main event on Saturday. When the gate dropped, Randy was just off the pace and was back in 8th. Randy was able to pass 2 riders, and the 2 riders he passed were no slackers, so it was still a great run in the main event and the 6th place doesn't show its true justice. On Sunday, Randy was 5th in the muddy quarter, but he was saving himself for the big F1 Cart race, where he finished 1st.
Randy's sponsors include GHP, SINZ Racing, Tangent, THE Products, Go211.com, Troy Lee Designs, Tioga, and BMXpros.com-Follow Randy on twitter @Stumpdawgg or on Go211.com
Danny Caluag has some great racing memories from the Phoenix track, but this was a weekend he wants to forget in the Elite Men's Pro Class. Danny missed out on the Elite Men's main event both days, but made up for it with a first and second in Elite Men's Cruiser main events over the weekend. This helps him in the points, as he is looking for a 4th ABA #1 Pro Cruiser title in 2010. Look for a big team announcement from Danny's sponsor, Intense BMX later on this week.
Danny's sponsors include Intense BMX, THE Products, Fly Racing, SINZ Racing, Shimano, Intense Tyre Systems, Skull Candy, OGIO, Thomson, GO211.com, S & M, Champion Nutrition, and BMXpros.com-Follow Danny on Twitter @DannyCaluag87 or at Go211.com
09/03 Kirkham wins round 6 of Australian National series
by bikemedia
Adelaide's Brian Kirkham looks set to take out another BMX National Series title after winning the sixth and penultimate round in Canberra today. Kirkham was too strong for Beijing Olympian, Luke Madill. With a quick start out of the gate Kirkham led from the second straight. Madill finished second with Melbourne's Joshua Callan just off the pace in third. National Champion, Billy Jolliffe from Newcastle, clashed with Madill in the first turn finishing in eighth spot.
Kirkham leads the series and is 195 points ahead of nearest rival, Callan.
Kirkham was not fazed by Madill sitting behind his wheel in the final at Melba.
"I knew that I had the horsepower to get by him," declared Kirkham.
If Luke felt the way I did I don't think he could've come around me."
After fellow Adelaide rider, Sam Willoughby secured the World Cup title this year, Kirkham expects there will be more South Australian riders on the international scene.
"Adelaide has some good riders at the moment. Even with Sam now in the US there is still his brother, Matt and Anthony Dean is back into training too," explained Kirkham. "It's a really good scene at the moment."
Canberra's Caroline Buchanan secured her second win of the weekend by taking out both BMX national series rounds in Canberra yesterday and today. The current national champion was challenged in the final straight by a fast finishing Rachel Bracken from Townsville.
Beijing Olympian, Nicole Callisto from Perth slid out on the final turn leaving Brisbane's Kelly Percy to take third.
Buchanan now takes over the lead in the elite series. Buchanan is well positioned with 504 points while nearest rival, Bracken, is on 376 points.
The final and seventh round will be held in early May in conjunction with the National Championships in Shepparton, Victoria.
Over the next two days the national team will prepare on Luke Madill's Olympic replica track. The team then departs for Madrid to compete in the first World Cup Supercross round at the end of March.
08/03 Photos: NBL Roadrunner Nationals
by bmxultra.com
We were sent some photos from the NBL Roadrunner Nationals from New Mexico, USA (27-28 Feb). There's some great action shots here stunning scenery in the background, and even a photo or two of our very own "Fast Eddy" Ed Mroz ripping it up in the 40-44 cruiser class. Just how fast is Ed? Well he's currently second in the NBL National standings. Click here to check out the photos.
05/03 Review: Supercross BOLT LT frame
by bmxultra.com
We have been reviewing the Supercross BMX cromo BOLT LT frame lately, it's great to be back on a cromo ride too. Click here to read the review.
04/03 Speedline SX Mini Cranks have landed in Australia
Supercross BMX Australia press release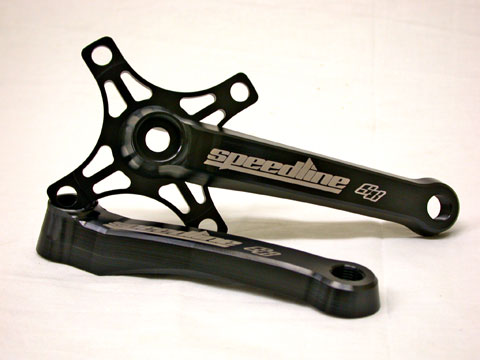 The much anticipated Speedline SX mini cranks have arrived in Australia but in limited sizes for the first shipment (160mm, 165mm and 170mm) with more sizes coming soon.
The CNC machined 7075 T-6 billet
aluminium arms come standard with a 4 bolt spider but can use a 5-bolt spider, or the Answer 1-piece chainwheel.
Sizes: Available in 135, 140, 145, 145, 150, 155, 160, 165 and
170mm lengths.
Weight: Only 350 grams for the 2 arms, and 4
bolt spider in the 145mm length.
Other Speedline products in stock include
Alloy headset spacer kits
Integrated 45/45 Campy headsets
We also have a wide range of Supercross BMX handlebars, forks and stems in stock with frames coming soon.
Supercross BMX Australia are a supporter of the Alienation BSX, we supplied product and helped the event raise $7,700 for the Royal Children's Hospital. Well done guys.
To find out more information about Speedline Parts or Supercross BMX products check or for dealer enquiries email sxaustralia@supercrossbmx.com.
If you would like to purchase Supercross products in Australia please have your local bike shop contact us.
04/03 Morphine Industries announces the signing of AA PRO – Mike Kapes
Morphine Industries press release
Morphine Industries is stoked to announce the addition of Mike Kapes to its family of riders. We have been working on this relationship with Mike for sometime and are excited to get behind him as he makes his return to the AA Pro ranks.
Mike will be returning late summer, hitting the pro scene at both NBL and ABA national races with the Morphine Industries Factory Team. We have been watching Mike prepare for his return over the last few months. His natural skill and determination make for a great combination that we are eager to see unleashed.
Mike made his debut in the Pink, Black and White at Pro practice during the recent ABA Gator National at Oldsmar BMX. Mike Carruth interviewed "Money" Mike at Oldsmar asking him questions about his past, present and future. To find out more about Mike, Morphine Industries and his thoughts on returning to BMX go check out www.bmxnews.com.
Mike will be making appearances more and more as he moves closer to the July 7th date of his return. Be sure to check Morphine Industries out at up coming races to see where Mike will make his first appearance at the starting gate.
Morphine Industries would like to thank its Factory Team Sponsors; HARO BIKES (harobikes.com), Fly Racing (www.flyracingbmx.com), Alienation (www.alienationbmx.com), Sinz Racing (www.sinz-racing.com), Rennen (www.rennendesigngroup.com), Tioga (www.tiogausa.com/bmx), Black Crown (BlackCrownBmx.com)
03/03 HRPdesigns Factory Racing (2010 ABA Gator Nationals, Oldsmar Florida)
HRPdesigns press release
Opening up the 2010 Season, the team debuted the new colors, new uniform and a few new riders in the sunny warm surroundings of Tampa Bay. The new riders for the 2010 season are 9x-Trevor Harrison, 12x-Garrett Shaw, and 14 girl/Jr. Devo rider-Kendra Stoddard.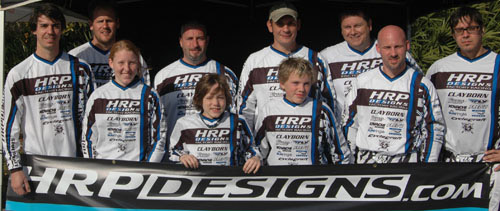 It was a tough weekend with a deep talent pool of riders in all age groups.
The racing was very difficult, but there were some outstanding performances by the HRP guys and girl.
Luke Segal (28-35X) – had the best results, with a strong 1st place on Saturday and 2nd on Sunday (hey, you can't win them all, but Luke does come close)
Brandon Pyper (31-35 Cruiser) – pulled down the 2 spot both days for a solid weekend.
Ryan Livaudais (21-25 Cruiser, 19-27X) – Ryan had a tough day on Saturday with only a 6th place in cruiser to show for it, but Sunday Ryan rode to a strong 2nd on cruiser and made the hardest main in BMX, 19-27X settling for 6th at the finish line.
Chris Kennedy (36-40X & Cruiser) – Chris was battling with back pains suffered in Guthrie a few weeks prior and it showed, he had a terrible weekend on 20", but rode through the pain to make the even harder cruiser main both days, pulling a 8th and 6th respectively.
Kendra Stoddard (14 girl / Jr. Devo) – what can we say, it is amazing that Kendra is even riding again after suffering a major injury back in October at the Disney Cup, she is actually riding ahead of schedule and working herself back into shape. She worked hard and placed 4th and 5th in Junior Development on Saturday and Sunday, and 6th in 14 girls on Sunday.
Garrett Shaw (12X & Cruiser) – One of our newest rider was able to ride to a 7th place in cruiser on Saturday, both just could not put it together on 20" all weekend.
Trevor Harrison (9X & cruiser) – another new recruit and Dr. Ken Spring (36-40X) – our most intellectual rider, both rode hard but did not have the results to show for it.
The team finished in a points tie for 5th on Saturday, but apparently lost the tie breaker and are listed in the 6th spot, and placed solidly in 6th on Sunday. Not the results we are capable of, but encouraging none the less.
HRPdesigns Factory Racing would not be possible without the support of our sponsors, Clayborn Bicycles, Fly Racing, Snap BMX Products, Fred'z handlebars, Sun Ringle, Kovachi Wheels, Cane Creek, and Cyclecraft Bicycles.
03/03 BMX Australia launches national ad campaign
by bikemedia
As the interest in BMX increases, the national body, BMX Australia have launched an advertising campaign to draw more participants into the sport.
The television advertisement lines up with the National Sign on Days held throughout Australia. Queensland was the first state to start off the national campaign in February with many regions reporting a positive increase in participants and interest. Other states and territories will conduct their sign on days from the middle to the end of March.
The advertisement features Beijing Olympian, Kamakazi, and filming took place at the Knox BMX track in Victoria.
This ad campaign is the first one ever undertaken by BMX Australia and President, Mr Barry Knight says there has already been a positive response from the advertisement.
"We are trying to attract new riders all over Australia and this was the perfect time to promote the sport," Knight explained.
The advertisement will air on free to air stations as well as Fuel TV, and the Cartoon Network.
The clip is available by clicking on: www.bmxaustralia.com.au/?Page=36669
BMX Australia hope the campaign will attract riders from as young as 5 years of age through to riders over 55. The National "Come and Try" Day offers new riders advice, coaching and a chance to ride on their local BMX track.
Participants receive a DVD, BMX magazine, hat, wrist band, pen and other products. There is a chance to go in the draw for several REDLINE BMX bikes.
Over 65 clubs around the country will hold sign on days. Find your local club's dates by clicking on:
www.bmxaustralia.com.au/?Page=36474
02/03 Brandon Te Hiko Victorian Junior Rider of the Year
HRVfitness press release
HRVfitness would like to congratulate Brandon Te Hiko on winning the Junior Rider of the Year award. Brandon is the newest rider to be added to the HRVfitness team; with a fantastic 2009 he is set to have an even better 2010.
Following in a close second was fellow team mate Jaden Rice. Congratulations to all winners on the night.
HRVfitness Team Sponsors: Intense BMX, Skin Industries, Strictly BMX, BMXpress magazine, Altegra, DNA Nutrition.com BSC and Phirebird.
01/03 Bodi Turner Victorian Rider of the Year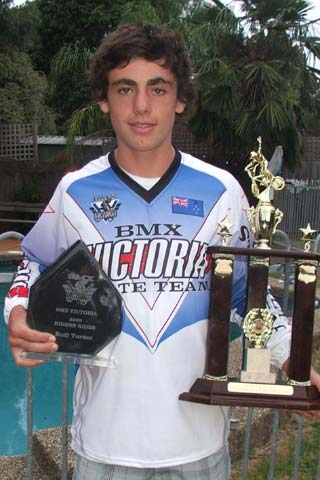 BMXMAD Press Release
Congratulations to Bodi Turner for winning two catagories at the Victorian Rider of the Year awards held on saturday Feb 27th.
Bodi was chosen as the – Riders Rider of the Year for 2009 and also for the – Senior Rider of the Year for 2009
It was an excellent night held at the Darebin International Sports Centre with around 100 people attending.
BMXMAD would like to congratulate all the winners on the night and thank BMX Victoria for organising this prestigious event.
01/03 Today Show BMX Olympic clip from Crupi Parts
Crupi Parts press release
Check out Tyler Brown on NBC's Today Show which aired Thursday the 25th. It's a very nice clip about Olympic BMX and our training center in Chula Vista. Tyler is well spoken and did both the sport and his sponsor right!
Way to go Tyler!!
http://www.nbcsandiego.com/station/as-seen-on/BMX_and_the_2010_Summer_Olympics_San_Diego.html
Posted in: Archive