Alienation BMX Big Black Beautiful Pivotal Slider seat
I have a confession to make, I'm an Alienation junkie. If Alienation did product releases like Apple or Microsoft I'd be one of the first to set up camp and wait patiently for days to be amongst the first to see, feel and smell their products. It started out as just an interest in the way they approach things, it's not just their rims either, it's been nearly everything they have produced. The more time I spent using their products the more I appreciated that someone would go to such effort to make high quality products for a great price rather than just another rebranded generic product. I don't want to use products that everyone else uses just because they are popular, I'm not the sheep that just follows the pack, I want the best products for the job, products that help me get the most out of not only racing but riding in general (because I'm not always racing my bike, but I'm always riding it). I want products I know I can rely on and can be proud of using, and of course I love talking to other BMX tech weenies about them too.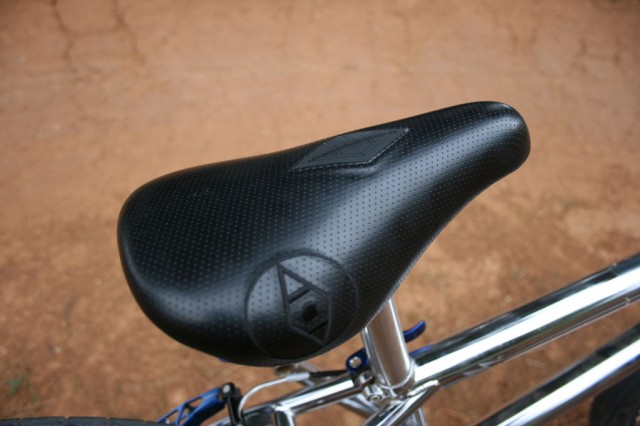 Now the name of this seat is Big, Black and Beautiful, or BBB, and it's flat out misleading. Sure it's black and, I think, it's beautiful, but there really is nothing big about it. When I first saw photos of it I thought it would be one of those big wide seats that you used to see dirt jumpers. I'm guessing that Small, Black and Beautiful just doesn't have the same ring to it.
Unlike standard Pivotal seats the BBB has the Alienation Slider mechanism that allows you to adjust the position of the seat so you not only get to change the angle of the seat you can also moved it forward or backwards which we still haven't seen done on any other seat by any other manufacturer.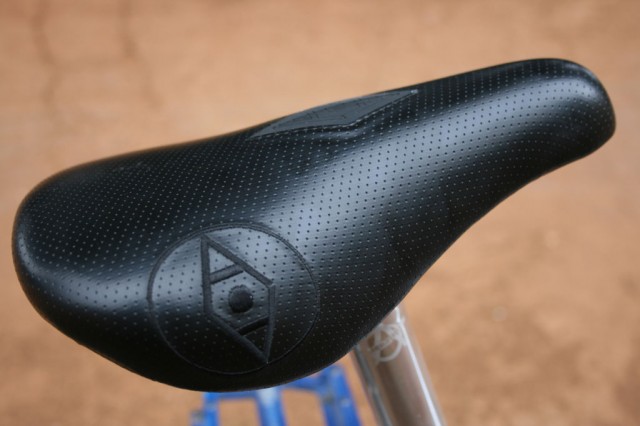 What is most unique about the BBB seat is how damn comfortable it is to sit on, and I don't care how much you try to convince yourself that you don't sit on your seat when you ride, I can guarantee you sit on your seat a whole lot more than you would think. Think about it, warming up before the race, cooling down after the race, sitting around in the staging area, riding too and from the pit tent, to the car park…and that's just on race days.  The extra padding comes at a weight cost of about 50 grams on other padded seats like the Alienation Back-In-Black or the Alienation MikRib there are probably lighter padded seats than those like the Answer Pivotal but my point is they just can't offer the same level of comfort. I did notice that the thickness of the padding meant I needed an Allen key with a slightly longer reach than I'd needed for any other pivotal seat, but it's a small price to pay.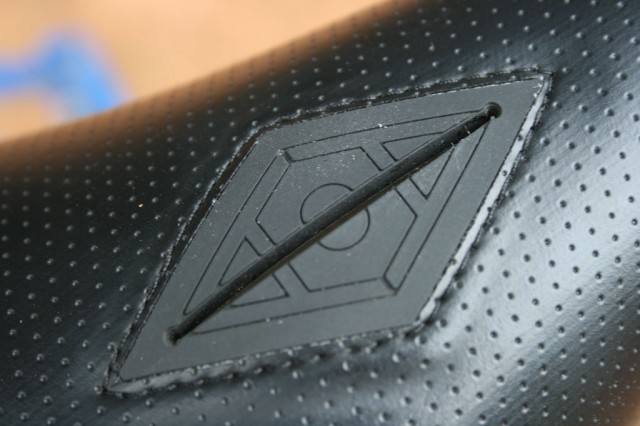 Not only is the BBB seat comfortable it's durable and easy to keep clean, a lot of the Kevlar covered saddles tend to discolour as they build up with dust, dirt and grime over time. It has a very different look to other pivotal seats in the finish and it's the first pivotal seat I've seen that doesn't carry the official pivotal "trap door" for the Allen key on top. I'm not sure how Alienation pulled it off but the integrated Alienation logo in the "trap door" is a nice touch, as is the embroided black logo on the right side of the seat.
Features
Slider system offering fore/aft positioning
Nylon fiber base
8.4″ Length | 4.9″ Width | 2.3″ Pad Height
10.9 oz/309 grams.
Black
Gallery
Rating 20/20
| | |
| --- | --- |
| Value for money: | 5/5 |
| Weight: | 5/5 |
| Functionality: | 5/5 |
| Looks/Finish: | 5/5 |
Comments
The Alienation BBB seat is a high end/premium pivotal seat without the massive price tag. As with all Alienation products this seat is built to last
The BBB saddle is a little heavier than other seats, while I don't see the weight difference as a problem, but it's certainly not going to be on the weight weenie radar. They'd need to look at something like the slider basic which weighs just 170g without any padding at all
The Alienation Slider system sets the Alienation pivotal seats above and beyond all other pivotal seats, but with the BBB you also have the extra padding that is more comfortable than anything I have used in over 30 years
I love the look of the BB seat, everything about it. It does only come in black, some other colour options would be nice, but black works for me.
Alienation are distributed in Australia by Elite Cycle Imports. For more information about Alienation check out www.alienationbmx.com.
Reviewed by Shane Jenkins/15 March 2014