BMX racing news February 2011
28/02 Introducing the A'ME Cam Grip
A'ME press release
The famous A'ME Triangle is on the end of one of the most popular BMX Grips of the 1980's. Due to popular demand, the A'ME
CAM Grip originally introduced in 1980, is being re-introduced to the BMX marketplace.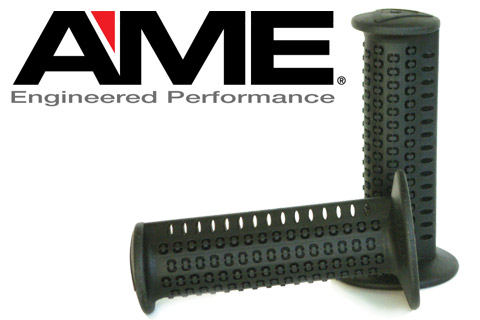 The NEW A'ME CAM Grips are composed of Vulcathane™, a specially blended rubber compound combined with UV stabilizing
ingredients that exhibit superior oxidation and ozone resistance. As a result, A'ME CAM Grips will not absorb moisture, deteriorate,
harden, or become slick with age all the while providing extremely durability and superior comfort.
A'ME CAM Grips are easy to install and are available in a variety of colors that compliment most BMX
bicycles and components.
A'ME Raised and lowered Pattern creates a No-Slip surface in wet or dry conditions.
CAM Slots to reduce weight and create cushion feel for the hard-core rider who wants every part of their hand to feel the contour of the grip.
Thermo Rubber Compound for Comfort and Control.
Oversized Flange and Large End Cap
Single color style – also available in multiple colors
Easy Installation
A'ME Grips
7 Sunset Way, Suite 100. Henderson, NV 89014 • Tel: (702) 835-0681 • www.amegrips.com
25/02 Photos: South Australian State Championships – Mount Gambier
by bmxultra.com
Jason Bergstrom took a bunch of photos at the South Australian State Championships at Mount Gambier on the weekened. Click here to check them out.
24/02 Bodi Turner wins Leader Newspapers 'Junior Sport Star of the Year'
BMXMAD Press Release
Congratulation to Bodi Turner who took out the Leader Newspapers 'Junior Sport Star of the Year' at the awards ceremony at Etihad Stadium on Tuesday Feb 22nd.
Bodi was asked by Steve Quartermaine what his future aspirations in BMX are, in which he replied "to win the worlds in Copenhagen this year and to reach the Olympics in 2016".
This was a great acheivement and it's great for BMX to be getting some recognition amongst the higher profile sports.
Congratulations and good luck this year Bodi.
24/02 Review: Sinz Elite XXX Cranks
by bmxultra.com
The Sinz Elite XXX cranks are here and they are all they are cracked up to be. Click here to read the review and find out why you will be seeing more of these cranks in the near future.
23/02 The Geelong Spectacular
Geelong BMX Club press release
Thanks to our Sponsor We are planning a big weekend of racing on Saturday the 26th and Sunday the 27th of March.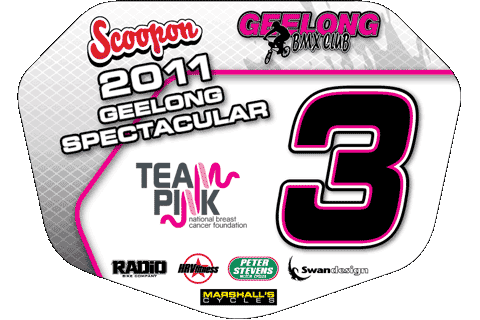 The Vic State Squad will be conducting a coaching clinic at the track starting from 9am on Saturday the 26th March
A clubby will follow from 11am, then the
"Scoopon" GEELONG SPECTACULAR on Sunday the 27th of March
We are hoping for a huge rider count, we have put up some excellent money for the Pro Classes and have some great prizes for sprockets and age classes
AA PRO – $2500 Prize Pool
A PRO – $1000 Prize Pool
14+ Ladies – $650 Prize Pool
30+ Masters – $250 Prize Pool
All info and details can be found on the website:
or via the bmxultra.com race calendar
$5- from every entry fee (excluding sprockets) being donated to the National Breast Cancer Foundation
Hope to see you all there.
22/02 Team bmxultra.com update – South Australian State Championships
bmxultra.com press release
The bmxultra.com team was at the South Australian State Championships at Mount Gambier on the weekend. Scooby Guyers, Shane Jenkins, Jason Bergstrom were representin'.
The weather leading into the event wasn't looking too flash, practice on Friday was cancelled due to heavy rainfall, come Saturday though the track was in great form, they have an amazing surface at that track that seems to be better when it's wet than when it's dry.
Scooby Guyers hit up the pro cruiser class on the Saturday where he finished a respectable fifth. On Sunday Scooby was getting amongst it in the A-Pro class. A couple of strong motos got him through to the semi finals where he finished sixth, not too bad in a tough field of 24 riders.
Jason Bergstrom is coming towards the end of his Australian tour. He raced in the 35-39 mens class after spending four weeks in Queensland and was a little rusty. He didn't make the main, but had a whole lot of fun.
Shane Jenkins had a good day in the 40-49 mens class having a few good rides against the birthday boy Craig Walczuk through the motos and the final was no different. You could have thrown a blanket over the two the whole way around the track, but it was Jenkins who took the win.
The bmxultra.com team is proudly supported by One Bicycles, Supercross BMX, Dirt Designs, Tioga, Elite Cycle Imports, THE, Profile, Sun Ringle, and Tektro Brakes.
21/02 HRVfitness Taking top Spot at the South Australian State titles
HRVfitness press release
Great weekend of Racing guys, Team HRVfitness Headed to Mount Gambier for the South Australian Titles.  Jaden Rice was in good form and put together some good moto finishes, but when the gate dropped in the final the 10 year old world champion put the pedal to the metal and smashed the competition as he added another title to his already impressive list of achievements.
Tony "HRV" Harvey took a back seat this weekend as he starts his run at another National Vet Pro title. Tony raced in the 30-34 class over the weekend, even though he was a little short on bike skills and managed to put together a good lap and take out the win.
Oliver Hoarau looked sharp all weekend, after taking out a few motos it was starting to looking like a Kirkham – Hoarau show down in the final. Brian Kirkham got off to a great start, then decided to move across on the field and set up for the first turn, but moved too fast, hitting Oliver's bars and then shotting left, taking out the rest of the field. With only three riders left standing, Oliver had some work to do if he was to catch the two front runners. So he put his new SPEED to the test as he dropped the hammer out of the first turn and chased down the two leaders. He took the lead into the second turn and Didn't look back..
Oliver has been working hard in the off season as he readys himself for his biggest challenge yet (UCI supercross 2011). Well done to all the guys, fantastic job.
http://www.facebook.com/home.php#!/twisty974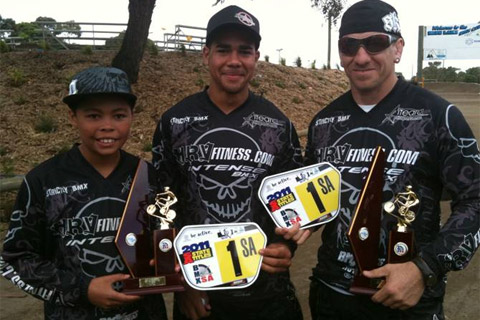 Go to  www.hrvfitness.com for all the info you need on HRVfitness Training Programs.
Sponsored by: HRVfitness, Speed, Sinz, THE, Skin Industries, Altegra, BMXpress Magazine, Phirebird.
18/02 Review: Snap Chainwheels and Chainrings
by bmxultra.com
Ok, another review, what can we say other than we love checking out new products, especially when they are as impressive as the Snap Chainrings and Chainwheels. Click here to check out the review
17/02 CycleSport Victoria and BMX Victoria announce the new BMX Officer
BMX Victoria press release
CycleSport Victoria ('CSV') and BMX Victoria ('BMXV') are pleased to announce the hiring of Tom Siinmaa as the new BMX Officer.
Tom has been a member of the Victorian State Team since 2007, has twice captained the BMX Victoria Team in the Victoria vs S.A challenge in Mt Gambier and is now competing in AA Pro and Elite Classes. He has also coached the Victorian Junior Development Squad, which is made up of the fastest 10-13 year olds in the State.
Tom is currently studying Physical Education Teaching at Victoria University in Footscray.
The key goals within Tom's development role will be to work with primary schools to expose them to BMX racing and with local clubs to increase their membership base. He will also focus on growing the Victorian School Cycling Championships BMX events.
He will be based at the CycleSport Victoria offices in Darebin at the Darebin International Sport Centre.
Tom stated that "I take pride in working with younger riders through coaching, and always seek to bring out their best qualities in order for them to reach their full potential."
Tom can be reached via email at tom.siinmaa@cycling.org.au starting on March 7, 2011
16/02 Rules is rules: Tuck in
by Shane Jenkins
I have been racing BMX for 30 years and have seen a lot of changes in the sport of BMX in that time. Some things that makes me shake my head in amazement are some of the rules we currently race under. Sometimes it may not be the rule itself, but how it's interpreted and often how it's enforced.
The jersey rule always amuses me. So I took a look at the rulebook on the UCI website to see what the wording is on jerseys since I couldn't find anything in the Australian Regional Application. I'm sure I'm not the only one but, at the races I go to, you constantly hear nagging around the track to tuck your jersey in or you are disqualified. So in the rule book it's worded like this "The jersey must be tucked into the pants to not cause interference." So firstly, it would be nice as a rider to feel welcomed to the sport, to have fun and enjoy the day. You should speak to people the way you would like to be spoken to.
As a rider who has used numerous different brands and styles of race gear I have never found a jersey long enough to stay tucked into my pants for the full length of the track. I'll tuck in through staging, by the time I have finished my gate start the back is already out. So according to the rule book I should be disqualified. Let's say a rider crashes and falls in such a way that their jersey rides up and untucks, they should also be disqualified? Obviously two extremes, however they are breaking the rule that's written in black and white. Whoever it was that came up with the rule obviously lives in a perfect world, where everyone is exactly the same size and shape. I'm not from that world. I have a long torso, which means my jerseys will always be too short to stay tucked in. It's what it is. Nothing can be done about it, I've come to terms with it.
What about riders that take their own self-preservation to the next level and wear body armour under their race gear, then wear a jersey over the top. The body armour is bulky which means the jersey will be shortened to an extent where it will be near impossible to tuck the jersey in.
What interference would the jersey cause around the waist area anyway? I don't know the last time I clipped someone's waist with my handlebars, it's usually elbows or handlebars. So are we going to make riders take their handlebars off? Will we amputate their limbs to try to reduce interference?
There are too many unneccessary rules, just like this one, and BMXers are a bunch of non-conformists. Rather than making any difference to the safety of the sport this one will just frustrate riders and officials to a point where they will look for something a little less restricting and a whole lot simpler to spend their weekends doing.
After reading the jersey rule in full, it doesn't stop at tucking in, but yet that seems to be the focus. Is there an abridged version of the rulebook that officials see?
It would bring BMX to a stand still if anyone was to enforce this part of the rule:
"All jersey's design must be approved by the UCI."
I don't know about you but if I was a designer for Troy Lee Designs, Fox, THE, or any of the hundred's of race clothing brands out there I wouldn't be worried about having UCI approve the design of my jersey. Would you? Could you prove that your jersey has been approved by the UCI?
15/02 Review: Troy Lee Designs Sprint Shorts and Jersey
by bmxultra.com
The Troy Lee Designs Sprint shorts and jersey rate very highly with us. Click here to read the full review and find out why.
15/02 BMXMAD at Victorian Rider of the Year awards
BMXMAD Press Release
BMXMAD would like to congratulate our team members for being voted winners at the Victorian Rider of the Year awards for 2010.
Veteran Rider of the Year – Greg Siinmaa
Senior Rider of the Year – Tom Siinmaa
Riders Rider of the Year – Bodi Turner
Also a mention to Wade Turner and Millie Reed for being nominated for the Junior Rider of the Year.
It was a fantastic night showcasing all our exceptional talent in Victoria. Thanks to BMXV for running the event and the full house that attended.
15/02 BMXNSW BMXTreme Carnival
BMXNSW press release
The BMXNSW BMXTreme Carnival will be on at the Liverpool BMX Track June 11 & 12 2011
This event includes NZ Qualifier, Mighty 11's and Trans Tasman Test teams.
BMXTreme Carnival explanation
There are a few parts to the Carnival, an Open day, Mighty 11's, Trans Tasman Test Team, Trans Tasman Scholarship girls team and NZ Qualifier.
There will be a full race meeting run with all Classes as part of this event, it will be held in conjunction with the Liverpool clubs Pre titles event June long weekend 2011.
See www.bmxnsw.com.au for more details
14/02 Liverpool BMX Club celebrating 30th Anniversary in 2011
Liverpool BMX Club press release
The Liverpool BMX Club is celebrating our 30th Anniversary in 2011. We are currently seeking to contact any former members from the former Minto Parklands BMX Club days. Any stories and pictures can be emailed to the club Secretary at alexbainy@iprimus.com.au All contributions and pictures will be acknowledged in our story.
14/02 NBL/GSX To Reschedule Primm Valley And NationsTour Race
NBL/GSX press release
New Date and Location For Race Are To Be Determined
GAHANNA, OH — Conditions at the planned location for the NationsTour Race in Primm Valley, Nevada have made it impossible for the NBL and GSX to access the previously confirmed site in order to build out the SX-style track. As a result, both the NationsTour race originally scheduled for March 4-5 and the Primm Valley National scheduled for March 6 will be rescheduled in order to maintain the integrity of the NationsTour Series. The replacement location and date are yet to be determined.
NBL CEO Gary Aragon explains, "We had confirmation from the local organizing committee who has done a great job putting this event together, but we have encountered some unexpected hold ups, and we are running out of time to do the build, so we don't wish to place the event at risk."
GSX CEO Johan Lindstrom adds, "This is unfortunate, but it is the nature of events of this scale. But we are committed to a full tour and we will work to reschedule the event a soon as possible."
Andrew Fersch, Director of Sales for Primm Valley Casino Resorts affirmed that, though they had some unanticipated delays with the property, they are looking forward to hosting this event in the near future and will be working with the NBL & GSX to reschedule this event in a different area of the Resort property.
More information will be posted on the NBL website as soon as available.
11/02 ABA films for NBC this weekend at the Gator Nationals
ABA press release
ABA BMX films for NBC Universal Network this weekend at the Gator Nationals in Oldsmar, Florida!
Just wanted to get a quick word out to the Industry, racers, familily, and fans about the ABA BMX Gator Nationals going on this weekend. We will be filming the event for NBC Universal Network. This is exciting stuff for sure and we will bring BMX to the masses in 2011.
Air dates and times are as such –
Show #1 UCI Continental Championships
4/25/11 – 7:00pm EST
4/25/11 – 10:00pm EST.
Show #2 ABA Gator Nationals
5/2/11 – 7:00pm EST
5/2/11 – 10:00pm EST
*Note the air times put BMX racing on both coasts at 7:00pm. Those are some pretty awesome time slots and will be hard to miss with it being on twice in one day!!
More info on the future events we`ll be filming, air dates, and times coming soon!
11/02 Stay Strong/ODI Special Edition BMX grips
Stay Strong/ODI press release
The new single ply grip has just started shipping this month and is available now from all good BMX stores.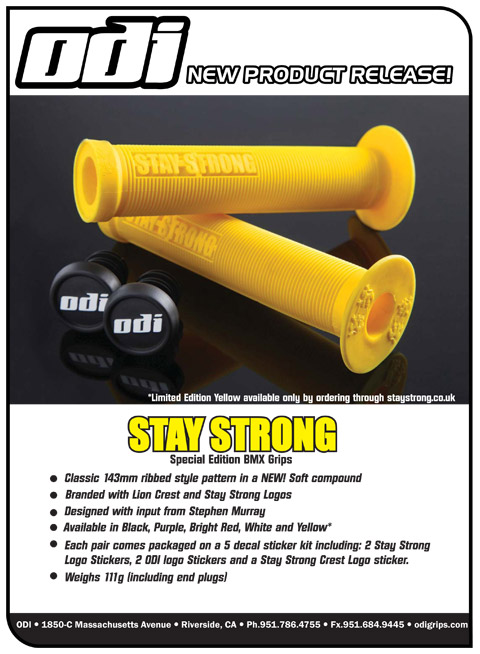 11/02 BMXMAD now stocking SNAP and Rennen
BMXMAD press release
BMXMAD is now stocking
SNAP Products
Rennen Products
to compliment our range of quality brands and products
Supercross
Crupi
S&M
Shimano
and many more
Check us out at www.bmxmad.com.au
11/02 Don Ash Bike Hub Shepparton Complete Bike sale
Don Ash Bike Hub Shepparton press release
Race Complete Sale….
2010 ABD Cruiser, Blue/Black. SRP $600, special $400
2011 Haro Mini, SG Black. SRP $699, special $599
2011 Haro Expert, Green. SRP $699, special $630
2011 Haro Pro, Red. SRP $699, special $630
2011 Haro Pro XL+, Flat Black. SRP $699, special $599
2011 Haro Team Issue, Matte Grey. SRP $899, special $809
2011 Haro Race Lite, Black. SRP $1099, special $989
Please phone or email the shop if you are interested in any of the above bikes.
PH – 03 5821 3378
Email – donash@bikehub.com.au
11/02 HRVfitness on Speed
HRVfitness.com press release
That's right, the number one team in Australia is now the number one bike "SPEED"! The team had a fantastic year in 2010 with 2 world plates and 4 National number 1's.
Look out for them in 2011 in their new HRVfitness "SPEED" jerseys and fully tricked out SPEED M-Series.
Team HRVfitness: Jaden Rice, Brandon Te Hiko, Oliver Hoarau and Kamakazi.
Sponsors: Speed, THE, Sinz, Skin Industries, BMXpress magazine, Altegra and Phirebird.
11/02 2011 National BMX Hall of Fame nomination applications now being accepted
ABA Press Release
The National BMX Hall of Fame is now accepting nomination applications for individuals to be considered for the class of 2011. The National BMX Hall of Fame process of nominating is now open. It has been opened to the general public as this will allow the public to participate in a very important part of the overall process. Please keep in mind this isn't the ballot selection, it's the nomination process to be summited to the National BMX Hall of Fame committee for overall ballot selection.The committee will then make their selection to be added to the 2011 Ballot. It will then be voted on by a very selected group of National BMX Hall of Fame voters.
"It's an exciting time for the National BMX Hall of Fame. After the HUGE success of last years event, we are even more dedicated to preserving the history of our sport. We are very excited about the nomination process and know the fans will play a big part in getting their favorite riders on the ballots and highlighted for future generations in the National BMX Hall of Fame" stated B.A. Anderson, American Bicycle Association's CEO.
The National BMX Hall of Fame is accepting nominations in each category that will be considered for the class of 2011. All nominations that are accepted will be added to the list of nominees from last year's ballot. Individuals that were on last year's ballot may submit a new nomination application for the purpose of updating or enhancing their bio information.
All new nominations must be submitted on a National BMX Hall of Fame Nomination Application.
The Nomination Applications can be found at the following link: http://www.ababmx.com/index.php?page=halloffame
Please return your completed Nomination Application and any other supporting documentation by mail, fax, or e-mail.
Address:
American Bicycle Association
Attn: BMX HOF Nominations
P.O. Box 718, Chandler, AZ, 85244
Fax: (480) 961-1842
E-mail: BMXHOF@ababmx.com
Applications must be completed and returned by March 10th to the considered for the 2011 nominations.
Also, we've started a National BMX Hall of Fame facebook page. If you would like to stop by, check it out, and leave some feedback that would be awesome. http://www.facebook.com/pages/National-BMX-Hall-of-Fame/185305611497676
It's a work in progress and we'll be adding more and more pictures and info all the time. If you would like to contribute some photos to any of the inductee pages, please email them to BMXHOF@ababmx.com and we'll gladly add then for the fans!
About the National BMX Hall of Fame:
The National BMX Hall of Fame was founded by the American Bicycle Association (ABA) at their headquarters in Chandler, Arizona in 1985. The Hall is now housed at the Olympic Training Center in Chula Vista, California, recognizing over 95 members. The National BMX Hall of Fame is the who's who of BMX and consists of riders and industry members who have made notable contributions to the sport of BMX. Each year since 1985, a select few BMX riders and industry veterans have been inducted into this elite group of individuals. The BMX Hall of Fame is the home for many of the sport's most talented riders to be honored.
10/02 Review: Snap Series II Pro stem
by bmxultra.com
After many years we have finally been able to have a close look at the USA made Snap stems and you can too now there is an Australian distributor. Click here to check out the product review.
09/02 BMXA FLOOD APPEAL race meeting at Lilydale 13th February
BMX Victoria press release
The 'BMXA FLOOD APPEAL' race meeting at Lilydale BMX Club, originally set for last Sunday but ironically postponed due to flooding across Melbourne, has been re-set for this Sunday 13th February.
If you haven't already entered, the entry form is available from the BMXV website www.bmxv.com.au
In recognition of the BMXV Presentation event the night before, it will start an hour later than previously planned. Practice will be from 9:30-10:30am with racing commencing at 11:00am.
If you have any questions about the event please contact Carla Midgley of the Lilydale BMX Club after-hours on 9726 9523 or email carlamidgley@bigpond.com
08/02 Strictly BMX Race Frame Sale
Strictly BMX press release
Just a quick note that we have older stock race frames being cleared out at 50% discount. Mad bargains!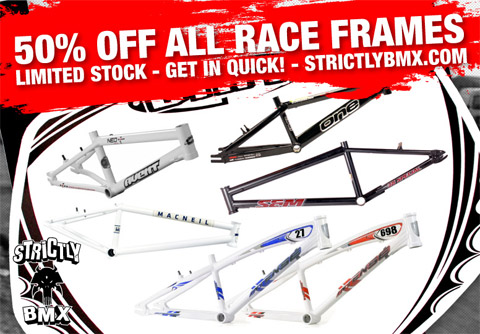 More details at www.strictlybmx.com
08/02 The Chromoly Kings BMX Clothing Co. is Now Up and Running!
Chromoly Kings press release
The time has finally arrived!! Hollywood's 1st and only BMX Clothing Co. Chromoly Kings is now officially open for business!!
We have 5 different T-shirt styles, a hoodie and a cap all in the gates and ready to go!! All Chromoly Kings gear is made from top quality materials and are manufactured in Los Angeles for us BMX's to rock!! All gear comes with reflective ink hits so as to be more visible while ridin' at night. Sticker sets, number plates and pad sets all Coming Soon!!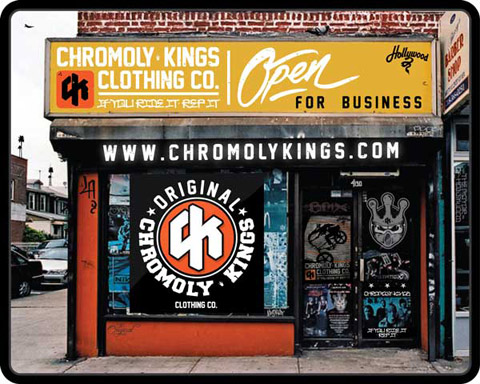 If You Ride It, Rep It!! All Chromoly Kings gear can be purchased at ChromolyKings.com or direct at any of the 4130 monthly rides.
07/02 Interview: Jared Graves
by bmxultra.com
Jared Graves hit the BMX scene hard in the lead up to the 2008 Olympics, and not only made the cut for the Australian team we was the only Aussie male to make the Olympic final. We talk to Jared about BMX and MTB and the future. Click here to check out the interview.
04/02 Review: Profile Racing's outboard bearing bottom bracket
by bmxultra.com
We've been spending the last couple of months checking out the Profile outboard bearing bottom bracket and have been loving it. Click here to find out why.
03/02 ABA BMX Gator Nationals presented by the
St. Petersburg/Clearwater Sports Commission
ABA press release
Warm weather, an upgraded track, and nice beaches, await those traveling to the ABA Gator Nationals presented by the Visit St. Petersburg / Clearwater Sports Commission.
Bring your pearly whites and your "A" game as the Gator Nationals will be filmed for television.  This ABA BMX Pro Series National will also carry UCI category 3 points for the Continental Championship held on Saturday.  Category 5 points will be awarded on Sunday.
The crew at Oldsmar BMX have been working diligently to ensure they are ready for the Gator Nationals and the UCI Continental Championships to be held February 11-13, 2011.  If you haven't been to the track in a while then everything may look new. John and the crew were putting down a fresh later of Soiltac this week in preparation for the upcoming event.  "Everything at the track is new for this year.  The hill, track, turn two and an elevated seating area behind turn two.  The only things not new are turn 1 and 3 and they were new for last year" said Track Operator, John Sawyer.
The host hotels with rooms available are:
Hilton Garden Inn
4052 Tampa Road
Oldsmar, FL, 34677
(813) 891-9990
Rate: $99.00 with breakfast
Suites $119.00 with breakfast
Ask for ABA BMX Rate
Courtyard by Marriott
4014 Tampa Road
Oldsmar, FL 34677-3655
(813) 925-8887
Rate: $109 with breakfast buffet
Ask for ABA BMX rate
The upcoming event will offer more UCI points to the Elite classes than any event held at a sanctioned track.  The only two events held in the United States offering more points will be held on Supercross tracks.  So if you haven't made plans to be in Florida for the Gator Nationals, make your plans now.
NAG and National ABA points, UCI points, and great racing are in store for those attending the 2011 ABA Gator Nationals presented by the St. Petersburg / Clearwater Sports Commission. To pre-register for the event, click here.
For those arriving to town early, here is the track schedule.
Sunday, 2/ 6


Practice Noon – 4PM
Fee: $5.00

Tuesday, 2/8


Practice: 6 -9:00 PM
Fee: $3.00

Wednesday, 2/9


Practice: 5 – 9:30 PM
Fee: $5.00

Thursday, 2/10


Clinic 3:00 – 5:30PM
Fee: $30.00
Practice 5:30-8PM
Race 8:00 PM
Fee: $10.00 (includes practice & race)
For more information on Oldsmar BMX, visit them at www.oldsmarbmx.org.
About the American Bicycle Association
ABA (American Bicycle Association), formed in 1977 and headquartered in Chandler, Arizona is "The Sanctioning Body of BMX"©. The ABA organizes BMX racing for boys, girls and adults, in the United States, Canada, and Puerto Rico. With 60,000 active members, over 250 racing facilities and a 27 event national race schedule, ABA is the largest promoter of action sports.
02/02 BMXMAD race report Bunbury WA
BMXMAD Press Release
Bodi Turner holds a firm second in the UCI Probikx championships after Rounds 5 & 6 in Bunbury WA over the weekend.
Bodi found the track extremely challenging with a massive berm jump and a technical third straight rhythm section.
Racing Junior Elite this year has really stepped things up. Being in the NTIDS (National Talent Identification Squad) has been a great help in his skills training and his sights are set on being in the world team for Copenhagen in July 2011.
Many thanks to his sponsors – Intense, ECI, BMXMAD.
02/02 DK Bicycles Joins the Morphine Industries Factory Team Family
Morphine Industries press release
Morphine Industries announces that it has teamed up with DK Bicycles to outfit its riders with some of the hottest BMX cranks and forks in the industry.  "We are stoked to add DK bicycles to our already strong family of factory sponsors.  We are eager to promote and represent the DK brand on the track and on top of the podium," states Jonathan Reeves, Morphine Industries.  "In addition, being a Dayton boy, it's cool to make that hometown connection".
Jason Jewell, DK bicycles added, "DK Bicycles is excited to announce that we'll be teaming up with Morphine Industries for the 2011 season. Morphine has a rad group of kids that really know how to stand out. The team offers up a fast group of kids that we know will represent DK Bicycles well."
Look for the Morphine Industries team to be running the DK Flash Cranks and the DK Race Forks.
One of DK's most talked about products in the BMX racing world, the DK Flash Cranks.  These are a beautifully machined, 2 piece, aluminum crankset.  The crankset comes stock with 170, 175, or 180mm crank arms and a 44 tooth gear, but allows you to interchange to your desired gear size of choice.  They come stock with a European bottom bracket and in either black or white for the clean look to match any BMX bike at the track.
2 piece crank design
6061 T6 forged & machined crank arms
24mm hollow spindleDouble lip sealed euro bb
Steel insert pedal bosses to reduce stripping
44T 7075 T6 chainring included
Based off the popularity of the Alpha fork and with input from the DK team, the Race Fork was spawned.  4mm dropouts, tapered and butted fork legs make sure to help you get around the race track just a little faster than everyone else.
100 percent heat treated chromoly
4mm thick dropouts
Externally butted steer tube
Butted and tapered legs
Weight: 1 lbs 12oz
Colors: Black, White, Team Green, Chrome
We look forward to a great long-lasting relationship with DK Bicycles as the Morphine Industries' riders make their mark on the BMX community.
Be sure to check out Morphine Industries Factory Riders at the ABA Gator Nationals in Oldsmar, Florida as they flash their whips.
01/02 Downhill at Mt Buller
by Shane Jenkins
Are you looking for something different? When faced with a weekend of downtime (that means no BMX racing on my schedule) I find myself looking for something to do and there has to be a little action involved. At minimum it would include playing a game of inline hockey and a few hours of riding the BMX bike. On the odd occasion it might be a road trip like down to Anglesea for a surf or out to a lake for some water skiing. This weekend was a little different. The thought of racing downhill mountain biking at Mt Buller was planted in my head on Wednesday. At first I shrugged it off, but within 24 hours I was searching for a bike, emailing the organisers to find out about licensing and looking for a time table for the weekend. I've done it before…a few years ago, it must have been 10-15 years actually…so what could have changed in the sport in that time? It's a simple concept, all you do is point the bike downhill and pedal right?
The third round of the Victorian Downhill State Series was held at Mt Buller the stomping ground of my old BMXing buddy Shannon Rademaker. Shannon doesn't ride the BMX so much anymore, he has a successful bike shop at the foot of Mt Buller in Mansfield and during the summer months he also has a store set up on the mountain. Instead of riding the BMX bike he's often ripping up Mt Buller taking guided mountain bike tours, hosting coaching clinics lead by some of Australia's best mountain bikers and even teaching people how to ride downhill. It was always my intention to ease into mountain biking again after such a long hiatus and try out a tour or two with Shannon, downhill 101 was definitely on the cards. It made sense to hire a downhill rig from Shannon at ATC, even though I wasn't going to be able to use his local knowledge.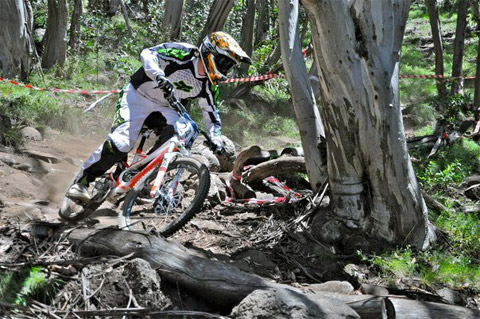 Riding down Mt Buller isn't so daunting when you are taking a slow ride with some fellow BMXers, at least that's what I had thought. International has a reputation but it seems quite normal, that is until you hit the rock garden…about 100m into the course. What kind of a whack job rides their bike through long stretches of large sharp bone shattering jagged rocks, often dropping away around half a metre, and calls it fun? Well there were about 400 riders there, so apparently it's all just part of the game. There were a number of sections that left me wondering what the hell I had signed up for and how I could bail. It was quite clear that the sport had changed in my absence. It was clear that I was locked in for the whole weekend so it was time for another run, which was short and sweet, there was a traffic jam just a short way into the course. There was a rider down, an experienced rider, and she required an ambulance. The track was closed for "30 minutes" instead of waiting for the track to clear we were allowed to cut across the mountain to another run and hopefully get back to the top for a clear track.
When we got to the top the track was still closed but there was another run that was open, called ABOM. To me it was a God send. There were a whole lot less rocks, more jumps and tight turns, it was perfect for getting used to the big bouncy downhill machine that felt more like riding a motorbike in a jumping castle than anything I was used to. I was able to build confidence and get a handle of what the bike was capable of after a few runs on ABOM. With my new found confidence I hit International again, this time the rock gardens didn't seem so bad. I did fall victim to a tight turn with a crazy big rock drop right in the middle of it and copped the bike to the back of my head. Clearly the course had the better of me and it was time to call it quits for the day.
I'm not sure what had happened overnight but riding the course on race day felt a whole lot better, I wasn't walking down any of the track and was able to get down with some reasonable speed. After three practice runs I finally felt like I was ready to race.
In my run I was off to a comfortable start but caught the guy in front of me in what felt like 20-30 seconds in reality was probably about 50-60. In some ways it was good because I wasn't able to ride beyond my ability, but it's pretty damn annoying to be sitting behind someone for close to 5 minutes on such treacherous terrain. It's etiquette to let faster riders by but this guy wouldn't have a bar of it. The course was so tight and narrow the only way I could get by him is if he pulled over for me, but apparently he liked the feeling of a 6'2″ hairy man beast breathing and sweating down his neck. I'm not sure if he realised he was doing me a favour, but next time I think I will do it alone thanks.
While I wasn't going to break any land speed records, I did manage to overcome a whole bunch of fears I didn't know I had and I have a whole lot more respect for the sport and the people who race it week in week out. I'd do it again for sure. The riding was the most fun, the encouragement from the other riders, spectators and the laughs were what really made the weekend.
I hear the next round of the Victorian Downhill State Series is at the You Yangs which has lots of jumps and berms, which would suit BMXers perfectly.
If you have ever been interested in trying downhill mountain bike racing Mt Buller is a great location for it with spectacular views, a great variety of trails and most importantly chair lifts to get back to the top of the mountain (beats the hell out of walking up). If you don't have a bike or any gear check out All Terrain Cycles, they can deck you out from top to toe and at great rates and it would be well worth asking about the Downhill 101 tour to get you started.
I must take the time to send out a special thanks to all the crew for all your help over the weekend, it wouldn't have been the same without you all there.
Links:
Posted in: Archive